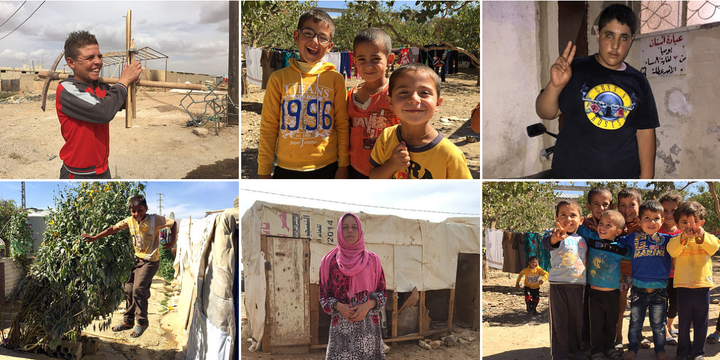 In honor of World Refugee Day, we sat down with Tara Kangarlou, an award winning journalist. After spending time on the ground in Lebanon, Jordan and Turkey and witnessing the heartbreaking dynamics of the Syrian crisis, she founded Art of Hope, a nonprofit 501(c)3 organization that helps Syrian refugees overcome trauma, PTSD, and psychological wounds through art-therapy and vocational training in the Middle East. Today she shares the inspiration behind her work and how everyone can make an impact in bettering the lives of individuals affected by this crisis.
How you became involved in working with refugees?
As a journalist I traveled to places that allowed me to understand the lives of these people from the core. I got to see challenges that this population face from their vantage point. Being an Iranian American, I experienced the challenges of moving into a country. Now if I had challenges despite all the opportunities that I had, imagine the immense amount of difficulty that these people face given the circumstances that they were forced to flee their homes. I feel some people are blessed with certain opportunities and it is our responsibility to give back and be of impact for those who may not be in the same position to help themselves during the times of need.
What was your inspiration for founding Art for Hope?
Covering the Syrian crisis allowed me to see and learn the nuances in this catastrophic humanitarian crisis. I also learned a lot about what's not being done and one example is the lack of a systematic way to address PTSD, aggression, and trauma caused by the ongoing war and conflict in Syria and also the existing challenges of living in the surrounding host countries. I spent a lot of time reporting on the issue at hand from the Syrian border regions in Turkey, Jordan, and Lebanon and seeing the desperate need among this population and what's not being done quite frankly made me angry.
I decided to weaponize that anger into a solution. I realized I could have an impact on what's missing in the lives of these people who once had ordinary lives just like you and I. In supporting this population we have to always remember that the only difference between us and them is that they were born in a different country. These man-made tragedies can easily happen to anyone of us.
What services does Art for Hope provide and why did you decide to make an impact in this way?
There are many large international organizations and nonprofit groups that provide the basic support for food, shelter, and essential needs. In the last four years I was able to connect with these people on many different levels. The issue of trauma, PTSD, and psychosocial support is not something that's being supported and to be honest with you it's very much lacking in the overall support provided for this large population. (5 million Syrian refugees just live in Jordan, Lebanon, Turkey, and Iraq).
You have to remember if a child is suffering from trauma, loss or psychological wounds he or she cannot do well in school. You cannot provide a child who has lost his father, mother or siblings a classroom or backpack and expect them to excel in his or her education. This child needs simultaneous psychosocial support.
One of the young boys in our center today had his hand amputated by ISIS back home in Raqqa Syria. He took a long time to open up and after he did, he told our therapist he was contemplating whether or not he was guilty and his behavior caused the loss of his hand. These are deep wounds that if not addressed will grow into stronger parasites that will only hurt them more. These are vulnerable children, and teenagers that if not supported would later will be a burden not just their to their own families but also the communities they live in.
When I started Art Of Hope I wanted to hire local talents, such as local social workers, psychologists, therapists, and teachers who could work with the youth and also the adult population and help them overcome the trauma, anger, and psychological challenges through art therapy and vocational training. In November I opened our first center in one of the poorest slums of Beirut and so far Art of Hope has supported 100 Syrian refugee beneficiaries and their families. We have six local employees that are supporting their communities through simultaneous therapy and educational activities for children and teens, in addition to vocational training and counseling for female adults.
Also, I chose to work in one of the most difficult countries that's host to a large Syrian refugee population. Lebanon is not an easy place to work in, but I wanted to lend a hand to one of the countries most in need. Lebanon has the highest number of refugees per capita and is receiving the least amount of support in this crisis.
The work you do and the realities of hardships faced by refugees today must be pretty daunting and overwhelming. What keeps you going and gives you hope?
You know, as a journalist, they teach you to be objective, detach yourself from the story, don't get involved in the tragedy, and just capture the report and leave the characters behind. When it comes to the refugee crisis I decided to move beyond objective reporting and be a human being first. At first it was incredibly challenging, but I I think the travesty of the crisis angered me so much and thus empowered me to lift a finger and roll up my sleeves to do something for these people. We are all responsible. When I meet these children I see myself. The only difference is that I've had an American passport or was born in a different country, into another family.
Through your work are there any stories or individuals that have stayed with you and made an impact on how you serve the refugee population in Lebanon?
Rula, she was a little girl I met two years ago when doing my first story on the specific issue of trauma and PTSD. For some reason her innocence and passion for drawing reminded me of myself when I was 10 years old. I used to draw in our garden back home in Tehran. I keep featuring the rose she drew for me that day to bring attention to our cause and our work.
Rula suffers from severe anxiety and PTSD. She told me that she misses her teacher and friends back home in Syria. Her family escaped during the nighttime from Daraa, which is known as the epicenter of this crisis. They now live in some of the poorest urban areas in Lebanon and her mom told me that she does not have many friends.
And another instance, I met a dying mother in a makeshift tent on the border of Lebanon and Syria. Her three sons, ages 18 to 30 we're living in the same tent. Her medication was not being covered by UNHCR and that she was not getting the support she needed. I saw this woman suffering without anyone even thinking of a way to help her. You could feel the pain but also the shame in the eyes of her sons. I lost my own father to cancer a few years back and seeing this mother dying slowly tore me apart; it was not just the tragedy of her illness, but that you could feel and see how she and her children were humiliated and had their dignity bruised. No human being should be in a situation where the only option they have is to await death.
What can the average person do to help alleviate suffering of refugees across the world?
If you would've asked me this question 10 or 15 years ago I would say get involved large organizations and humanitarian relief groups, but today, I would say, support local organizations and smaller groups that are doing hands-on work from the ground. Large INGOs and organizations have incredible bureaucracy and in this crisis that's moving into it seventh year, so little impact has been done in providing a sustainable infrastructure to support this large influx. Also, remember that no help is too small and that love, unity, and acceptance are the most profitable investments that will help us frame a better tomorrow for future generations to come.
Popular in the Community