Illinois House Speaker Michael Madigan warned Wednesday that Gov. Bruce Rauner's borrowing to fund state government operations is "terribly significant" because it adds to the fiscal burden of a state he described as "awash in debt."
Addressing the City Club of Chicago, Madigan largely stuck to the theme he has sounded since May as he and Gov. Bruce Rauner have deadlocked over the state's budget: Rauner is attempting to bring "non-budget issues" like workers' compensation and collective bargaining into the budget talks; Madigan won't accede to Rauner on those issues because he believes they will diminish the standard of living for the middle class.
Asked how high taxes would have to go to repair the state's finances, Madigan hinted that restoring the 5 percent personal income tax rate that fell to 3.75 percent on Jan. 1 might be a starting point in the discussion.
"OK, let me avoid creating a headline for tomorrow's newspaper," Madigan said. "A good place to begin would be the level we were at before the income tax (increase) expired. You start there, you can go in whatever direction you want to go."
The speech had sold out within minutes of its announcement several weeks ago. Aside from regular press conferences held almost weekly throughout the summer and fall at the Capitol, Wednesday's City Club speech was Madigan's first extended commentary on the budget impasse all year. State government has been operating without a budget since the 2016 fiscal year began on July 1. Because of court orders and other procedures, most state government spending has continued.
Without a budget to either cut spending or generate more revenue, state government is on pace to spend around $5 billion more through June 30, 2016, than it will bring in.
While much of what Madigan said was familiar to those who have followed the budget battle, Madigan used the speech to articulate more clearly than ever the sharp difference in government philosophies between him and Rauner.
Here is Madigan's answer to an audience question about Madigan's oft-repeated pledge that he opposes Rauner's agenda because Madigan is protecting the middle class.
This goes right to the heart of the difference of opinion between myself and the governor. .. The history of the American government prior to 1933 was pretty much to remain out of the business of managing the economy. The beginning of 1933 with the administration of Franklin Roosevelt, there was a dedicated effort by the federal government to in effect manage the economy and to work always to create jobs, to raise wages, to raise the standard of living. That has obtained through both Democrat and Republican administrations. ... That's been the policy of this country for all of these years and that's where I say I don't think any government should be in the business of lowering wages and the standard of living. The responsibility upon the government is to move in the opposite direction. To do what the government can do and do well - raise wages on a continuing basis and maintain a good standard of living for everybody in the country.
Another audience member wondered when, exactly, state government would run out of money due to the budget problem. Madigan's answered implied a fundamental distrust of the Rauner administration:

A solid question that I put to the governor in one of our meetings, Mr. Governor, would you go back to your people and ask them if they would estimate when do they think we will not be able to make a school aid payment. We make school aid payments 10 months a year, twice a month. They're big payments. It's a big movement of money out of the treasury to school districts all over the state. Gov. Rauner, you know, was a very successful salesman, and you know salespeople are always upbeat about things. And he came back and said, 'We don't have any probems. We'll work our way all the way through it.' I said, OK, I don't believe you.
Asked whether the state can be considered to be in a budget "crisis" when most of state government is conducting business as usual, Madigan said he does not equate crisis status with the current situation. He believes the crisis refers to what comes when a budget eventually is worked out:
Yes, much of what the government does is happening but much remains to be done. There's about $6 billion of spending, $6 billion of spending, that the state of Illinois traditionally has done. This goes into the social services area, not-for-profits to provide services to the state. Those people are not being funded today. And the danger to the recipients of those services is they get left out when there is a final settlement between the governor and the Legislature. That's the crisis. And it goes directly to my view of what the government should do, the governor's view of what the government should do. He and I at this point have some basic differences.

I feel that the government should do what we put into the May spending plan that we sent to the governor. And there's about $6 billion of activity that's not accounted for today.
In case you missed it, you can watch Madigan's speech at the City Club of Chicago here.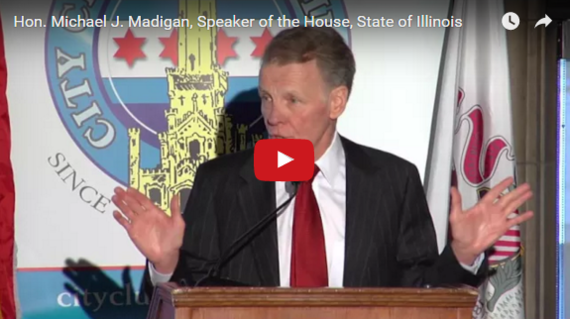 Popular in the Community