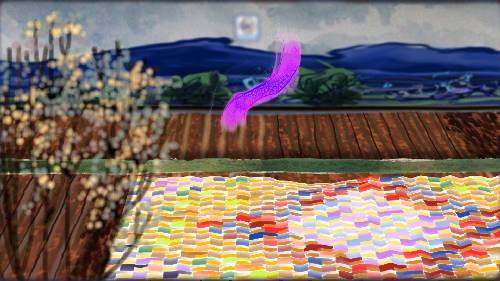 [An Eyeful of Sound]
For those who do not have the patience for sitting through full-length feature films at a festival, the Palm Springs Short Film Festival is a top tier venue for those who simultaneously love the cinema but are stricken with some form of attention deficit disorder. Further, in its previous 15 years, it has presented 68 short films that have gone on to receive Academy Award nominations. After its June 28 conclusion, the ShortsFest awarded $90,000 in cash and production awards.
Among those seen at the Camelot Theaters and on DVD in the film marketplace in the festival's Hilton Hotel headquarters:
An Eyeful of Sound (UK/Samantha Moore): Utilizing the full potential of animation and a rich, audio tapestry, Moore has created a sensuous, dense documentary about UK residents who have synesthesia, wherein they experience colors, taste or odor when subjected to certain visual stimuli. Moore's variety of animation, along with the soundscape crafted by Adam Goddard, a winner of the prestigious Prix Italia for audio art, result in a film that is truly a sensual extravaganza and at the same time, an inquiry into the limitations of everyday human observation.
Rabbit a la Berlin (Germany/Bartek Konopka): This seeming black and white doc about the erection of the Berlin Wall and its segregation of rabbits who first benefited from their privacy and then suffered later due to human folly, is a sly rumination on humanity's ability to shift its attention and transform its compassion. The narrator's espousing the point-of-view of the uncomprehending rabbits recalls parenthetically not only the tragedies of Communism but of the Fascism that existed before it.
Flawed (US/Andrea Dorfman): Another animated documentary, this shows Dorfman's actual hands drawing and then painting, high speed, quick scenes of her long distance relationship with a Nova Scotia plastic surgeon whose work first unnerves her and then gets her a bit paranoid about her own self-image. The quick flow of each painted, quirky image being replaced by the next, as well as Dorfman's low key but honest questions about society's ambivalence about cosmetic surgery make for a charming film that is more than just a pretty face.
The Shutdown (Scotland/Alan Stafford): Chilling in its timing, this monochromatic series of images in Falkirk, Scotland, details a disaster that decimates a tight community, many of whom work at a British Petroleum plant. The subject, whose father was seriously injured in the blast, speaks in a thick but simply poetic Scottish burr about the accepted terror of everyday lives of workers who have no other vocational choices and are reliant on industry's lack of safety regulations, seen so tragically in our Gulf of Mexico and the explosion of BPs Deepwater Horizon oil unit.
Cold Turkey (Ireland/Gavin Keane): A cleverly malevolent little bit of darkly comic perversity, this covers the life of a movie sound man, who under deadline finds what he thinks will create the best sound effect for a fistfight. The turkey he is and the turkey he uses lead to lateness, an unintended display of nudity and an unfair but brilliantly hilarious accusation of child molestation. Such a generally sensitive subject as pedophilia is shown to be a great source for laughter, if, er, handled with kidding gloves.
Table 7 (US/Marko Slavnic & Andrew McDonald): A simple argument between lovers dining in a Chinese restaurant is being listened to by an Asian man in a dank room full of those surveilling the diners. But when we realize the electronic eavesdropping serves the purpose of making more useful fortunes for the restaurant's cookies, we shift our perspective with a dizzying rush of pleasure.
Red-End and the Seemingly Symbiotic Society(Netherlands/NAP, Robin Noorda & Bethany De Forest): Mind-warpingly creative 4K stop motion animation takes us to a number of impossible but strangely gorgeous environments, where new kinds of insects yield a succeeding generation that looks different from it and has less respect for the world it is born into. Its wide-open theme and one-of-a-kind visualizations make Red-End the kind of film that manages to astonish despite its abbreviated length.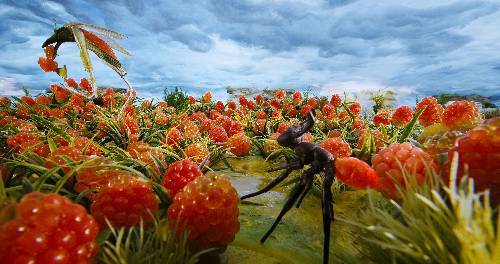 [Red-End and the Seemingly Symbiotic Society]

Calling all HuffPost superfans!
Sign up for membership to become a founding member and help shape HuffPost's next chapter