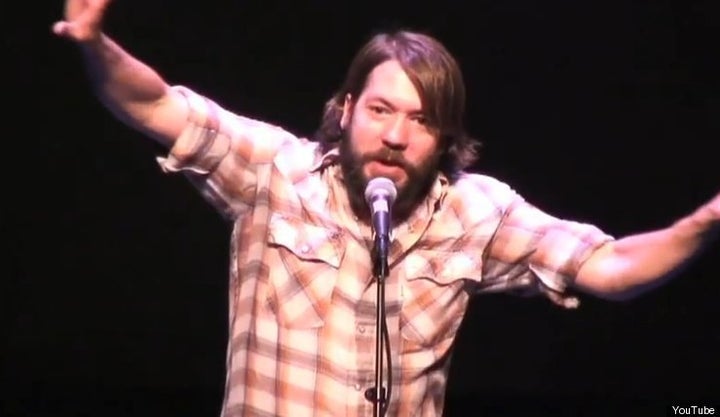 The five-day 2010 National Poetry Slam was decided last weekend in St. Paul Minnesota, with the hometown team, Soap Boxing, taking the honors for the second year in a row.
Slam poetry--defined as the "competitive art of performance poetry"--began in Chicago in 1986. It differs from more traditional poetry in that it stresses performance at least as equally as writing. And competitors had better win over their audience, as judges are encouraged to vote for the performance that gets the loudest audience response.
The art form continues to grow in popularity. This year's national competition attracted teams from around the world, and organizers estimated an audience of about 15,000.
The Twin Cities video blog site, 3 Minute Egg, had great coverage of the event. Here's a recap of the championship round, in which Soap Boxing went up against New York's Nuyorican Poets Café.
The semi-finalists were, without fail, passionate, taking on minority issues (Nuyorican's Jamaal St. John):
you will be called spineless
despite the fact that you are this country's backbone
they will recruit you
then rebuke you
because they are tired of seeing you steal
all the good jobs
like nursemaid, dishwasher, nanny, gardener and scapegoat.
family issues (Soap Boxing's Sierra DeMulder):
child
when your father and I fought at night
did you mistake it for lovemaking?
did I teach those fingers to pluck families apart like flower petals
I love you
I love you still
darling!
and ... err ... fly sex: (Nuyorican's Jared Singer)
when two flies love each other
they do it so hard
that they can never love anything else ever again
if either one of them dies
before procreation can happen
that is the end of both sets of genetic code
now that is dedication
You'll see Hawley enter the mind of a cartoon character (whom you'll remember) with extraordinary intensity. He manages to be ridiculous while eliciting genuine compassion from his audience:
it will work this time.
it has to
I spent the better part of 19 hours
crafting this mural on bedrock
and three full days before that
laying pavement
redirecting the winding desert road
so that it would end abruptly
at the foot of my masterpiece
a rock wall
painted to look like a tunnel
an optical illusion
a way out
but there is no way out of here
my name is wile e. coyote
and I am so fucking hungry!...
Related