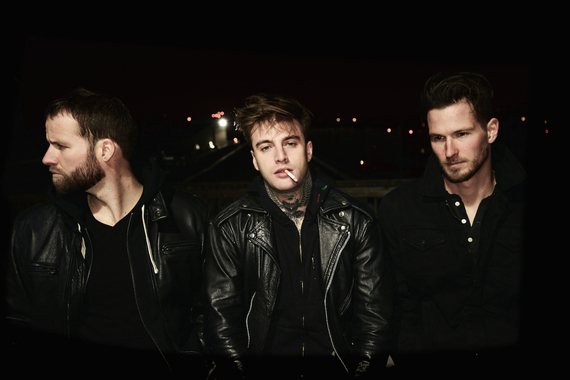 Don't be mistaken -- Highly Suspect is definitely not your average "boy band." So exactly what is it about this trio that makes them so special? Well, aside from their striking good looks... just about everything.
The rock and roll group (founded by twins Rich and Ryan Meyer and their best friend, Johnny Stevens) formed in 2009. Through the years, they've progressed from playing cover sets in their hometown of Cape Cod to performing at many popular music festivals, including SXSW, Bonnaroo, and Lollapalooza. The band's music has also garnered significant praise from FADER, Rolling Stone Magazine, Billboard, and many other notable publications.
Highly Suspect's gripping style of uncensored, bluesy rock and roll immediately caught the attention of 300 Entertainment, an independent boutique label distributed by Atlantic Records and founded by industry veterans Lyor Cohen, Roger Gold, Kevin Liles, and Todd Moscowitz. At the time, the band wasn't particularly interested in signing with a record label. They were holding out for something special. For them, 300 Entertainment was the perfect fit. They were the first rock group to join their roster -- quite an impressive feat for the band.
The band, now based in Brooklyn, is currently celebrating the recent release of Mister Asylum, their first full-length album, a 10-track collection of hard-charging, gritty blues rock. Their songs recount crumbling, failed relationships, self-destructive behavior, coping with broken families, and the damaged relationships that result from a toxic past.
In an interview with Billboard, Stevens describes the catalyst of their second single, "Claudeland." "We have a friend, Claude. He's the life of the party. He hit an unusually low point for a couple weeks, so we wrote this upbeat ripper to cheer him up." The playful, throwback song is about "giving zero f*cks."
I spoke with lead vocalist and guitarist, Johnny Stevens (middle), and delved right into the intimate details of his life. Why? Because those are the moments that created such depth in each song. I asked him about the personal experiences that have influenced his songwriting -- some of which include severe panic attacks, a history of drug abuse, and why sometimes it feels good to be bad and equally good to be used.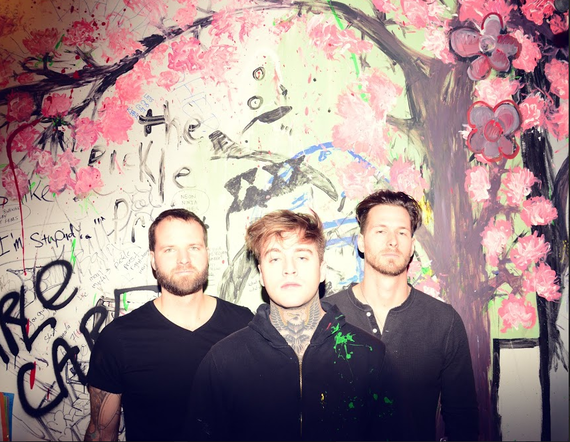 I had assumed "Mom" might be the song most personal to you on the album. However, you've said they are all equally personal to you in completely different ways. Can you offer more insight or details about 3 particular songs and what they mean to you?
"Mister Asylum" -- I went through this time in my life where my anxiety was off the charts. I think it was a combination of things that led to it, but I had never had panic attacks in my life until I was about 25, and then they started kicking in hard. "Mister Asylum" is an answer to the times when the world seems to be closing in around me. Sometimes I feel like I'm going absolutely insane. In this song, I'm begging to be locked away for my own safety and for the safety of others.
One interesting thing about this song is that it has a good amount of lyrics, but they all kind of came pouring out pretty easily. Some songs take a long time to get the words just right, but for the most part, these kind of came spilling out. I listen to it when I'm feeling anxious and it actually helps. It reminds me that I've been here before and that I've gotten through to the other side.
"Vanity" -- This song is one of my favorites. It's got more than one speed, more than one color. Have you ever been upset with someone and maybe a little harsh, but then realize that maybe you overreacted and you find a softer, more sincere piece inside you that wants to fix a relationship? That's what this song is about.
For me, it was about my friendship with Rich. He was going through some stuff and I didn't understand. I didn't have enough patience or empathy. After a while though, I realized that I was losing my best friend and it put everything into perspective. Some people may apply this song to a significant other or a family member. That's all perfectly acceptable. Overall, it's just about figuring out a way to fix a relationship with someone that matters a lot to you. In "Vanity," you can hear the whole timeline of those emotions.
"F*ck Me Up" -- This song is exactly what it sounds like. What you see is what you get. I wanted to write a song that just kind of encompassed that human urge that everyone has for just getting loose. This is an unapologetic, hyper-sexual freight train with broken brakes. It's not that I'm condoning adultery -- it's more that I'm acknowledging its reality. Sometimes it just feels good to be bad and sometimes it feels equally good to be used.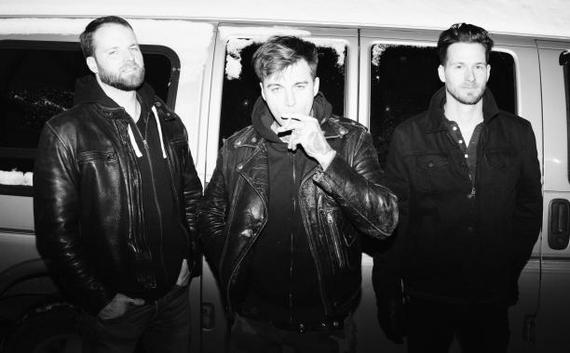 You've experienced a lot of pain in your life. Though forgiveness, learning better coping methods, talking/writing about your experiences, and other methods of eradicating those feelings help, do you feel like you've truly found peace? Everyone has bad days, but on a deeper level, do you feel like you've conquered those burdens?
Absolutely not. In this life I'm constantly f*cking up and trying to learn from it. I think I'm on the right path, and feel like the admissions I've laid down in this album lyrically will help me to feel at peace with certain events from my past.
But as this life that I'm living now ramps up, I'm faced with new challenges and I'm not sure if I'm dealing with them correctly right now. I thought I had a handle on certain habits and now I'm not so sure if I do. Everything feels really strange at the moment. I'm really curious to see how these next couple of years unfold but I certainly know there is more to write about.
I admire you for your openness and honesty about your life. From what I've read, I assume you've hit rock bottom before. Do you care to talk about that experience and how it changed you?
Life is full of "rock bottoms" and "top of the worlds." There is a flow relative to each individual on this planet and every single one of us will have extreme low points and amazing high points during our respective journeys. The only thing I've really learned from hitting rock bottom is how to better cope with it when it happens again. Because it will. Sometimes it's out of our control.
I'm ok with rock bottom when it's out of my control. These are times when, say, a loved one dies or a world event deeply affects you. Or maybe, when you learn about a disease that couldn't be prevented. These things are all out of your control so it's a lot easier to pick yourself up.
I would assume that with this question you're referring to my drug history, and I like to think that a lot has changed since my younger years. But the truth is, who really knows? I know I don't ever want to OD again. It would seem I have a lot more respect for my life and health than I used to.
I always ask this question because the answers are usually very interesting or surprising. If you could kick back and have a beer with anyone in the world (dead or alive), who would it be and why?
My friends. Because #MCID.
And with that, I'll leave you with Highly Suspect's awesome video for "Claudeland." Enjoy!
I'd like to thank Johnny Stevens for baring it all (with no f*cks given), Highly Suspect for this great opportunity, 300 Entertainment, Atlantic Records, and Golightly Media (for being awesome, as always).
Popular in the Community