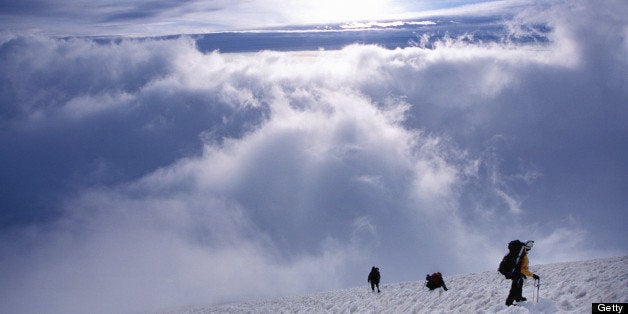 The nation's most obsessive-compulsive mountaineers, members of the Highpointers Club, aim to scale the peaks of all 50 states -- everything from Denali (at 20,320 feet, it's the highest point of Alaska, the U.S., and North America) to Florida's Britton Hill, which, at 345 feet, is the lowest highpoint in the country. Fifty-state completers will also take in Ebright Azimuth in Delaware (located in the middle of a traffic intersection), a suburban backyard in Rhode Island (more properly known as Jerimoth Hill), and no fewer than 15 car-accessible "drive up" points. Many peaks are far from gimmes, though -- Denali, Mount Rainier (Washington). Mount Hood (Oregon), Granite Peak (Montana), and Gannett Peak (Wyoming) all require considerable mountaineering skills. As a point of reference: Around 250 people have climbed all 50 state highpoints. About 3,000 have summited Mount Everest.
This weekend, many of the Highpointers will swarm Maine's Mount Katahdin during the Highpointers Club's annual convention. We quizzed this year's organizer, Mick Dunn, on why anyone might feel compelled to climb the highest point in New Jersey. (For the record, it's beautiful.)
How do you describe a highpointer to someone outside the group?
We're a bunch of neurotic people -- that's how I describe it. More specifically, we're listers. We're people who want to accomplish everything on a given list. Maybe it's highpoints. Maybe it's state capitals. Maybe it's kayaking the largest lake in each state.
The kayaking one is new to me.
That's one my girlfriend and I made up. Oh, and National Hockey League stadiums. That's another thing for me.
Why highpoint when you could just go explore, without a predefined goal in mind?
All of us are very objective-minded -- whether it's Delaware and a paved road; it's Mount Washington [the highest point in New Hampshire], where you drive to the top; or Mount Rainier, which is a pretty serious climb. It's an objective list. It's a mindset. When I roll into a town, one of the first things I do is look for the highest skyscraper, and make a beeline for it. It's the way I've always been, and a lot of us are the same way. We have subgroups, like the county highpointers, who go to the highest point in each county.
There are over 3,000 counties. That sounds a little like a chore.
I've just dabbled in county highpoints. Some counties have several highpoint candidates -- like you might be in Delaware, where there are several sand dunes that might be a certain height. Or you're going through cornfields in the middle of the country. Or in the South, you'll have bayous where the highpoints are manipulated by water -- so one day it's a highpoint, the next day it's not. And maybe there's two or three alligators waiting for you.
How did you get your start highpointing?
I did South Dakota [Harney Peak] in 1982, over Memorial Day weekend -- but the light bulb hadn't clicked on. One New Year's Eve, my [then-]wife and I borrowed another young couple's car, and we decided we'd drive around Monongahela National Forest. We had the old Rand McNally maps, and we came across the little symbol for the highpoint. That's when it occurred to me that I'd hiked the first one in South Dakota. So we walked to the top [of Spruce Knob] in shin-high snow, and on New Year's Day we said, "Oh, look, there's Maryland's highpoint [Backbone Mountain], not very far away." That's when the light bulb went on, and I said, How many of these can I do?
How many highpoints do you have?
48. I'm missing North Dakota and Alaska.
White Butte, the highest point in North Dakota, isn't considered a difficult highpoints. What's kept you from that one?
What I like to say is that it's on the way to nowhere, unless you're going to Saskatchewan. The real reason is that my first state was South Dakota, and for a while, no one had finished [all 50 states] in North Dakota -- but that's been done in the past couple years. Alaska was always in my way.
What's your history with Denali?
I spent 21 days on Denali trying to get to the top in 2009, but I suffered some severe headaches and had to come down. I got to 15,450 feet. The last day I probably hiked about 300 feet in denial. But you know if you do go any higher, you could kill yourself.
I don't know -- it's a huge commitment, and there are a lot of places in the world I want to go. But I'll always have a list. No matter when I die, whether it's today or 20 years from now, the result will be the same: I will always have a list of mountains I have climbed and an even longer list of mountains I want to climb.