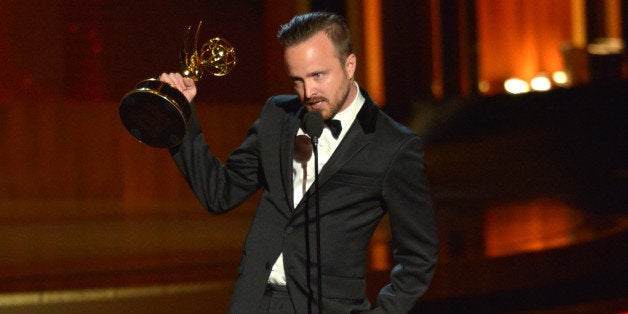 We all hate the Emmys now, right? They were pretty rank this year. We expected great change to grace TV's biggest night (a strong Netflix showing, a lack of "Modern Family" victories), but we were left with the exact opposite. Seth Meyers' hosting job was a letdown, and the only perfect thing about the show was it ending two minutes ahead of schedule. Here are this year's highs and lows, scored on a scale of 1 to 10. Read on to see what overall grade the 2014 Emmys earned.
LOW: Seth Meyers' monologue. MTV not playing music anymore was funny in 2004, and comparisons to the last time the Emmys aired on a Monday -- in 1976, which is 38 years ago and therefore inherently unfunny -- fell flat. Then he talked about Justin Bieber and One Direction, and we were officially gone. The get-in, get-out, drop-a-few-jokes format was a snooze.
Score: 4
LOW: "Modern Family" won the night's first award. Ty Burrell is probably the tired comedy's best performer, but the show nabbing the night's first win was terrible foreshadowing. At least the speech was good.
Score: 5
HIGH: Allison Janney's acceptance speech. You'd think she's won before or something.
Score: 7.5
LOW: We didn't get to see a Jodie Foster acceptance speech. Remember that incredible (read: incredibly strange) speech Foster gave when she won the Cecil B. DeMille Award at last year's Golden Globes? We wanted a repeat so badly. Also, "Lesbian Request Denied" is an A+ episode of "Orange is the New Black" and deserved to win.
Score: 2
HIGH: Billy Eichner yelling Emmy trivia on the streets of New York. Emmy host 2015? #TrueDetectiveSeason2?
Score: 8
HIGH: Julia Louis-Dreyfus and Bryan Cranston's "Seinfeld" reunion and subsequent kiss. This follows in a long line of standout speeches from Louis-Dreyfus, who's now won three consecutive trophies for "Veep."
Score: 8.5
LOW: Stephen Colbert doing ... whatever he did while presenting. We still don't know. Channeling Clint Eastwood talking to a chair, perhaps?
Score: 1.5
HIGH: Matthew McConaughey and Woody Harrelson's matching suits. Beautiful men, beautiful moment, beautiful threads.
Score: 7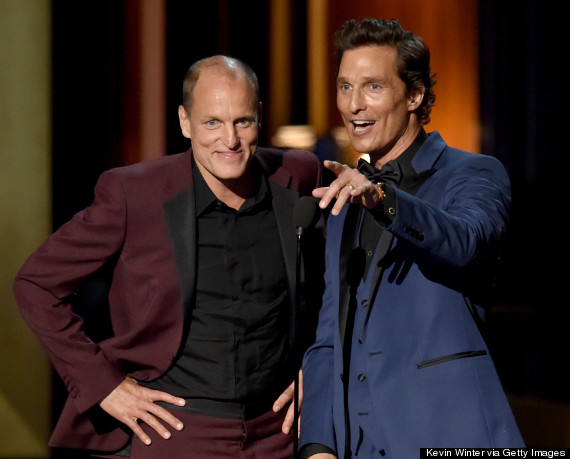 LOW: "Weird Al" Yankovic singing faux theme songs. Apparently no award show is complete without a musical number. At least this was more clever than last year's interpretive-dance segment. We think.
Score: 3.5
HIGH: Jimmy Fallon accepting for Stephen Colbert. Gwen Stefani got her Adele Dazeem moment when she proclaimed "The Colbort Ra-porrrrt" the winner of Outstanding Variety Series. Fellow nominee Jimmy Fallon rushing the stage to verify the veracity of that announcement and then dictating Colbert's speech may feel like a throwback to Julia Louis-Dreyfus' 2013 speech, but it was still just as funny.
Score: 7
LOW: Sofia Vergara rotating on a dais. Vergara was described as "something compelling to be looked at" while Television Academy chairman Bruce Rosenblum spoke gave us a bathroom break. The "Modern Family" actress never should have agreed to such objectification, but at least she made the best of it.
Score: 5
HIGH: Aaron Paul won. This is as much Peter Dinklage and Josh Charles' award, but Paul's masterful performance on "Breaking Bad" gave way to a third win and a heartfelt speech about how great the show's cast is. We miss you, Jesse.
Score: 8
HIGH: Billy Crystal's tribute to Robin Williams. Sara Bareilles scored a beautiful In Memoriam segment loaded with A-listers, which Crystal followed up with a touching speech about his longtime friend. "Robin Williams, what a concept," Crystal said in closing.
Score: 9.5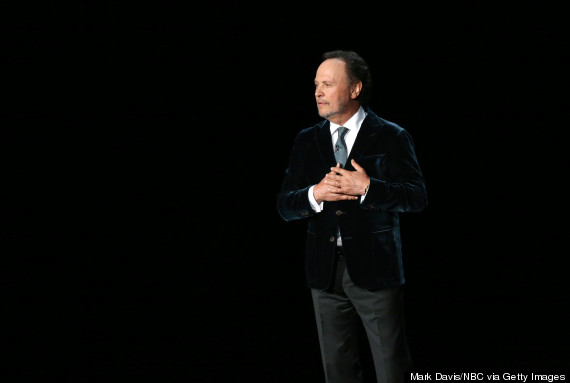 LOW: Julianna Margulies citing the 22-episode seasons of "The Good Wife." Go, Julianna! You deserved this award. But your reference to "The Good Wife's" 22-episode run was low. This conversation goes back to that biting Emmy campaign in which CBS attacked shows like "True Detective" and "Mad Men" for being pitted against broadcast series' lengthier seasons. "The Good Wife" was snubbed for Outstanding Drama Series despite the ad's claims, so how about we let go of this irrelevant point?
Score: 4.5
HIGH: Bryan Cranston tied an Emmy record. With four wins, Cranston is now on par with "NYPD Blue" star Dennis Franz as the most-recognized drama actor.
Score: 9
LOW: Matthew McConaughey will never win an Emmy for "True Detective." There's no doubt that Cranston is still worthy, but it doesn't soften the McConaughey blow.
Score: 4
LOW: "Modern Family" also tied an Emmy record. The show's fifth consecutive Outstanding Comedy Series win matches the record "Frasier" has held since 1998. This is otherwise known as proof that the Television Academy are big fans of monotony.
Score: 2.5
HIGH: "Breaking Bad" toked up one last time. Walter White and company earned their second (and final) Outstanding Drama Series trophy, and the American television landscape rejoiced.
Score: 9
LOW: "Orange is the New Black" lost everything. Litchfield was creamed, and the American television landscape went right back to mourning again.
Score: 1
HIGH: The telecast ended two minutes early. We wouldn't have it any other way.
Score: 10
REAL LIFE. REAL NEWS. REAL VOICES.
Help us tell more of the stories that matter from voices that too often remain unheard.
BEFORE YOU GO
PHOTO GALLERY
Emmys Red Carpet 2014