While walking along the cavernous floor of the Javits Center in NY, my eyes and brain were bombarded by the usual visuals and cacophony of music, myriad loud conversations and white noise.
These big trade shows can really suck the life out of us.
But out of nowhere, a moment of clarity descended on me and all the noise went away. I then heard what for me were 'magic words:' "It shows what your ad looks like on an iPhone in Malaysia."
That stopped me dead in my tracks.
Given that I was at a massive digital advertising and media show with what seemed like a thousand company booths and tens of thousands staffing those booths with the sole objective of stopping passersby with pithy questions and come-ons, this was extraordinary that I could be frozen in my path by any words.
The exciting words that got me attention were spoken by an executive of GeoEdge, a young Israeli company. I have found some of the most interesting companies in Israel, partially due to the Israeli tech ingenuity and partially because of the great migratory path beaten there by Russian Jewish technology minds.
Amnon Siev is the GeoEdge VP of Product Management based in Petah Tivka near Tel Aviv. After Haifa, Petah Tivka is Israel's biggest industrial center. It is from this bustling business center that GeoEdge emerged in 2009.
Siev also acts as the company CEO; as he says, "In a small company, I need to help customers daily -- how would they feel if the CEO was helping them?"
Founder-funded and cash-flow positive, GeoEdge provides the technology -- a software service -- that allows publishers, advertisers and their agencies to track, view and validate ad campaigns on any device platform, virtually anywhere in the world.
Upon closer scrutiny of the demo being given at the GeoEdge booth, I found a system beyond belief. Not only could you 'see' the ad for instance by Pepsi on an iPhone in Malaysia but Pepsi could see a Coke ad on an iPad in Argentina or a Schweppes ad on a Droid in Tanzania. This was one of the most interesting technologies at the whole trade show; imagine the possibilities for advertisers to amend their ads based on local culture, nationality, religion and perhaps most intriguingly, competitive positioning.
Think about this: A publisher such as the NY Times can see how its arch publishing competitor, the Wall Street Journal is displaying Ford's ads in Russia or how a certain ad campaign for Microsoft is being positioned to the local reading public in Wellington, New Zealand. Publishers can also see the better performing ads while negotiating better ad pricing and enforce better ad compliance to eliminate inappropriate or questionable ads faster. But there's no question, revenue maximization for the publisher is the name of this game.
A colossal advertiser spending more than $1 billion annually like IBM can track, verify and tailor their ads around the globe on the fly.
Simultaneously, a J. Walter Thompson can see how that big airline account they're pitching is being creatively represented by their current agency in an important new market like China. And rating the performance and effectiveness of campaigns is another important capability.
To my knowledge, these three benefits for these three sectors have never been possible before. It also shows the websites and organic search results in specific geographies. And the value of an advertiser being able to verify the ads its agency says it is running and that frequency should not be overlooked.
According to Siev, "We knew business people wanted to see how their websites, search results and ads looked in Singapore, for example, and around the world. In order to accomplish this, we established a worldwide network of proxy servers so our customers could 'see' into different countries. GeoEdge now has the largest proxy server network in the world; 102 countries currently."
He added, "We created a simple way to access a proxy server for our customer."
So Siev and a small but trusty team of software programmers created a code to build a service which would "emulate mobile devices and allow the user to manually access the proxy servers and see any website in the world just as it's displayed on that device in that place," said Siev.
"The code behind this," Siev emphasized, "is more about cracking the various user profiles and using algorithms to emulate the various user experiences. Proxy is not our invention; it's a commodity here."
Once connected to the right local proxy server, GeoEdge's platform emulates all the important parameters such as cookies, location, device and language.
"There are many small vendors in the US," Siev said, "who provide a proxy server network with low-bandwidth and these small vendors are unreliable -- this is not our network." Siev gives an example of why proxy servers are important geopolitical gateways: "Many people who want to watch TV or movies on Hulu in non-US countries can't. So they get a proxy server in the US to give them access."
GeoEdge's technology offers the client a look at the complete ad spectrum including how many times and when the ad is displayed; what it looks like; and a final layer of business intelligence which is the monetization and compliance component.
A holistic 'dashboard' allows the user to navigate their advertising worldwide and learn about how they're brand is positioned globally. Setting 'alerts' based upon key markets and ads is also built-in.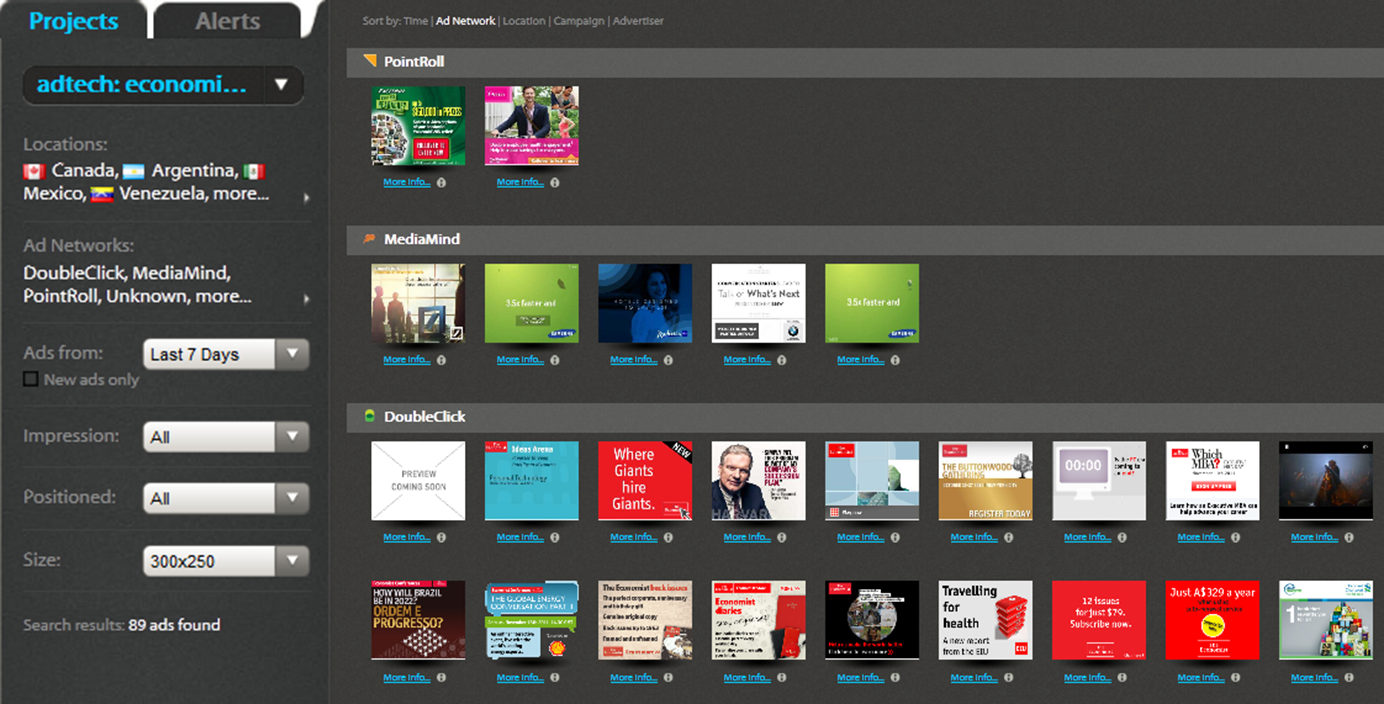 "One important capability of GeoEdge," said Siev, "is identifying the advertiser and then setting an alert for a Ford ad whenever it's displayed. We do this for Ford, GM or the ad agency."
Starting their product line with a simple toolbar, GeoEdge Pro, the company has tried to expand the depth and breadth of their software capabilities.
As the company has moved forward, it quite rightly saw an opportunity to turn its service into something Google has gone into in a big way: an web analytic service. So GeoEdge created GeoEdge Analytics to compete with Google in a way Google mightn't have anticipated.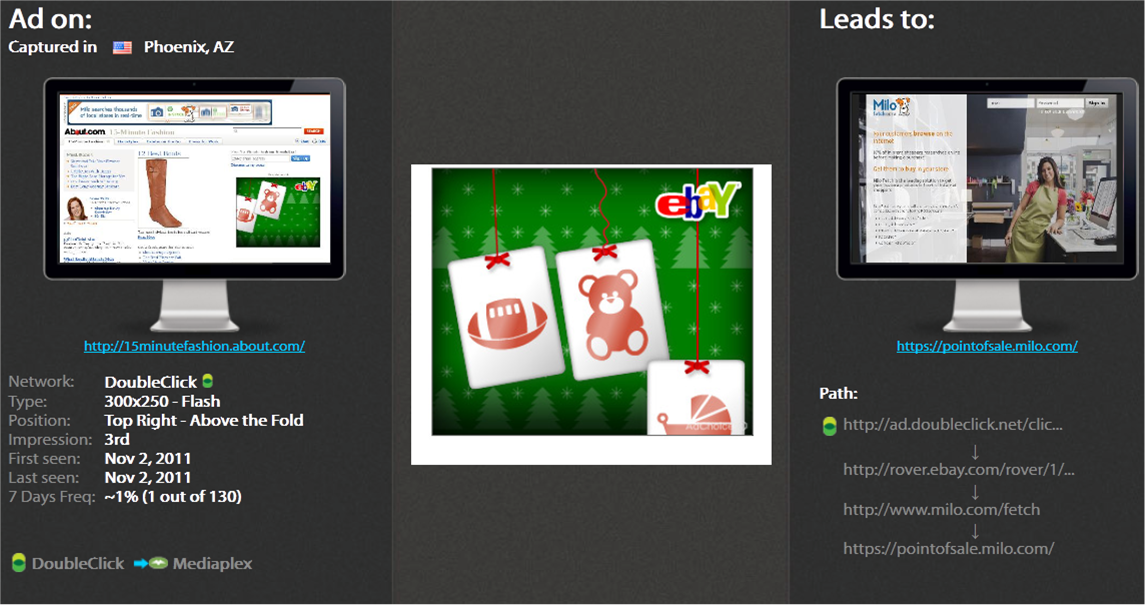 Current GeoEdge clients include: Facebook, MySpace , Lefigaro.fr, Zedo, Spilgames, Adorika, Improve Digital & Spotxchange.
GeoEdge offers its GeoEdge Pro toolbar product on a $100 per license user basis. It's GeoEdge Analytics product is $500 per month.
"We're growing GeoEdge very carefully," said Siev, "watching our expenses very closely, being conservative ... growing slowly." With only 10 employees, it's astonishing GeoEdge has such a complicated product.
Calling all HuffPost superfans!
Sign up for membership to become a founding member and help shape HuffPost's next chapter