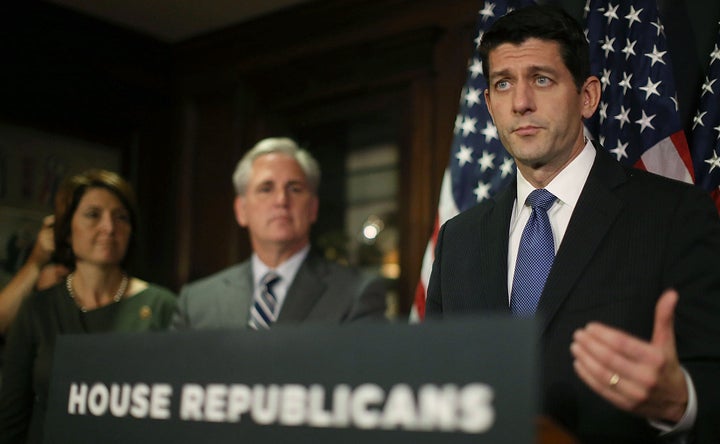 WASHINGTON -- House Republicans will seek to preserve $17 billion in government payouts to banks on Thursday as part of a major highway funding bill.
Both parties consider the highway legislation a must-pass infrastructure bill to repair roads and bridges. Federal highway funding has traditionally been paid for by a tax on gasoline, which has not kept pace with inflation. But the GOP has fought efforts to fund the spending with tax increases of any kind. Instead, they seek to offset infrastructure maintenance with spending cuts elsewhere.
Over the summer, the Senate agreed to help pay for the highway bill by eliminating $17 billion in payments that the Federal Reserve makes to banks. But on Thursday, House Republicans will try to reverse that move -- voting on an amendment that would preserve the bank payouts. The money would be recouped by draining an account that the Fed uses to conduct monetary policy.
The gas tax has been fixed at 18.4 cents per gallon since the 1990s even as the price of gas and other goods has risen considerably, effectively curbing the funds available for road and bridge repairs.
The GOP had initially pressed to include other bank-friendly measures in the highway bill, including a plan to hamstring the new Consumer Financial Protection Bureau and deregulate large banks. Those efforts were abandoned in favor of the more straightforward $17 billion payment.
Bank have aggressively lobbied Congress to maintain the flow of government money. Federal Reserve Chair Janet Yellen has defended the payments, saying they encourage banks to be part of the Federal Reserve System. The Fed, however, has the authority to regulate banks whether they participate in the formal system or not. And access to the Fed's borrowing facilities remains a powerful incentive for banks to remain in the system with or without the annual payments. Banks also rely heavily on payment and securities settlements services provided by the central bank.
Zach Carter is The Huffington Post's senior political economy reporter and a co-host of the HuffPost Politics podcast, "So That Happened." Listen to the latest episode here:
Popular in the Community