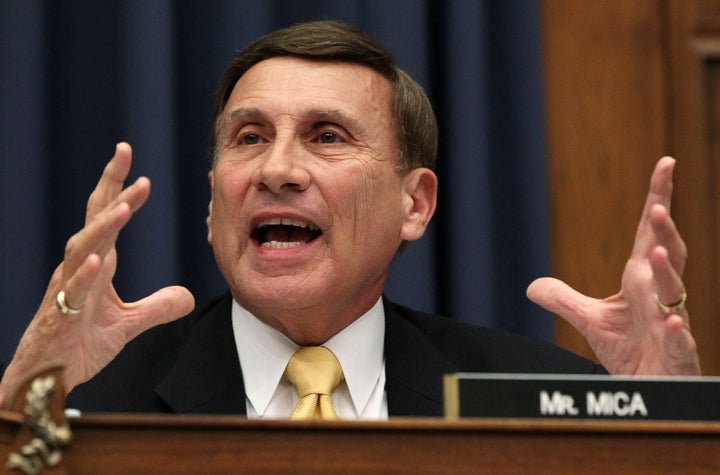 WASHINGTON -- Hours after President Barack Obama pressed Congress to extend surface transportation funding before it runs out next month, a key House Republican announced Wednesday that he's on board for a short-term fix one more time.
"As Chairman of the House Transportation Committee, I will agree to one additional highway program extension, this being the eighth of the overdue transportation reauthorization," said Rep. John Mica (R-Fla.) in a statement.
The current authorization, which provides funding for highway construction, bridge repair and mass transit systems, expires on Sept. 30. During a Rose Garden event, Obama said failure to pass "a clean extension" of the measure before then would mean more than 4,000 workers would immediately stop receiving paychecks. And if an extension were delayed even by 10 days, the government would lose nearly $1 billion in highway funding from uncollected tax revenue.
"That's inexcusable," Obama said. "It's inexcusable to put more jobs at risk in an industry that's already been one of the hardest hit over the last decade."
Lawmakers keep passing short-term extensions as they struggle to reach a deal on a broader reauthorization of the program. The House and Senate still have some key differences to sort out: The House is considering a six-year, $230 billion bill funded entirely by current fuel taxes, while the Senate proposal would last only two years and cost $109 billion.
Democrats on and off the Hill say current spending levels must be maintained if the party is to be viewed as serious about jobs. A top Republican aide emphasized that Congress must get serious about a longer-term extension because it would give states and transit agencies "the predictability" they need to plan long-term projects.
During his Wednesday remarks, the president also called on Congress to pass a clean reauthorization of Federal Aviation Administration funding. Lawmakers failed to extend FAA funding earlier this month, a hiccup that resulted in a partial shutdown of the agency for 10 days until Congress passed a temporary fix that runs through Sept. 16. During those 10 days, about 74,000 FAA and construction workers went without pay and the government lost about $360 million in uncollected tax revenue.
"That's why, when [lawmakers] come back next month, not only do they need to pass the transportation bill but they've also got to pass a clean extension of that FAA bill -- for longer this time -- and address back pay for the workers who were laid off during the last shutdown," Obama said.
But on the matter of the FAA, Mica signaled he wants to wait to meet with House GOP leaders before he agrees to a clean extension. He noted that Republicans have put forward "positive and financially responsible alternatives" to both the highway bill and the FAA bill, referring to versions that include GOP policy provisions opposed by Democrats.
"I am returning to Washington to also consult with our Republican leadership before granting the 22nd FAA extension," Mica said.

Calling all HuffPost superfans!
Sign up for membership to become a founding member and help shape HuffPost's next chapter