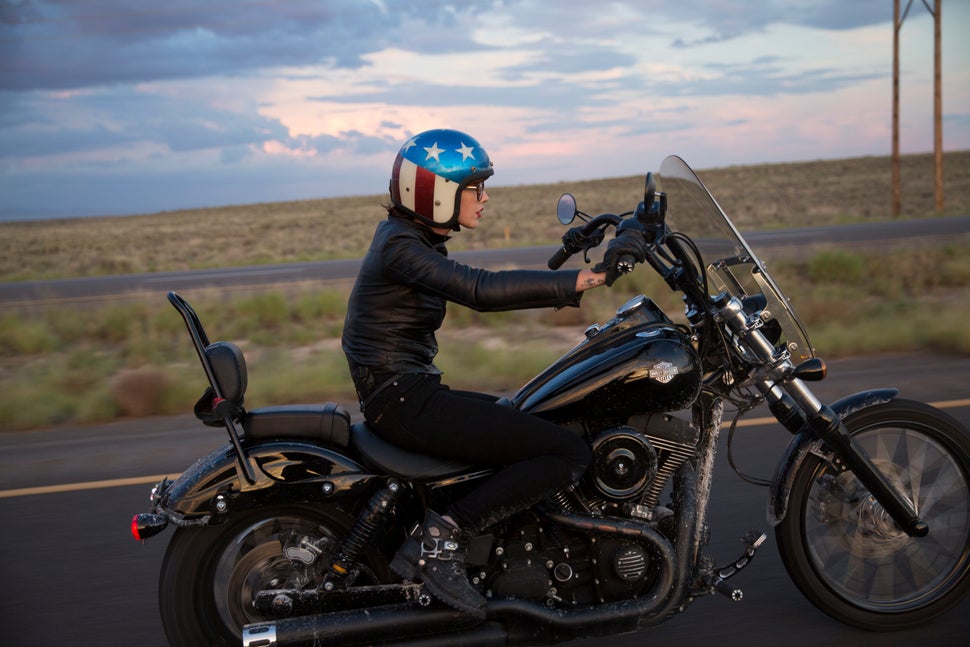 In 1915, Avis and Effie Hotchkiss embarked on a road trip that no woman had ever tried before. The mother and daughter duo drove across the entire country on a three-speed twin cylinder Harley Davidson motorcycle and sidecar. Back then, women couldn't even vote.
One hundred years later, Portland-based photographer and women's motorcyclist advocate Lanakila MacNaughton and four friends followed in the trailblazers' path. They recorded their journey on Instagram in an effort to inspire a new wave of women riders.

MacNaughton, 26, and her friends, who are also known as the "Highway Runaways," set out to ride from Brooklyn, New York, to San Francisco, California, at the beginning of July. Their 4,500-mile journey, which was peppered with stops along the way to connect with other communities of riders, took four weeks to complete and was chronicled in photographs posted online and in the Women's Moto Exhibition.
While most motorcycle riders are men -- or men who prefer that their ladies ride on the back -- the Women's Moto Exhibition highlights portraits of women who ride their own bikes. The goal of the traveling photography show was to encourage women to take the plunge and ride for themselves. 
HuffPost spoke with MacNaughton days after she completed the journey. Answers have been edited for length and clarity.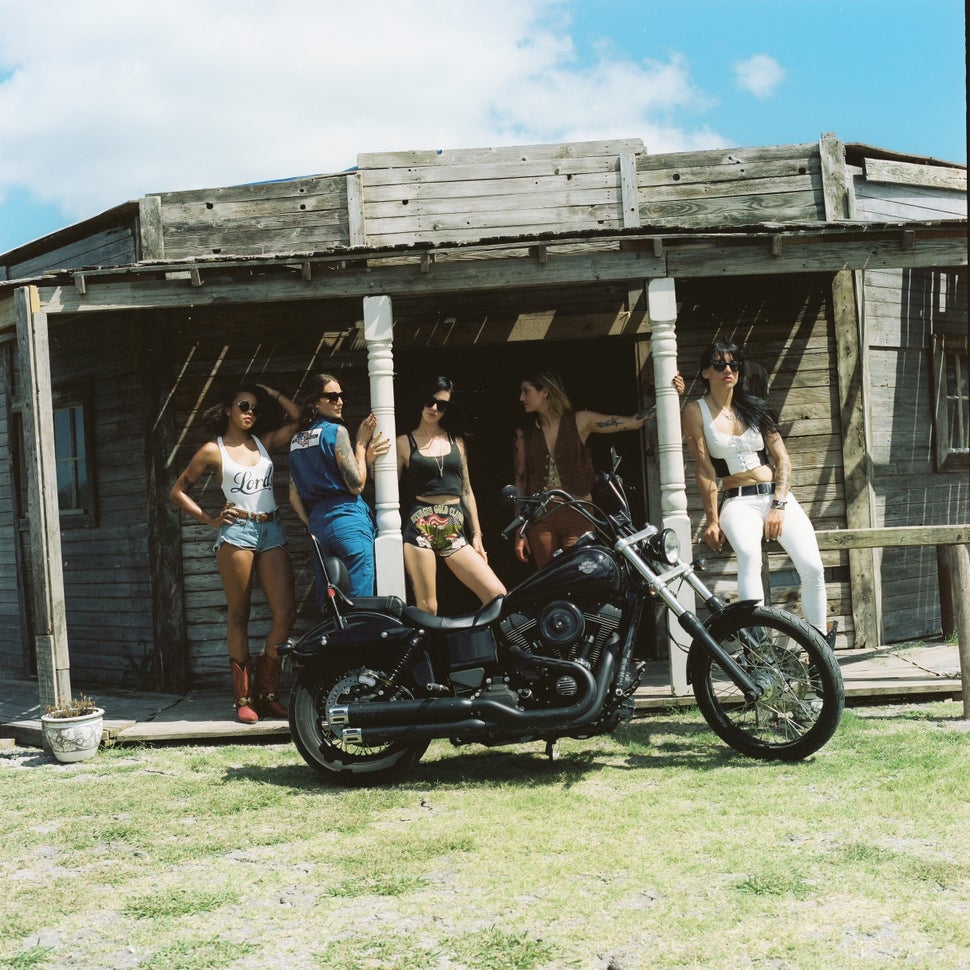 What was the inspiration behind this cross country ride? What made you gals do it? 
I bought a motorcycle three years ago when I got sober, and started meeting amazing women who I was riding with. I [felt] that the motorcycle riding industry didn't represent myself and the women I was riding with. I just started taking photos of different women across the country, and then it just had a snowball effect to sold out [photography] shows.
I think Harley Davidson has seen the progression of the Women's Moto Exhibit and has put wind in my sails in supporting this new wave of women riders who are getting on the front of the bike instead of staying on the back. Women who were on the edge and didn't think they could [get on a bike] are now seeing other women, maybe their friends or people on Instagram, and have decided to pick it up. And so, the ride is to merely inspire and motivate other women that they can get outside their comfort zone and do things that are scary, with other women, and feel strength and power within that.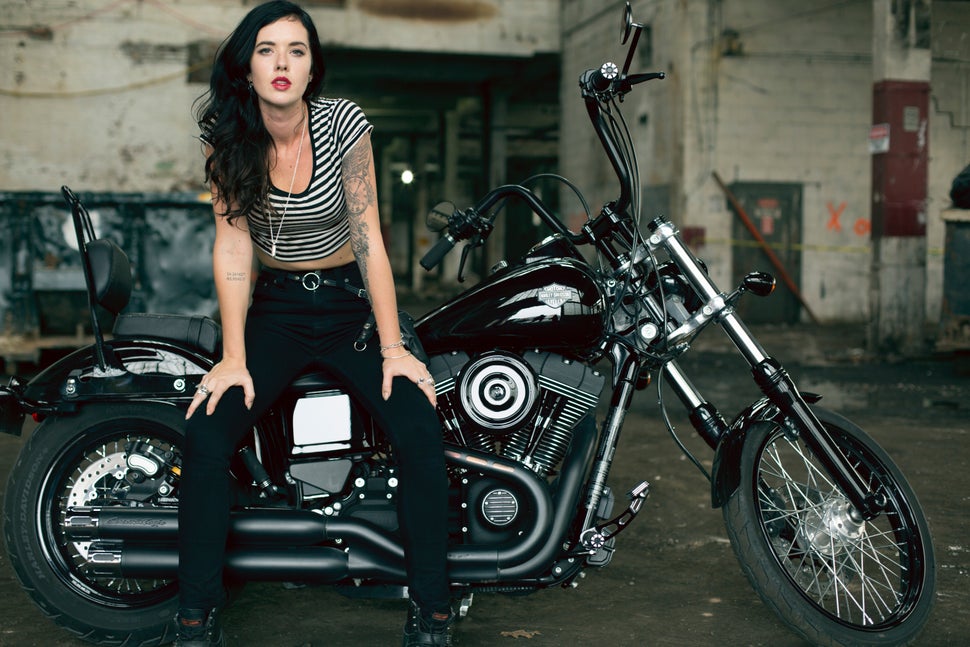 Who did you meet along the journey? What were their stories?
We connected with different communities of women. We got their stories, we took photos, and it was kind of just this connection we had along the way.
A lot of people maybe grew up riding dirt bikes and then progressed to a Honda, like a smaller motorcycle, and then got a Harley. I heard from one woman whose dad died, and he always wanted her to ride. And so when he died, she picked up a bike and started riding. Others are kind of like my story, women who saw other people, other groups of friends, mostly men riding, and wanted to experience what they'd been experiencing.
And you get the buzz. You're on the back, you feel the energy of being on the bike, you feel the emotion, freedom from it. You're in this place where you have to jump off and just do it, and there have been a lot of women who have been on the edge. And in the last couple of years, with Instagram, people have decide to take the plunge and actually buy a bike.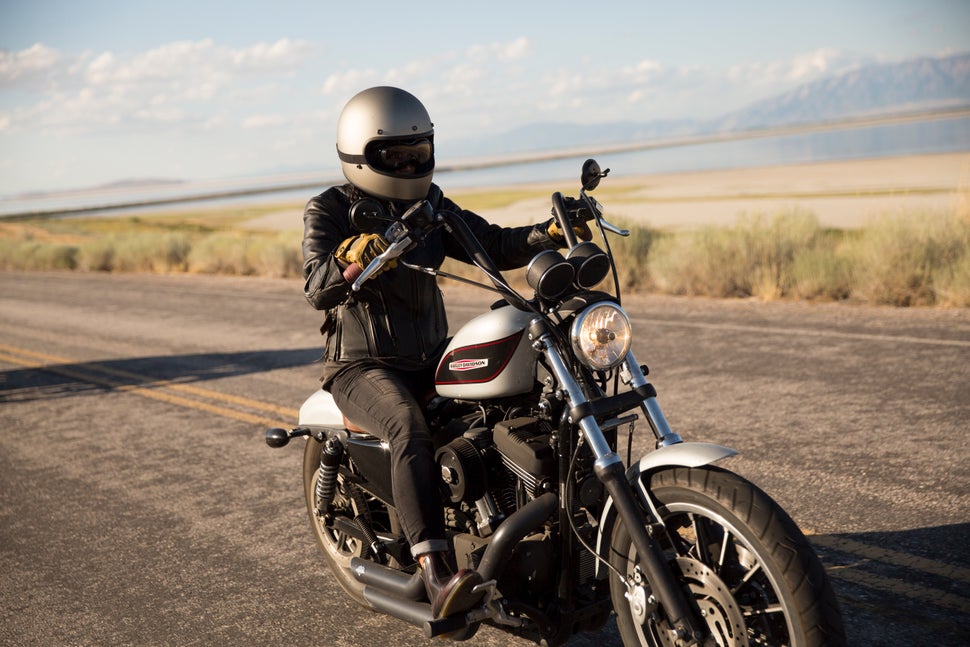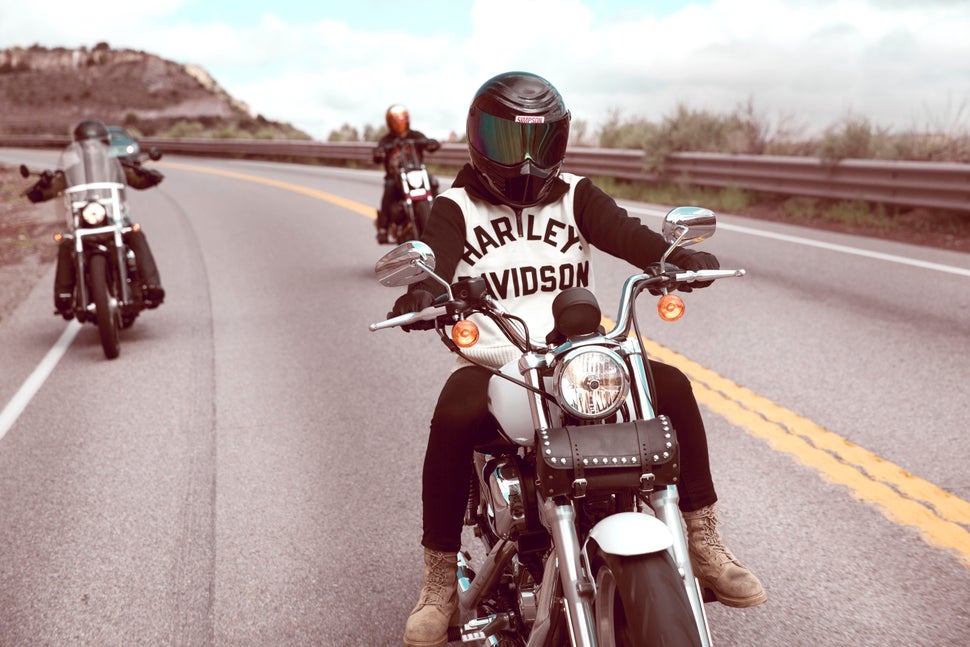 Do you think just seeing more women on bikes, the visual inspiration of seeing women riding instead of on the back seats, is responsible for the shift?
Motorcycling is primarily a male-dominated industry. Women, historically in motorcycling, have been used as more of an accessory in motorcycling. I just think with what's going on politically, and just how progressive parts of the country are, a powerful woman is starting to become a more trendy woman. It's starting to be cool, you know.
I don't know if you've seen Maybeline's new girl [Ruby Rose], but she's this tatted chick, she's very androgynous, she has short hair. She just looks like a badass. You can see [the shift] happening in popular culture. It's really cool to see, and I think that's totally translating to the motorcycling industry as well.
And I think that the photos that we're seeing, these kind of all women's motorcycle events, campaigns of Harley Davidson featuring all women are just kind of proof that things are starting to shift.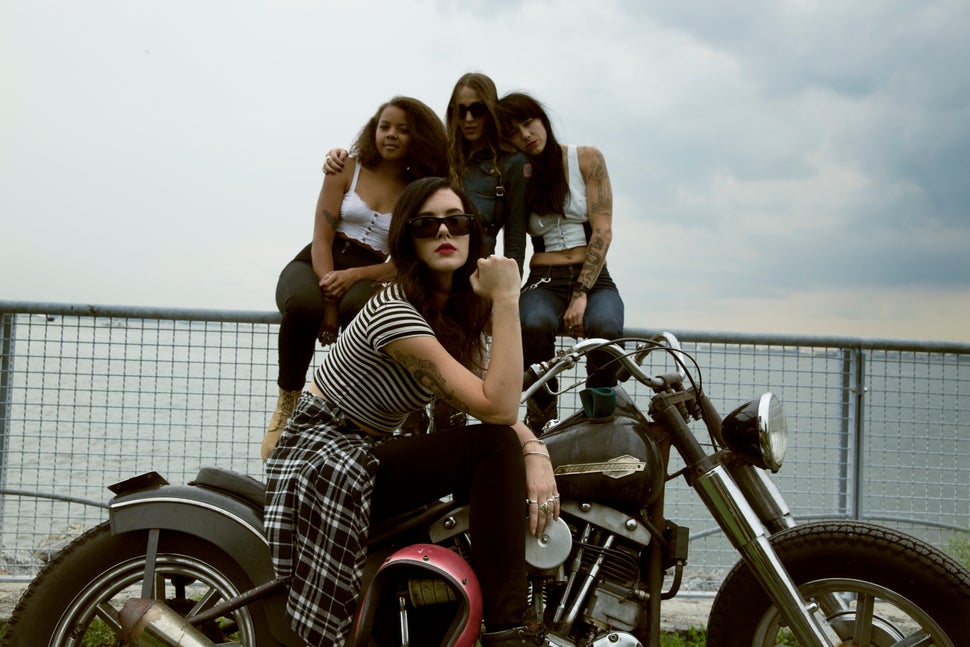 Where do you think the movement for this new wave of female riders needs to go still? How do you envision that future to play out?
I think that all women's motorcycling events is huge, that's what we're building. I think, just more women riding, kind of just creating a more supportive community. [What we have now] is supportive, but it's still pretty small. I think more of popular culture needs to take a look at what's going on in women's motorcycling, and just keeping on the same path that we're already on. Continuing to have fun and to share our own stories, listen to people. That's what's so cool about Instagram and the Internet, you can see women in Australia doing these incredible journeys. Or women in Japan. It's just kind of sharing our passion and our love, and it kind of just goes from there.
I don't really know where the future is, I just know what we're doing right now is extremely fun, and it's a really fun community to be apart of and also help inspire other women to do the same. So I think as long as we keep on the same track, only good things are going to happen.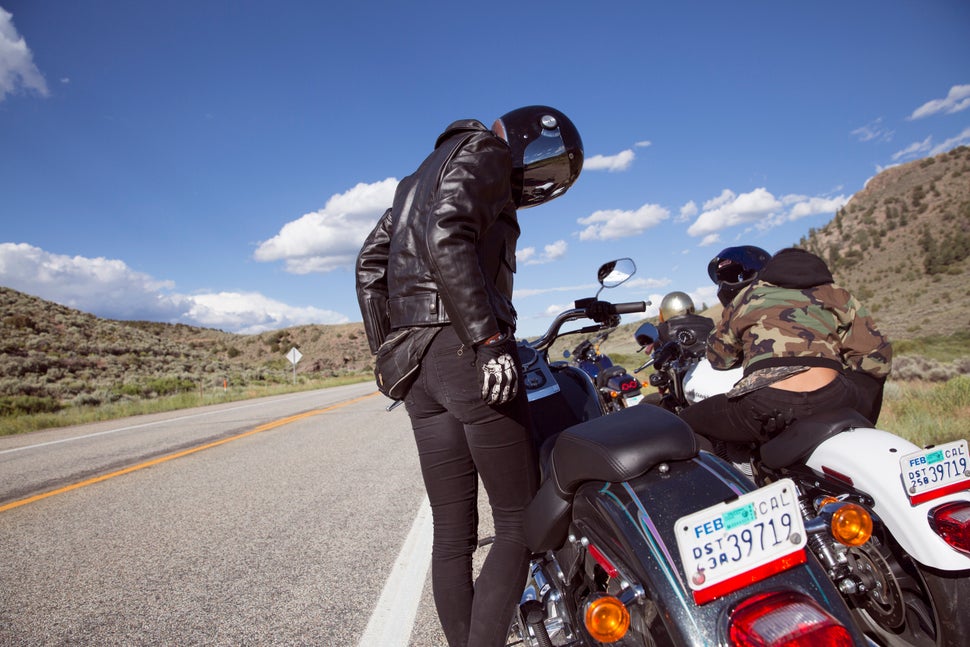 As a photographer, what are you trying to capture through your art? 
I want to empower badass, powerful women. Keeping it honest and keeping it real is what it's about. All I set out to do in the very beginning was to represent women accurately, and to show them as I see them, and as they see me. And to tell their stories. When I started shooting, I would have an "ah" moment -- I'd meet these women, and be like, how come no one knows about you? You have incredible stories. I look up to you, other women would look up to you. Why are we focusing on just women draped on the bike? I know so many women who own their own companies, are single moms, and have been working since they're 15, and work their ass off and have a great story and great attitude. It's all about putting the light on them.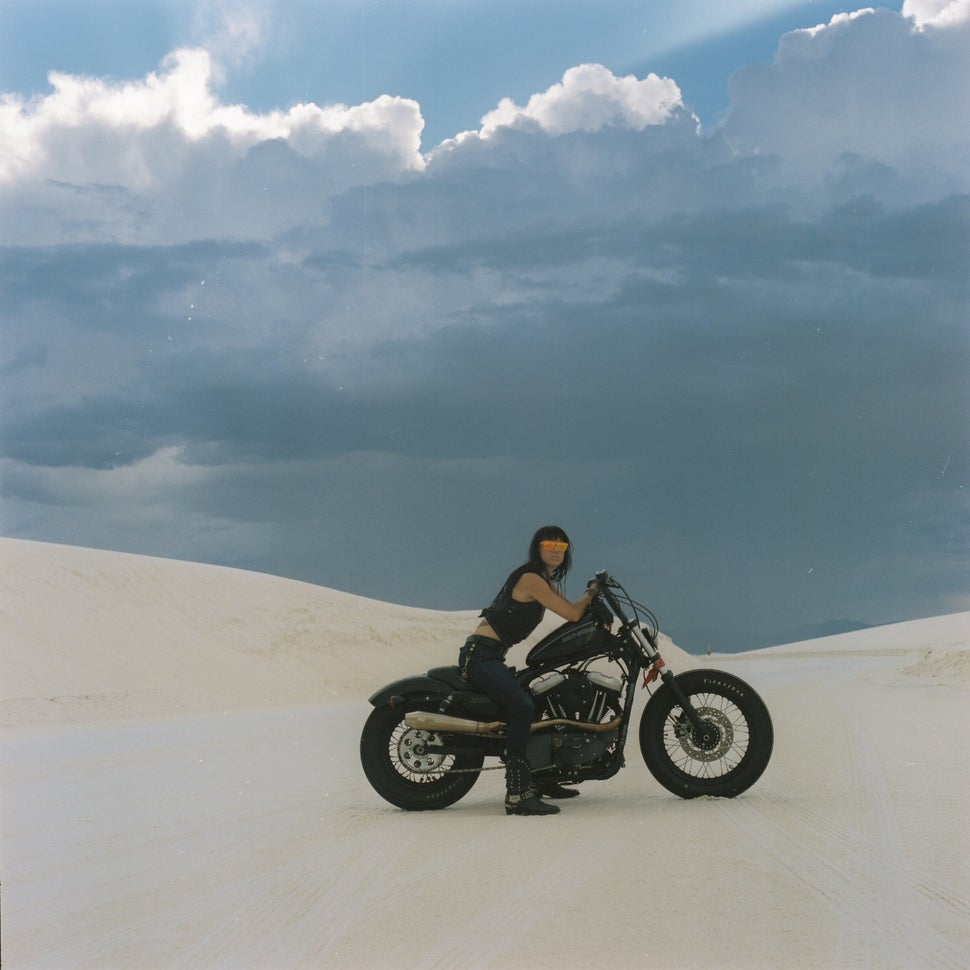 What would you say to women to get them riding?
I'd say there are so many women who are just like them, very scared, very apprehensive, and have done it. And it's completely changed their lives and made their lives richer and fuller. There's also this sort of magic that riding has. Riding across the country was absolutely incredible. It's hard to share that emotion and feeling with somebody who hasn't experienced it. Motorcycling is so amazing because you could have the worst day ever and once you get on your bike, and are riding in the sunset at an amazing location, you just check out. Things aren't affecting you as they were before. It's this sort of magic, a connection you have with something greater than yourself.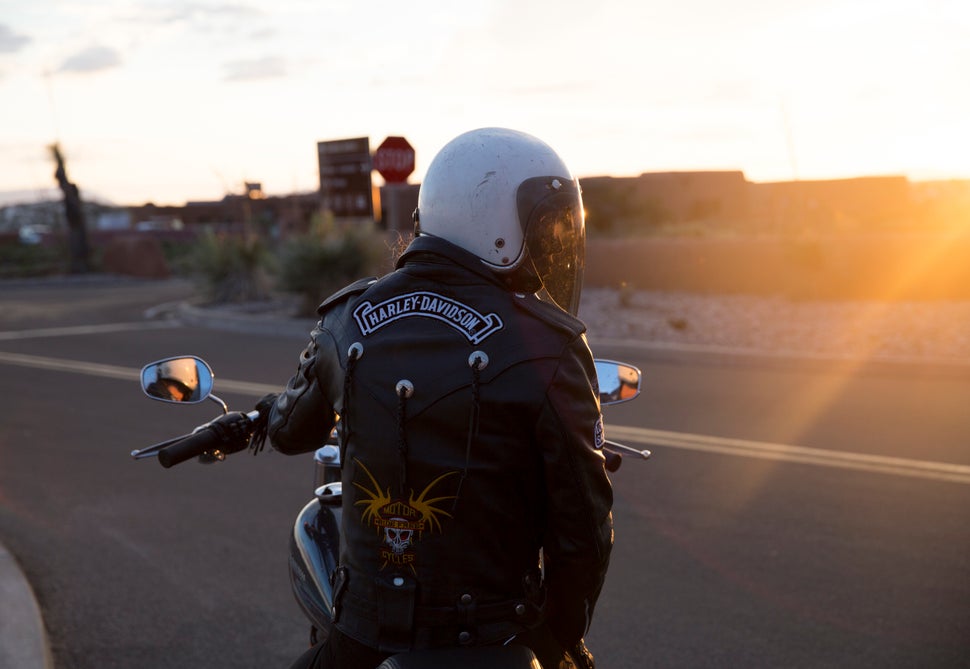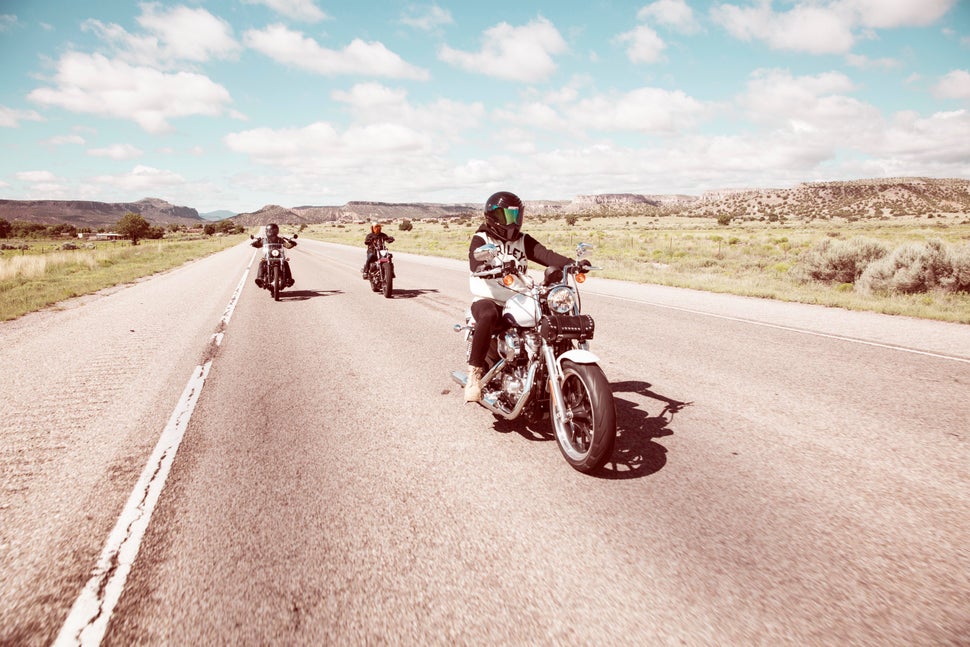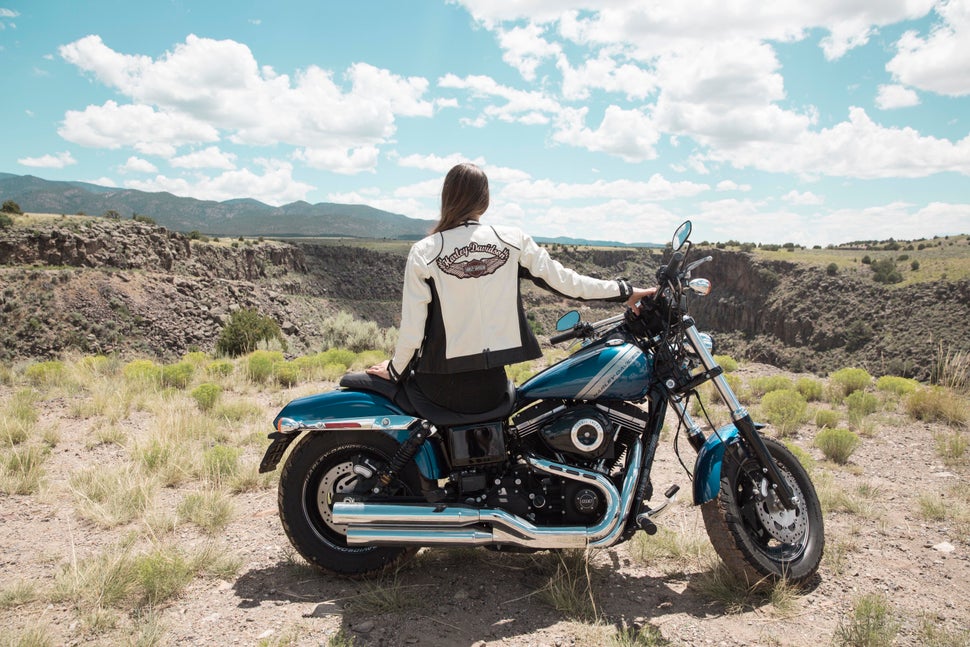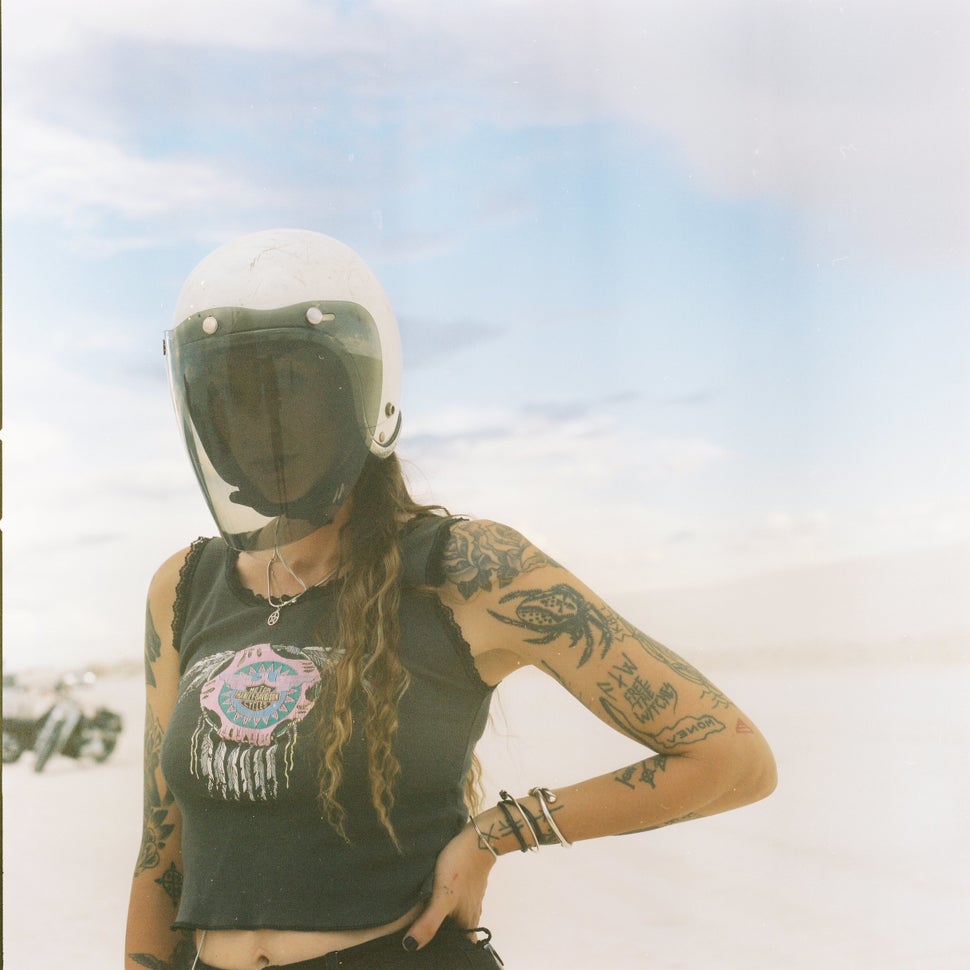 Calling all HuffPost superfans!
Sign up for membership to become a founding member and help shape HuffPost's next chapter