I like to visit the graves of people I admire. I've hit some big ones, Charlie Parker, Jimi Hendrix, Jim Morrison, Oscar Wilde, Voltaire and Arthur Rimbaud. I like walking through cemeteries to find the grave of someone whose life and work I greatly admire because it reminds me to live.
Last year thanks to the Wild West Comedy festival I was invited to Perth, Australia. Perth is at the other end of the world, just short of where the water runs off the edge. The plane journey to Perth is so far that you could get drunk, sober up again, get drunk and sober up all before you ever even get there. I was excited to perform at this comedy festival but I was also excited to go to nearby Feemantle where Bon Scott was from and put flowers on his grave.
AC/DC, led by Bon Scott, got me through high school without killing anyone. I remember when Carl Gould punched me in the nose at baseball practice and the whole school expected me to fight this thug turd. I was filled with furious anger but instead of pouring gasoline on his family home and murdering everyone inside I got through this period spending days in my room listening the best early AC/DC albums: Powerage, Let there be rock, Highway to hell. It used to give me great pleasure driving through my small Florida hometown with the volume cranked up playing Highway to hell.
Once you hear that opening thunderous guitar riff at the beginning of Highway To Hell how could you not be a fan for life? That song could have been about caterpillars and I still would have been sold by that opening guitar moment. At my high school there was a group called The Christian Athletes association and Carl Gould was an active leader of this group, he didn't seem like a very good Christian when he would call me "faggot" as we passed in the halls. The Christian Athletes would get together once a week and discuss how great it is to play sports and do everything else for the Lord. I only ever attended one meeting because they were discussing the devil in rock music. At the apex of the meeting they played Highway To Hell and I unconsciously taped my foot and bounced my head because I had listened to that song on the drive over to the meeting.
The highway to hell led me to Perth. At this festival I performed to smart enthusiastic audiences at the Astor theater and got to laugh my head off with some of Australia's finest comedians and ate a wide variety of world class Restaurants. In general I found Perth to be one of the most highly livable places I have ever seen anywhere in the world. Everything there is perfect. Year round temperature, design of the city, kindness of the people, geographically set like a jewel on the continent. Everything there is perfect and no one who lives there seems to be very excited about the place. Most everyone you meet there is bored and complains that the city is too slow paced.
I asked a taxi driver what should I see while I'm in Perth? He said "The airport! Go to Sydney!" As funny as I thought that remark to be it will forever stand as one of the most inaccurate things I have ever heard a taxi driver say.
My new local Perth friends went to great lengths to show me the best that their city has to offer. One night after my show I was taken to their favorite night club called Deville's. It's a Las Vegas style hell themed night club. It's what hell would look like if decorated in 1970s Las Vegas. The crowd gathered were rockabillies, tattooed hipsters and Lesbians with painful hair cuts. The music was eclectic sonic gold weaving from American 60's soul to rhythm and blues to African rhythms and Latin beats. As my wife and I danced in the volcano room I thought 'If this is what hell is going to be like, I'm clearly going to like the music.' It's funny to me that in such a picture perfect place on the earth, the people have such a humorous celebration of evil just the same as Bon Scott did. What a luxury to be able to laugh at hell and mock perceived evil than it is to be crippled by the fear of it the way we are in the United States.
Most nights after the festival shows all the comedians would gather on the upper balconies of the Brass Monkey bar drinking and laughing deep into the night. Leaving there one night after the bar had closed I strolled along James street and happened upon a park with plush inviting golf tournament grass, the kind you want to kick off your shoes and stretch out on.
In the corner of the park is a massive TV screen. On the screen was a tribe in Africa chanting and banging out rhythms on drums.
Then came a colorful Asian dance performance with streaming red banners. Followed by animal documentary clips. Current weather patterns and a summary of world news. It seemed the screen was spanning the entire globe showing you clips of life in all of it's variety of forms.
I found out later that the park is called North Bridge Piazza but I will forever call it TV Park. I am told that in this park they also show major sporting events and children's films.
It is one of the most unique and inviting spaces I have ever seen a city provide and if you were ever planning on being homeless this would be the spot.
For the rest of my stay in this magic kingdom at the edge of the earth I went back to TV park as often as I could. I couldn't get enough of this happy city space. For as much as these citizens of Perth seem to glory all things hell related only a people with true child like innocence could have conceived of an idea as simple and pure as TV park.
Fortuitously, while I was in town a local museum had an exhibit dedicated to honoring Australia's most beloved rock n' roll band AC/DC. The exhibit was called "The family jewels" and AC/DC banners promoting it hung from lamp posts throughout the city. What joy I found at this museum temporarily dedicated to the band I love so dearly. Their music blasted throughout the exhibit and I heard a small child say to her Mom "This is the loudest museum I have ever been to Mommy!" I thought of that difficult teenaged period I lived through and smirked with serene satisfaction as my eyes gazed at the original hand written lyrics to Highway To Hell on notebook paper.
After the titillation of this exhibit I stopped at a florist on the way to Freemantle where I found Bon Scott's humble grave and respectfully placed the flowers to thank him for all the good times he gave to me.
As my fingers ran across the letters on his stone I thought of those lonely times on the road when Bon's voice kept my head bouncing and my determination solid.
After paying my respects I went to the waterfront to see the Bon Scott statue and to have lunch at Little Creatures brewery. When Bon grew up here it was a tough place where hard men worked the docks, today it is a posh village of quaint eateries and art galleries. As I enjoyed a Little Creatures pale ale I wondered if Bon Scott had ever had the same lamb, feta and arugula pizza that I was having.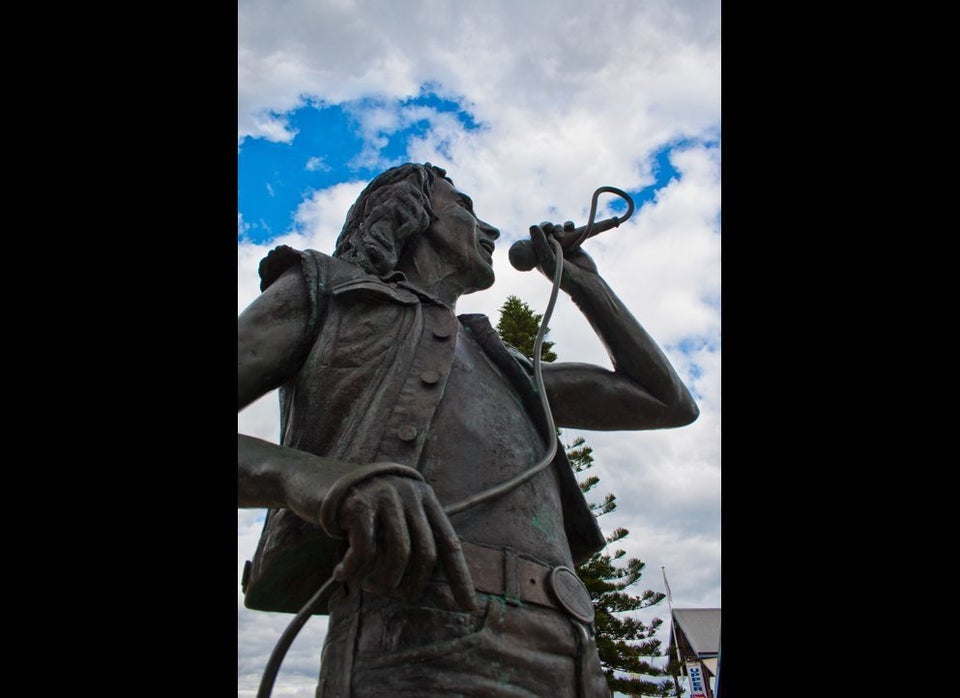 Perth's Highway To Hell
Popular in the Community