WASHINGTON -- The last likely opportunity for Congress to avoid completely draining the nation's highway budget will present itself on Tuesday afternoon.
Though a Republican proposal to temporarily extend the Highway Trust Fund gained notable opposition Monday from two powerful conservative groups, leaders from both parties expressed optimism that the extension would pass.
On Tuesday, the House of Representatives is set to vote on a bill authored by Ways and Means Chairman Dave Camp (R-Mich.) that would raise nearly $11 billion to extend highway funds roughly until May 2015.
The Obama administration and congressional Democrats have derided a short-term extension (preferring, instead, a multi-year plan), but their opposition has become more ceremonial with time. With a deadline fast approaching, the White House announced on Monday that it would support the Camp bill.
Aides in the administration and in the Senate told The Huffington Post that their objective now is to build the groundwork for passing a long-term highway funding bill during the lame-duck session following the November elections. They noted the need for a quick resolution (states will begin receiving smaller, staggered payments from the federal government for interstate highway projects starting in August) and the emerging bipartisan consensus around Camp's bill -- endorsed by House Speaker John Boehner (R-Ohio) -- as reasons to save the fight for later.
Despite the rarity of such high-level bipartisan agreement, the bill's passage is not preordained. Its chances, in fact, took a hit on Monday afternoon, when two anti-spending groups not only came out in opposition, but also told Republicans they would score the vote.
Club for Growth said it opposed the Highway and Transportation Funding Act of 2014 and would include it on its congressional scorecard. Heritage Action for America did the same moments earlier.
Their complaints: The $10.8 billion in the legislation constitutes a bailout of the highway trust fund and relies on accounting gimmicks, revenue-raisers and budget transfers. Camp's bill pays for the extension through pension smoothing, which allows for a delay in the payments that corporations make to their pension funds, and consequently raises their tax bills. It also transfers money from the leaking underground storage tank fund and from customs fees.
These pay-fors have been either used or endorsed by Democrats in the past. But Camp's bill may be worse from the conservative perspective. The highway trust fund legislation being crafted in the Senate Finance Committee uses the same methods for finding revenue, but it also raises $1 billion more by closing abused tax loopholes.
Still, reaction on the Hill to news that Heritage Action and the Club for Growth would oppose the Camp bill was unconcerned, and even nonchalant. Aides from both parties said they still expected the measure to pass the House and for Wyden and Camp to eventually merge their proposals.
Part of the reason may be that most congressional primaries are over, making lawmakers less fearful of being picked off by a conservative challenger. One operative supporting the bill suspected that the business community has finally put pressure on Republicans to drop opposition. Either way, GOP leadership doesn't seem to be sweating the threat.
"Practically nothing," a GOP leadership aide said, when asked what to make of opposition by the Club for Growth and Heritage Action. "There were always going to be a small group of our members who think the pay-fors are a gimmick. I can't imagine these groups move anyone to 'no' who wasn't already going to vote 'no.'"
Want more updates from Sam? Sign up for his newsletter, Spam Stein.
Before You Go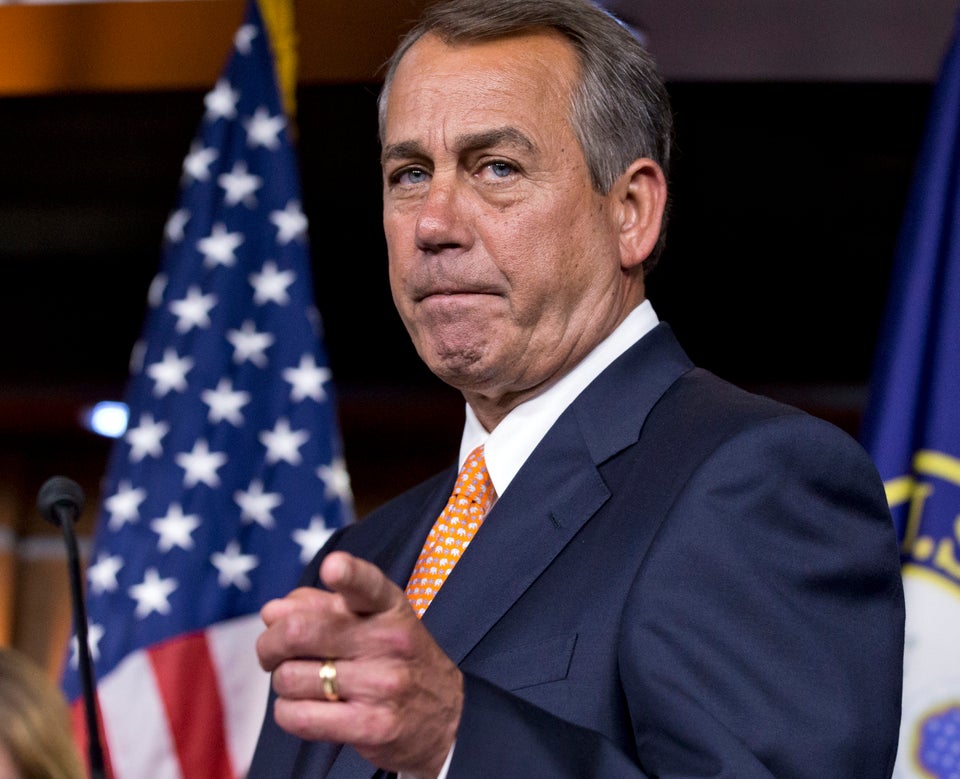 Conservatives Pointing Fingers
Popular in the Community