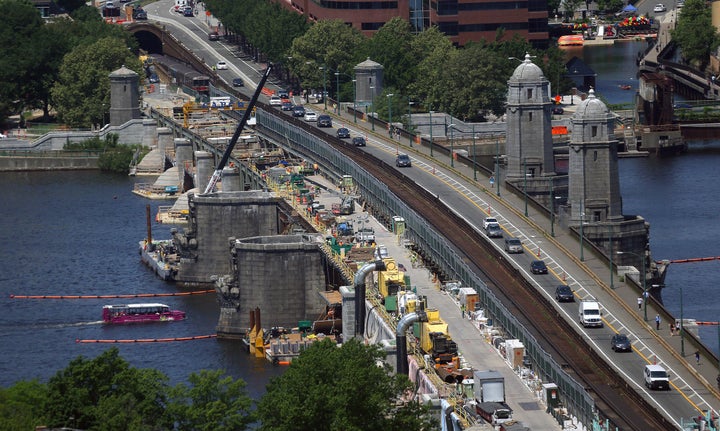 WASHINGTON -- In 15 days, the federal fund that pays for the nation's highways, roads and bridges will run out of money. Lawmakers need to find $100 billion if they want to meet infrastructure needs for another six years, but Congress will likely delay, again, by passing a short-term fix.
The Highway Trust Fund has been repeatedly patched up with short-term fixes ever since the last time it ran out of money in 2009. With a July 31 deadline looming, state officials aren't hopeful Congress will find a long-term solution this year either. The result, they say, is an infrastructure system that has reached its "breaking point."
The biggest problem for the highway fund is that there isn't enough money coming in to pay for all the infrastructure needs it must cover. The 18.4 cents-per-gallon gas tax that provides over 60 percent of its funding has not been increased since 1993, leaving a roughly $16 billion gap that must be filled by other sources. Despite a fast-approaching deadline and a major shortfall, there's very little interest in Congress in raising the gas tax. In lieu of a federal solution, 16 states -- half of them Republican-led -- have elected to raise their own gas tax in order to repair crumbling infrastructure.
For most states, however, raising their own gas tax won't be enough to fill the gap. The majority of states receive more than half of their infrastructure funding from the federal government, and the federal government's contribution isn't rising quickly enough.
Transportation Secretary Anthony Foxx issued a warning to states about the impending financial cliff earlier this week, saying the Federal Highway Administration would have to furlough workers.
"Your agency will cease having access to personnel who assist with all highway projects, not just with processing payments, but also project approvals, environmental actions and permitting, authorizations for new projects and modifications to existing projects, technical assistance and other vital activities," Foxx wrote to transportation officials in all 50 states.
While the House passed a five-month extension for the trust fund on Wednesday, Senate Republicans don't plan on taking up that bill, instead chasing a longer extension -- even as the time on the legislative calendar winds down before August recess.
Every time Washington fails to find money to pay for a long-term fix for the nation's ailing highways, roads and bridges, states have to dig a little deeper, and the situation becomes more dire. One in nine bridges in the country are "structurally deficient," meaning faulty or weak, according to the American Society of Civil Engineers. Nearly half of the major highways are so congested that they cost the country roughly $101 billion in wasted time and fuel per year.
The issue, said Carl Davis, research director for the Institute on Taxation and Economic Policy, is growing in importance every year that state and federal governments fail to update gas tax rates. "We are reaching a breaking point right now as evidenced by all the gas tax increases we've seen enacted in just a little over two years' time at the state level," said Davis, who noted that at least two more states are moving toward an increase. That would bring the total to 18 state-level hikes.
Bridges in the nation's capital -- where members of Congress spend most of their time -- are crumbling faster than the national average. Seventy-seven percent of the bridges in Washington, or 185 of 239, are structurally questionable or functionally obsolete, according to the American Society of Civil Engineers.
Steel beams supporting the Arlington Memorial Bridge, which connects Washington with its northern Virginia suburbs, are corroding rapidly.
A proposed Senate bill, marked up by the Environment and Public Works Committee, would provide a six-year fix for the highway fund, injecting $43 billion annually. But the bill as written doesn't have a funding mechanism for the portion of those billions not coming from the gas tax, a decision that its authors are leaving to other committees. Prior to 2009, the federal government regularly paid $50 billion per year into the fund, about $34 billion of which came from the federal gas tax. With maintenance costs rising, the Congressional Budget Office has estimated that Congress needs to find an additional $100 billion beyond gas tax revenues to fill the gap over the lifetime of a six-year bill. The latest Senate proposal would fill most of that gap if lawmakers can agree upon a revenue source. Members of Congress have floated ideas, but raising the gas tax is not one of them.
Appetite for a federal gas tax increase is all but nonexistent in both parties.
"While there are some individual members who support a gas tax, the vast majority of both parties do not," said Sen. Chuck Schumer (D-N.Y.).
"I want to make very clear I'm against raising the gas tax," Rep. Paul Ryan (R-Wis.), chairman of the House Ways and Means Committee, said last month. His reasoning: With more fuel-efficient cars on the road, drivers get more miles to the gallon and buy less gas. "And we can't just chase fuel efficiency with higher taxes," Ryan said.
While Congress has shown little interest in hiking the gas tax, a number of groups that have historically opposed the idea are now supporting an increase, including the U.S. Chamber of Commerce and the American Trucking Associations.
Amid the ongoing political struggle in Washington over the Highway Trust Fund, states with deep infrastructure problems have taken the matter into their own hands. The 16 to have increased their gas tax in the last two years include these eight red states: Georgia, Idaho, Kentucky, Nebraska, North Carolina, South Dakota, Utah and Wyoming.
"They are finding the political will, and it's difficult. It is not easy, especially in states like Wyoming," said Tony Dorsey, spokesman for the American Association of State Highway and Transportation Officials. "All of them had to come to this in a difficult way because nobody likes to pay more, but they realized that there is a price for doing nothing and that is the price that we continue to pay because Congress cannot find the political will to support transportation."
Georgia's recent 6.7 cents-per-gallon increase to the gas tax (and 7.7 cents-per-gallon increase for diesel) wasn't just a one-time hike, Davis of the Institute on Taxation and Economic Policy explained. As inflation and fuel efficiency eat away at incoming transportation funds, Georgia addressed the issue "head on" by indexing its gas tax to inflation.
"It's going to put gas tax revenues on a more sustainable course so we are not talking about just a one-time infusion of money, but a serious reform to the gas tax that's going to make a huge difference in infrastructure funding for years and decades," Davis said.
Davis stressed that the federal gas tax has fallen short not only because there are more electric cars and fuel hybrids on the road, but primarily because the tax rate is not indexed to inflation.
John Schroer, Tennessee's transportation commissioner, wouldn't say if his state is considering raising the gas tax, but lamented that short-term extensions of the Highway Trust Fund have forced him to halt projects valued in the millions.
"In the state of Tennessee, we pushed back $400 million worth of projects until after we get some sort of message that there has been an extension long enough for us to fund some of these projects," he said.
Schroer explained that 60 percent of Tennessee's spending on transportation infrastructure comes from the federal highway fund, and without a long-term fix, Tennessee is quickly moving into "maintenance only."
"It really is a national crisis," Schroer said. "Without [federal funding], we are going to be in a lot of difficulty in even maintaining what we have. And when you don't maintain, you have safety issues, issues that are serious."
Arkansas is in a similar situation, shelving 70 projects worth $282 million due to the uncertainty surrounding the next highway fund extension. It's floating an increase to its gas tax right now.
"There's a lot to fix," said Danny Straessle, spokesman for the Arkansas State Highway and Transportation Department. "Right now, money is short for everybody."
Arkansas also stopped its $50 million overlay program, which fixes the potholes that develop during the rough winter months. The state was hit with back-to-back storms in February, but the department doesn't know when it will be able to send out road crews to patch up the damage left behind.
"A lot of that damage is not going to be repaired because we've had to cancel the overlay program," Straessle said. "And if you think about how that impacts the drivers: They hit the potholes, they're ruining their alignment, they're popping their tires, they're having wrecks."
Tony Harris, spokesman for the Alabama Department of Transportation, said there has been "some discussion" about raising the gas tax in his state. "We are watching what other states are doing," he said.
"We've seen our construction costs increase by about two-and-a-half times since 1991," noted Harris. "Yet our state and federal funding have remained at the same level."
For Alabama, the funding stagnation has meant a slowing down of construction planning and a greater focus on basic preservation like street resurfacing, instead of new construction and expanding road capacity. And they still can't keep up. Harris said they have accrued a five-year backlog on road resurfacing. Three thousand miles of state road (out of a total of 11,000) are waiting to be resurfaced.
"Every state is in the same boat," Harris said. "What we are seeing here is not unique."
In Mississippi, Melinda McGrath, executive director for the state Department of Transportation, said some cities are postponing projects. She added that the state can't keep pace with its paving and bridge work needs. Delta farmers have had to map out alternative routes to haul their crops around bridges that can no longer handle their loads. The new routes are sending them down country roads on miles-long detours.
Jerry Slocum, a farmer and grain elevator operator based in Batesville, Mississippi, said truckers are hauling less cargo and making fewer trips per day because the country roads can't handle too much weight and the new routes take longer. That's raised costs, he said.
"They need to get the bridges fixed," said Slocum. "It's not something you do in a year. It's a process of three, four, five years. Unless they fix all of those low-weight bridges, it's still a bottleneck."