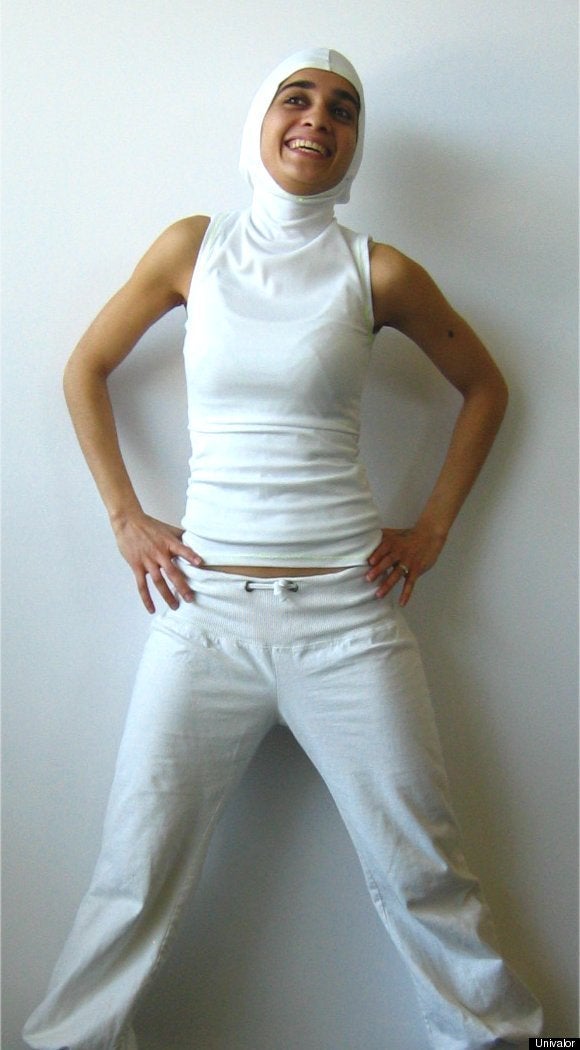 When Elham Seyed Javad heard that five Muslim girls were ejected from a tae kwon do tournament in Montreal for wearing hijabs, she felt sick to her stomach. "I was in shock because I play a lot of sports myself - especially soccer - and to have to stop playing because of my religion, well, that would turn me totally upside down."
Instead of saying, "that's wrong!" and organizing a protest march, Elham decided to come up with a solution. Something that would make it possible for girls wearing the Muslim head covering to be able to play any sport they liked. (It's a distinctly New Radical response - New Radicals are positive, constructive, and hopeful about the world's challenges. For more, please see archived articles.)
Elham, 26, was studying industrial design at the University of Montreal. "I told myself - your field is design, and you need to design something so that these girls can play again."
First, she did her research. She went to some tae kwon do tournaments to see for herself. She noticed right away that the back of the hijabs were coming out of the girls' kimonos. As a result, they couldn't concentrate on what they were doing. And everyone else was frustrated, too - play had to be stopped until the girls could readjust.
Elham says her first challenge was to create a head covering that would stay in place. She noticed that the girls wore camisoles under the kimonos (known as a "gi"), and hit on the idea of making a single garment: headscarf and camisole in one. But in an early prototype, she discovered that she had created a new problem. That when the girls had to readjust their long hair, they needed to take off the kimono and her design, too. So, she added an opening at the back of the head, allowing easy access. And the sleek, comfortable, clever Resport was born.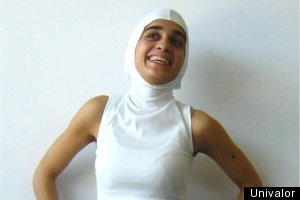 Variations soon occurred - when she wore one to play soccer, Elham realized that sleeves would be a great addition. She needed to offer Resport with short or long sleeves, and a short or long torso. All made from an advanced wicking fabric. And then she knew that athletes weren't the only market: anyone who wanted a way to keep hair out of their face might be interested. "My design was shown to healthcare professionals, for instance, and they immediately saw its utility in a sterile environment." And members of the opposite sex are interested, too. "Boys and men with long hair wear it so that they can be 100% focused on the game."
All of this must be pretty exciting for a newly-graduated industrial designer, I say. "Yes, absolutely! What was best for me, though, was to return to a tae kwon do tournament where the girls were wearing Resport, and see them play without any problems. I was in tears!"
Elham - who doesn't wear a hijab, by the way -- hopes to bring her innovative product to market in 2010. Univalor - technology transfer agents for the University of Montreal - is handling the commercialization end of things (there's a photo there if you can't see the one embedded in this post). I promise to bring you an update when Resport is available. But, in the meantime, if you're a New Radical entrepreneur, you might be interested in ensuring that this creative idea gets into the hands - and onto the heads of - as many people as possible.
Now, over to you. What do you think of Elham's response to this challenge, and the design itself? Please share your reaction by commenting below. As always, I invite you to email me directly at JULIA (that familiar symbol) wearethenewradicals (DOT) (COM).
Photo provided by Univalor.

Support HuffPost
A No-B.S. Guide To Life
Related
Popular in the Community