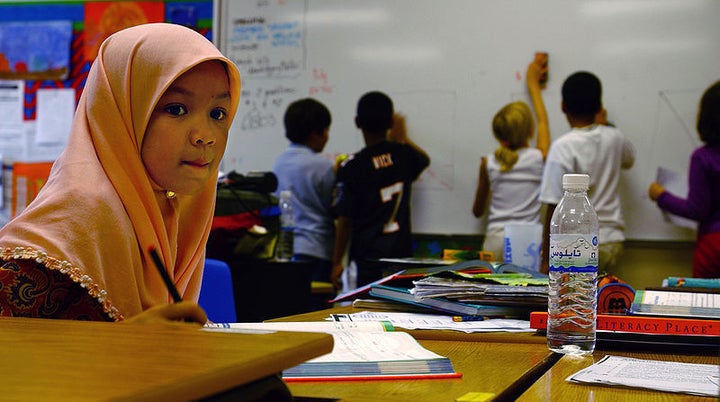 On September 3rd this year, The Sunday Times came out with a report underscoring how thousands of primary schools in the UK were allowing Muslim girls as young as five to wear the Muslim headscarf as part of their school uniform. In unabashed and quintessential The Times style of reporting, the piece by their Education Editor Sian Griffiths went on to state how the rise in young girls wearing the hijab to school had, "alarmed female Muslim campaigners, church leaders and academics" who are of the view that, "it is divisive, sexualises young girls because it is traditionally not worn until puberty, and should be "fiercely resisted"".
Five days following the report in The Times, an article appeared in the Church Times that quoted the interfaith adviser for the diocese of St Albans, the Revd. Bonnie Evans-Hills, as saying: "Hijab is culturally more about religious identity than sexualisation, particularly when it comes to school uniform and young girls. There are many other types of religious dress that can affect a uniform, such as turbans for Sikh boys or kippah for Jewish boys. But the press and those in authority only get hyped up about what Muslim girls wear." The Reverend went on to question whether this was, "yet another story among so many others that are now separating Muslims out for vilification?"
Almost three months on since The Times report initially appeared, we are faced with the possibility of Ofsted interrogating young primary school girls about their motivations for wearing a hijab, following their announcement last week to do so in the absence of pupils' parents. As a neutral body tasked with ensuring adequate school standards, for Ofsted to single out Muslim girls in this manner is not only unhelpful and counter-productive but also downright discriminatory. It is true that Muslim girls are not required to wear the headscarf until they have reached physical maturity, however if Ofsted plans to transform into the moral police then at least it must do so in a less self-deprecating manner by questioning all religious symbols in primary schools including the Sikh turban and the Jewish kippah.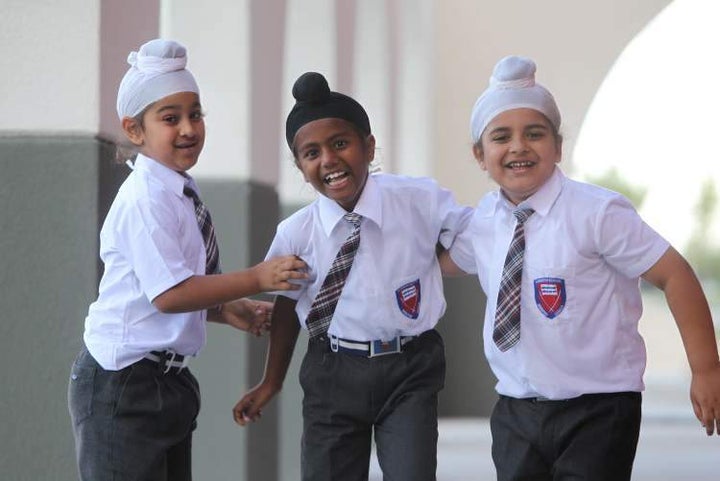 Moreover, it is worrisome that Ofsted has planned to carry out their "quizzing" in the absence of the children's parents. Surely, no 4 or 5 year-old child would possess the requisite understanding to be in a plausible position to explain the motivations or indeed implications of wearing a hijab to school. By demanding as such from them will only leave them feeling even more confused and isolated. It is an ill thought out approach that fails to capture the sensitivities involved and Ofsted must be urged in the strongest possible terms to rethink the long-term effects of their strategy, notably on the children's mental health.
As a headscarf wearing Muslim woman myself, while I feel it is important to underscore that there is absolutely no Quranic requirement for pre-pubescent primary school girls to wear a headscarf, the need only kicking in once puberty is attained and a girl has reached a level of physical maturity, I find the possibility of marginalising tender-aged school girls equally concerning, leaving them vulnerable to body image issues and a range of other social stigmas.
Moreover, the over-zealous campaigning by activists wishing to ban the hijab in primary schools leaves out a vital detail i.e. the headscarf is not by any means a compulsory part of school uniform – it is merely listed as an option for pupils wishing to wear one to school. It is not, as we are being made to believe, that a sinister orthodox Muslim magic wand is at the ready to convert all Muslim girls in primary schools into its hijab-donning puppeteers.
I cherish and value the long tradition in this country of celebrating diversity and pluralism. Along with my hijab, I also proudly don a poppy badge and my three-year old son will be taking part in his school nativity in December. In today's divisive world, we need to hold on to these principles ever more strongly. Integration is about mutual respect and tolerance, not demonising any particular culture and making the right concessions in the right places.
Related
Popular in the Community