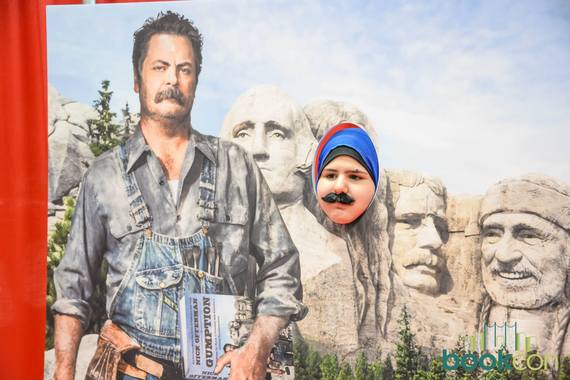 Yup, that's me imitating Nick Offerman at BookCon 2015. As a fangirl, I was ecstatic that a photo of me made it to the official gallery of a convention. As a Muslim fangirl, I was proud. It's not every day that a hijabi (the unofficial word used to describe a veiled Muslim woman) is portrayed as part of the fangirl experience.
It made me think; are there other hijabi fangirls out there?
Before I answer that question let me tell you the story of how I became a fangirl long before I became a hijabi.
In the late 90s I was a pre-schooler living in Los Angeles with my entire extended family. I was the first born of the next generation, and the first of my family to be born in America. Needless to say, being the only child meant I went everywhere. Now, this is LA in the 90s, which meant that the Lakers were red-hot, and everyone was a fan, including me. It was my first taste of fandom. Even though it was sports, I quickly realized the things I liked, I loved, and the things I loved, I obsessed over.
Soon, my father's business moved to NYC, and the selection of things to discover became endless. By the age of 7 I was obsessed with books, sports, The X-Files, and Star Trek. There was no turning back.
At 8 years old I decided to wear the hijab. My parents didn't approve of my decision, thinking it was out of curiosity and not of actual faith and identity. Nonetheless, they always respected my decisions to find myself and be my own person. And so I became a hijabi. A hijabi that played on every sports team in school, performed in theatre, wrote poetry, spent hours on the floor of Barnes and Noble, and recorded sci-fi shows on VHS.
As a teenager I discovered a community of fangirls and fanboys just like me. I had finally found my home, except, I didn't.

You see most of the people I interacted with identified with someone in their fandom. Here's the thing, I wanted to be like Dana Scully and Temperance Brennan, but I didn't identify with them. I didn't identify with Wonder Woman, Princess Leia, or Hermione Granger either. I remember being upset about this, especially since they were all just like me, except I wore a hijab. I didn't stop being a fangirl, I just did it alone. But, as I got older, so did many other first generation Muslim Americans; each with their own talents, obsessions, dreams, and identities.
At the same time, geek culture had its own evolution. It became main stream. It's not surprising to find that many people know who The Avengers are, what Katniss' last name is, and the difference between Anime and Manga.
When two distinct cultures simultaneously emerge, they are bound to overlap.
The overlap is very evident. As someone who has attended conventions, fan fests, and is immersed in geek culture; I can say that hijabi fangirls exist. Hijabi fangirls cosplay, freeze up in front of their favorite actors (I can't be the only one), and take to Tumblr to clash with other fandoms.
Hijabi fangirls exist, but is there a hijabi presence in entertainment?
It's not blatantly there, but we find it.

In 2014, Sana Amanat, Stephen Walker, and G. Willow Wilson developed Kamala Khan, the next Ms. Marvel. Kamala is a teenage Muslim American from Jersey City, NJ who balances her faith, super villains, and teenage angst. Kamala doesn't wear the hijab, but Muslim fans can easily identify with her effort to balance religion and the life of an American teenage girl. Ms. Marvel won the Hugo Award for best graphic story in 2015.
That same year, author Steve Brezenoff released an installment of his middle-school series, The Museum Mysteries, with a young hijabi named Amal on the cover. Amal is one of four kids who solve mysteries in Capitol City. She is represented the same as the other mystery-solving kids, except she wears a hijab. Having been an avid young reader myself, seeing a hijabi on the cover of a mystery series would have made me feel included in that world. A world where there is room for a hijabi to love astronomy and space and to go on a mission with her friends while terrorizing the adults around them.
Comics and books aren't the only place we've begun to see hijabi women in roles that don't revolve around a terrorist plot. 2015 saw a larger representation of hijabi women on TV; some with developed back stories, twisted plot lines, and character flaws.
The critically-acclaimed Mr. Robot features a hijabi by the name of Trenton, played by Sunita Mani, as one of the members of the hacking group. A hijabi who also happens to be a hacker isn't that uncommon.
The same can be said for a hijabi in the CIA. Quantico, the hit ABC drama, depicts twin FBI recruits who just happen to be Muslim women. The sisters, both played by Yasmine Al-Massri, are tough and well-rounded characters. Nimah does not wear the hijab, but Raina does. It's interesting as a hijabi to see the different qualities of each character, and to relate to both of them as a hijabi, as a woman, and as an adult starting her professional life.
Hijabi fangirls are slowly finding a place for themselves in entertainment. Yet, people are still surprised at conventions when they see a girl with a headscarf recite the intro of Star Wars. Over the years, I've begun to find more hijabi fangirls at conventions, on social media, and in my own life. Some of us enjoy talking about politics, war, religion, and Donald Trump. However, like most fans, we prefer talking about the revival of The X-Files, the cheapest way to get Comic Con tickets, and who sells the best Doctor Who apparel.
Hijabi fangirls -- we're just as obsessed as you.
Calling all HuffPost superfans!
Sign up for membership to become a founding member and help shape HuffPost's next chapter