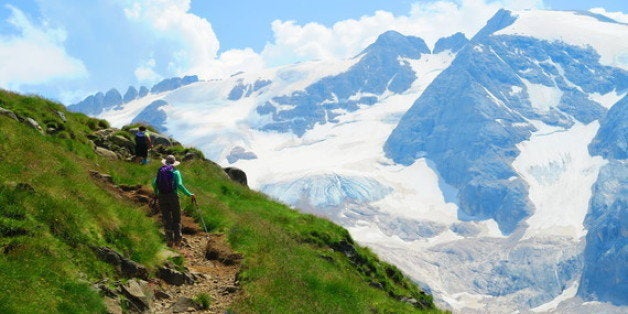 My trip to Italy in July was an homage of sorts to my mother. She and I loved to travel to Italy and we had three great trips together. After she died in 2011, I said I would go back and do a "Mom trip," visiting our favorite places. But then I changed plans, opting instead to go someplace I hadn't been before, the Dolomite Mountains in northeastern Italy. "Do it! Go for it!" she would often say when I would hesitate about trying something new or taking chances in life.
Nothing prepared me for the splendor and adventure of hiking in the Dolomites.
My friend Cara drew up the daily itineraries, using a Dolomites trekking book. We were four, Cara and her husband Alex and my friend and fellow Italophile Emily, all three experienced hikers. We would go on a variety of climbs and even stay one night in a rifugio, a mountain hut for hikers and climbers. The system of rifugios throughout the mountains is pretty efficient. We stopped in several during the week, sometimes just for a granola bar break.
We went hiking eight straight days with each climb supplying its own version of stunning panoramic views, challenging ascents and descents. We'd start early, drive to the trailhead, hike all day and then head back to our hotel in late afternoon.
Unlike my friends, I'm not an experienced backpacker. I became a frequent visitor at the outdoor sports stores, gearing up with necessities like light wool socks, a day pack and a windbreaker.
"Are you going to be camping?" people would ask me. "Are you kidding?" I replied. Yes, camping at a table in a dining room with a glass of wine in the evening.
None of us were expecting the grandeur of what we saw, the intoxicating beauty of the mountains and the valleys and the jagged spires that defined each range. I was surprised by the challenges, mental as well as physical: the thin air up top, the dramatic changes in temperature, the dehydration/high altitude headaches, the difficulties of a path that, I swear, turned sideways at some points and could only be traversed by putting one foot in front of the other without thinking about the steep drop to my right. "Just keep moving forward. Look at the trail. Don't look right or left," I repeated. As I conquered each section, I gave myself a high five.
On our first day, we took a lift up the Pale di San Martino and trekked over to Rifugio Rosetta for our first lunch in the mountains. The area was rocky and even had an eerie post-apocalyptic look to it. The sky was blue, the sun was shining and we were up 8,460 feet, looking around at stunning mountains.
The next day brought a change of pace and climate. We took three lifts up to Marmolada, the highest peak in the region. We were up almost 10,000 feet by the time we stepped out of the cable car. Before the doors opened, everyone donned their hats and windbreakers. Thanks to my friends' counsel, just before we ascended, I bought a Buff, one those things that you can wear around your head to cover your ears or around your neck. This is a necessary piece of outerwear! There was still snow on the ground in places.
And, just like our first day, the views were spectacular and breathtaking, even more so. Our hike that day was to the Cinque Torri, or five towers, so named because of the five spires jutting 7,700 feet above the earth. The climb was challenging enough but the trail also takes you through an "Open Museum" where you can walk through the trenches used by the soldiers in World War I.
Our longest hike was on our third day around the Tre Cime di Lavaredo. We walked almost seven miles. This is a popular hike and the trail was the most crowded we'd see the whole trip. The Tre Cime, or "three peaks," are striking in their height and ragged edges. When the sun was out, it was nice and warm and I shed the jacket. On the back side of the hike, without the sun and at a higher elevation, I actually got chilled. My back was soaked from sweat and I had made the mistake of wearing a cotton T-shirt rather than a microfiber shirt or even light wool.
We started on one side of the peaks and meandered along, stopping often to take photos of every vista from every angle. The climb didn't get dicey for me until we got to the steep descent down a path strewn with scree, or loose rocks. And this is when I learned that poles come in handy. You either have to walk in a zig-zag the whole way down or use poles to balance yourself as you go. Luckily Alex was right there and let me use one of his poles to get me through the steepest part.
This is also where the mental challenge comes into play. "Just keep moving...Everyone else is going along and so can I." And I did. I handed Alex the pole and continued the descent as the path leveled a bit. This part of the hike went down into the vast, splendid valley. Beautiful bright yellow flowers dotted the landscape.
And then it was time for the second half of the trek. We've still got about an hour and a half to go, Cara said. That's OK, I thought. I'm game. I made it down that scary part. I can do this!
I wrongly assumed that once we got up to the top of the ascent, parallel to the peaks, I'd see the car and we'd walk a bit and be back to our starting point. I forgot how far we had to climb up on that front side. So I climb up and up-I'm treating this now like one of my boot camp workouts-and all I see is more trail and rocks. No starting point, no parking lot. There was still a bit to go. Fine. I wasn't tired. I can do this. It's only been, what, five hours?
Then the cool wind started to blow. My bandanna was tied around my head, I was buttoned and zipped up, and, I'll be honest here, I lost interest in the stunning scenery around me. All I wanted to do was get to the finish. Of course we had to get by another one of those scary points where the trail turned on its side. It wasn't a big chunk but it was enough to make my heart pound a bit. Got through it, saw the rifugio heaved a sigh. This was a great day, which we marked with a beer.
The next day we climbed part of a range called The Cadini. This was a tough climb, steep almost the whole way, rocky and uneven. Emily and I both found big branches and those became our walking poles. We ate at the rifugio, 7,700 feet up, and then looked at the other side of the mountain, where the trail continued. "Can anyone see the trail from here?" I asked, peering over the edge, but not too close. No. The book says there's a steep drop for about 10 minutes and you use the cable there to help.
Really. Hmm. Well, maybe we should do that part next time, we decided, and retraced our steps down the mountain.
This hike, all these hikes, challenged me in ways I wasn't expecting. You go further, you climb higher, you believe in yourself. You stand there, dwarfed by these spires of rock and you say, "Yeah, we can climb up there. Let's go!"
On day six, we took a Jeep shuttle up to the top of another mountain, Monte Piana, at 7,628 feet. Standing there, on the plateau and looking out at the Cadini, Tre Cime, even Marmolada, we broke into song. "The hills are alive," twirling as we sang. You know you would have done it, too.
That was the night we spent at Rifugio Lagazuoi, which we reached by cable car. It had begun to rain by then, and from the ground, the rifugio was hidden in the fog. We had reserved a private room on the second floor; private in that the four of us were in one big room instead of sleeping in the dormitory on the lower level. There were three bathrooms down the hall. Cara and I sat and thought, "We decided to do this in March." Cara had called me about possibly staying overnight here and there was one private room left on the night in question. It was 11:30 p.m. and we made the decision right then to go ahead and do it. And here we were, four months later, on top of a mountain, settling in for the night. It was fantastic! And there was the camaraderie among us and the other guests, sharing stories of climbs and suggesting "must-dos."
We awoke for sunrise at 545 a.m., despite a very loud and heavy downpour that roared around us before all fell silent on the mountain. I don't think any of us got more than a few hours of sleep.

The last part of our Dolomites trek was spent in the Alpe di Siusi, Europe's highest Alpine pasture. On our way, we stopped in a town called Ortisei, took the cable car up and took a stroll around the meadow. It was a nice walk and not strenuous and just what we needed. We stayed in nearby Castelrotto for three days and this is when I noticed the language difference. Menus, directional signs, stores are all in German first, then Italian. Many restaurants have menus in English as well. Everyone seems to be trilingual.
Our first big day in Alpe di Siusi took us on long hike around the meadow. The hike itself isn't too strenuous. It's almost four miles long with plenty of spots to stop and admire the panoramic views. We ate lunch at Annika Hut, a rifugio famous for its apple strudel. It was delicious.
Our last day of hiking was another gem: the Viel del Pan hike, a seven-mile trek that basically paralleled Marmolada the whole way. We were literally walking in the middle of a mountainside, steep to the right, steep to the left. The dirt path was surrounded by pastures and sheep and mountain goats. There was a lake in the distance. I know I've written this already a few times but this hike offered some of the most spectacular views we'd seen!
Finally we turned the corner and we saw the lift station, at the top of a steep ascent. It's already been six hours, but, I told myself, what's another 15 minutes straight up to the top? I've got this! Once at the top, I threw my walking stick on the ground and did a victory dance, arms up, Rocky style. That's what it felt like. We took the lift down the mountain, hopped on a local bus which took us back to the car at the trailhead. What a day.
After everything we'd seen and done, I took a moment to reflect on all of it. I took a deep breath. There really is something intoxicating about standing on top of such magnificent mountains. You're stronger for it. You're euphoric. To be around such beauty and such peacefulness, you're also humbled. Life is short and I know my mom would have approved of this adventure. She probably would have said, "Can I come too?" So even though this wasn't the trip I had imagined, to the places we'd been together, she was with me this time too. I know she was cheering.