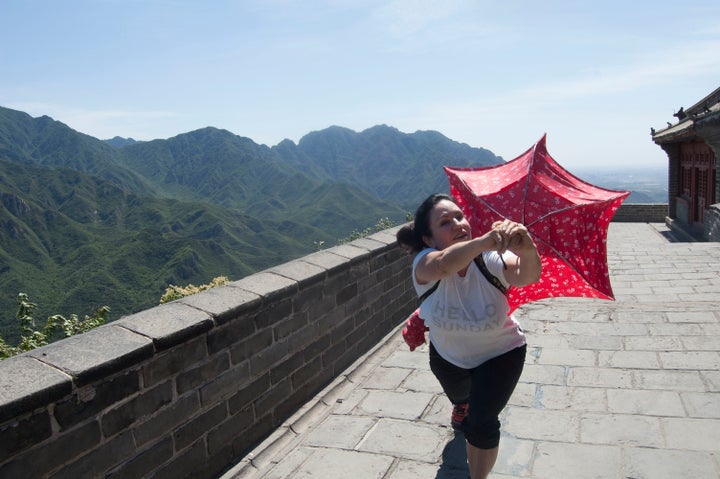 The sight of people carrying umbrellas on a sunny day in Asia is commonplace. When I first witnessed it in Japan, I marveled at the practical approach to skin protection. Wanting to join in, I dashed into the nearest shop, bought my first UV-protection parasol, and with that, started a new habit.
My excitement soon dwindled with the mounting cost of replacing broken umbrellas. The wind was always the culprit. Interestingly, wind is the primary reason close to a billion umbrellas end up in global landfills each year.
Rather than get frustrated, I got smart. I went to Google and typed in, "world's strongest, most sustainable umbrella." To my surprise, I discovered that there were actually three on the market! Although only one of them was marketed as a sun umbrella, all offered what I was looking for—UV-protection and durability. Within a week, a sample of each arrived in the mail.
I enthusiastically tested each umbrella on two different terrains in San Diego, CA.
Torrey Pines Reserve consists of meandering trails along the windblown ocean cliffs. This location is not only beautiful, but served as the inspiration for many of the trees in the Dr. Seuss books.
Potato Chip Rock is located at the peak of Mt. Woodson. It is known for its challenging assent and hot desert climate.
After toting these three "strongest" umbrellas with me on my journey, I'm excited to report how each handled the elements.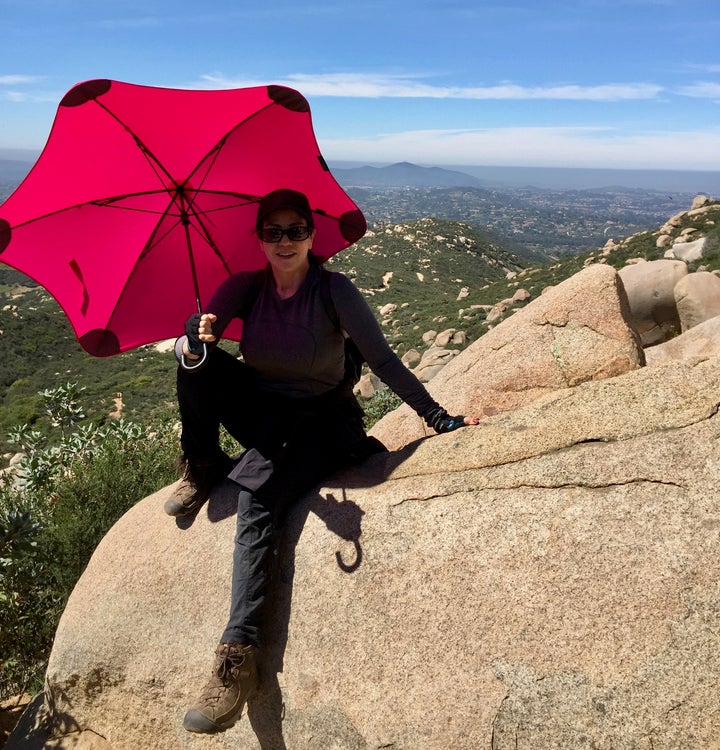 I love this umbrella! It's stylish and provides mobile shade for the fashion savvy hiker. It drew an unexpected number of compliments and inquiries about where to purchase. Moreover, although it is "strong," it is not heavy. Better yet, it lived up to what the company touted—strong wind resistance, "We test umbrella to the breaking point...up to 72 mph or Force 11 winds."
I found one downfall with the Blunt when hiking in the desert heat: It didn't offer quite the shade that I needed. A blackout lining would have resolved this. Even so, the UV-protection worked well and after a 3-hour hike, I was sunburn free.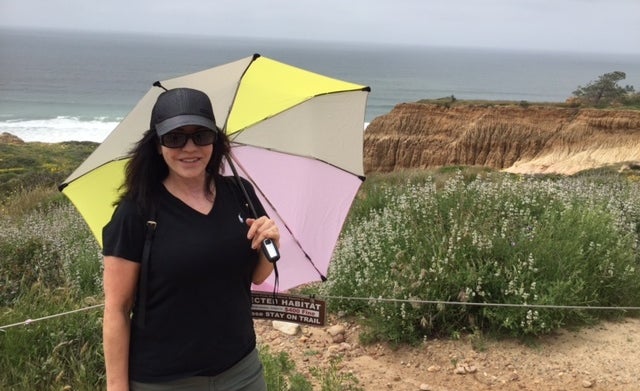 I got a thrill when I first opened this unique, teardrop-shaped umbrella. When I first popped it open, a gust of wind took hold, twirling it like a ballerina. Luckily, I read the directions beforehand. Otherwise, I fear I would have had a calamitous introduction. The instructions advised me to hold it loosely in one hand to allow the aerodynamic design to find a comfortable position in the wind.
Nonetheless, I think a "user beware" warning should suggest testing the umbrella away from others until getting a feel for how the wind and umbrella interact. I learned the hard way when I nearly decapitated a backpacker. He approached just as a crosswind forcefully swung my umbrella from one side of the path to the other. It made quite the scene and the man's anger was justified. All was smoothed out with a sincere apology. Even with the erratic surprises, the wind never flipped the umbrella inside out.
I really wanted to love this umbrella because it looks fantastic. However, I experienced more negatives as my test continued. First off, after an hour outside, the UV-protected material did not prevent my skin from burning. Also, for the price, I expected the quality of the umbrella to feel better than Its $12 cousin.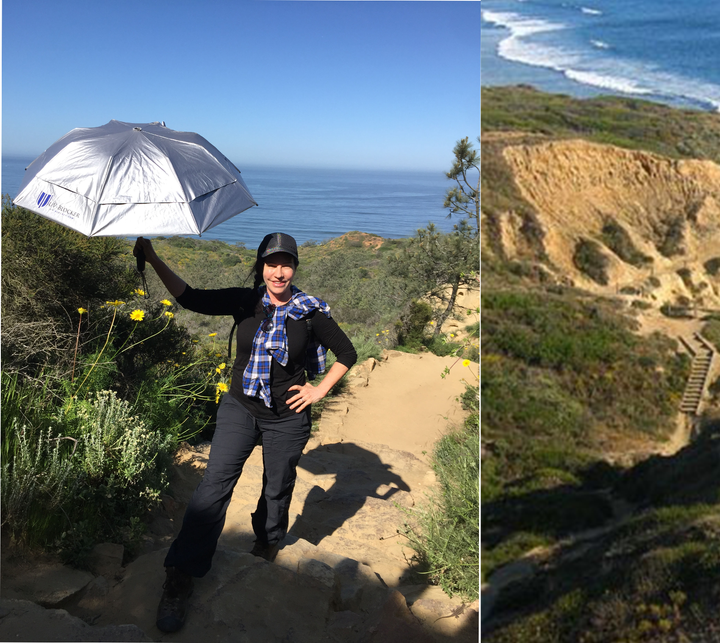 This umbrella lived up to the company motto, "Avoid the heat and stay protected."
The UV-Blocker umbrella had two positives the others did not. For one, it provided 15-degrees cooler shade. And…as an over-heated, menopausal woman, the lower temperature was a plus.
As an added bonus, there was a practical feature to this umbrella that eliminated the irritating question I'm often asked, "Why are you carrying an umbrella? It isn't raining." With the name—UV-Blocker—noticeably printed on the shell, the answer was provided with a quick glance.
With a 55+ UPF (Ultra Protection Factor) rating, these umbrellas block 99 percent of the sun's harmful UV-rays. The design does double-duty to protect your skin with a reflective top fabric and an underside treated fabric to absorb UV-rays.
What it lacked in sexiness, it made up for in terms of wind resistance, sun protection, and price.
I hope the above is helpful to my fellow hikers who are looking for an effective, easy way to protect their skin while exploring nature. In terms of which umbrella I recommend, this is an individual choice. It comes down to what level of sun protection is best for your skin type. As for me, if I could combine the fashionable look of the Blunt umbrella with the inner liner of the UV-Blocker, I'd have the ideal accessory for a sunny day.
Related
Popular in the Community