My favorite kind of wedding to attend is, by far, the destination wedding. While an open bar is never not fun, it's even better if the drinks are located in a country that takes a passport to get into. And a wedding is a genuine excuse to blow your budget to travel. (I barely need an excuse to get out of town, but it's always nice to have one.)
So when my boyfriend received an invitation to nuptials in Kauai, I started planning the trip immediately, even though I had never met the bride or groom. Having sojourned on the Big Island and visited Oahu numerous times growing up, I was excited to check out "The Garden Isle" of Kauai, which I'd heard so much about.
After scouring the web for ethical accommodations, I ended up at the St. Regis in Princeville, a stunning hotel in the old-school style, with impeccable customer service and a lobby that I'll never forget (picture several story-high glass windows fronting a view of one of the most famed spots in Kauai and miles of ocean and sky).
While not a small lodging, the St. Regis is well-integrated into its environment, and unlike many of the newer hotels I've lately seen, it doesn't try to be more than its location. I have a major antipathy for cheesy, overdone, glitzy hotels that seem designed in Des Moines and plopped down wherever tourists are flying this year. The St. Regis is not one of these but, in its elegance, reminds us why a boutique hotel isn't always the way to go.
I had the chance to have a lovely breakfast with Stephanie Reid, the Director of Public Relations for the hotel; she is both a native Hawaiian from Kauai (going back 10 generations) and a wealth of knowledge of the natural and human history about the area where the St. Regis is located.
Having grown up watching old movies with my grandma, I immediately recognized the dramatically gorgeous mountain peaks sweeping down into the bay behind the St. Regis as those from the movie version of the 1958 Rogers and Hammerstein musical "South Pacific" -- watch here and here -- a fact which Stephanie corroborated.
"This place speaks to what people dream about when they think of Hawaii," Stephanie said, and this is no tourist-friendly hyperbole. "We have respect for this place and practice the best stewardship that we can," continued Stephanie, which for the St. Regis includes a plethora of environmental and social programs.
It starts with the food in the hotel's restaurants. Most of what is served is organic and local, including fish, greens and fruit. "We support farmers in the North shore, and the menu is created around what we grow here," Stephanie told me. "It's more than sugarcane and pineapple; we serve Kunana Farms goat cheese, and we use Malie spa products, which are based on locally-grown taro root combined with flower essences." The executive chef works directly with the community so that everyone gets what they need.
The St. Regis Princeville's environmental commitments extend to green roofs, non-toxic cleaning products and a serious seabird conservation program (wherein the hotel adjusts its lighting during the Shearwater's migration period and has instituted a bird recovery policy for those birds who go astray).
For those of us keeping track of our points, the St. Regis group of hotels -- there are 22, the flagship property is the historic hotel in New York City -- is part of Starwood, and the mission for all the properties is to cut water use by 20% and energy use by 30% by 2020.
Princeville, where the St. Regis is located, is part of a resort-only area, and it is basically set up for tourists, with shops (and a grocery store) for incidentals and picnic fare, as well as souvenirs. Keeping all the visitors together, and designating one area for development (this one dates back to the '60s) means that not only can resources be combined but also that other areas are left undeveloped, an important way for areas supported by tourism to both control and monitor those businesses -- not to mention protect natural resources.
After slacking in our room (with an endless view) and enjoying the pool and beach, both of which front onto a bay that's ringed with steep-sided green mountains which are remnants of the island's volcanic history, my boyfriend and I drove around the island. Well, almost. You can't drive all the way around Kauai (like you can on Oahu or the Big Island), since the road dead-ends at two spots due to Waimea Canyon, which is well-described as "The Grand Canyon of the Pacific."
But you can hike where there's no road, and while trekking the whole distance would take some time (and gear), there are plenty of day walking paths that go from isolated beach to beach (there are usually only a few other people around since the only way in is on foot). Kauai's natural beauty is best experienced with an up-close interaction with the red earth, the sometimes craggy volcanic rock and the riot of tropical plants and flowers is only available to those who take a hike.
The glorious trek my boyfriend and I embarked upon, the first few miles of the Kalalau Trail, is a popular walk, and though guides list it as strenuous, I think that's a bit of a stretch. An energetic 8-year-old could definitely handle it, as well as anyone else in reasonable shape. The path starts at the end of the paved road, which in Kauai includes a beach, of course. Ke'e beach fronts a perfect-for-snorkeling lagoon (which I enjoyed post-hike), and the path ends, after about two miles, at a secluded beach (with waterfall) in the Na Pali State Park. In between, the route climbs up and down in such a way that you get the perfect workout without feeling exhausted.
The views are nothing short of totally breathtaking, to the extent that you keep wanting to stop and take pictures -- until you realize that you're never going to be able to capture it all.
While you can keep hiking -- and overnighters or ambitious day-hikers do -- we ended up spending an hour or so enjoying the views from Hanakapiai beach, doing some yoga and playing in the waterfall and stream before heading back the way we came. Usually I don't like to hike an out-and-back, but in this case the views on the return were just as fabulous, and I got a slightly different perspective on the coastline. That's because we got rained on -- twice -- on the way to the hidden beach, so it was fun to see the mountains towering above me sans clouds on the return voyage just a hour or so later, now all sparkling and dripping in the sunshine.
And don't worry, while regular mini-rainshowers (that's how I see them coming from the stormy Northeast US) are certainly common, they are more than balanced out by sunshine, and indeed the sprinklings not only cool a warm hiker off, but insidiously inculcate the walker into the environment, as your own perspiration mixes with the mist and drops coming from the sky until you don't know where you end and the clouds begin. In situations like this, with warm temps and sunshine mixed in, rain gear is just a bother. Just get wet and dry off.
I did much of this hike barefoot; after the initial rocky uphill from the parking area, most of the path was trodden-smooth earth, and was easy and fun to walk on. As a barefoot (when I can) runner, my feet are tough enough to deal with the minimal things I could have stepped upon. Stream crossings are common here, too, so if you don't feel comfortable hiking barefoot, water sandals like Chacos are the next best thing.
After we made our way back, then checked out the world-famous (for surfers) Tunnels Beach for a bit, then came back the next day to explore a large dry cave there and have more beach time (which involved admiring not only the ocean out front, but the dynamic vertical wall covered in plant life that juts up at the rear of the beach, creating the feeling of being in a giant, but still circumscribed room made from lava rock and plants with the beach as lanai).
A rainbow came out to greet us as the newly-married bride and groom (and the wedding party) moved through yoga poses on the beach, and so I'll end on that perfectly Hawaiian image.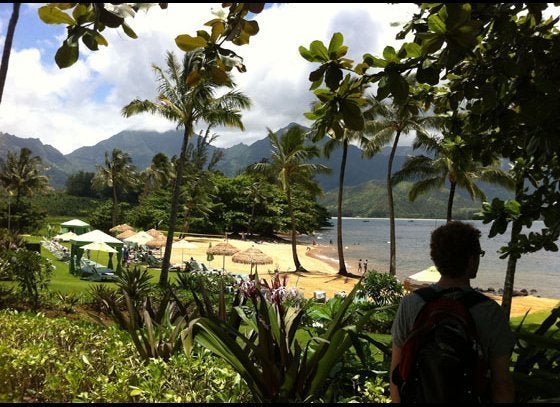 Hiking Kauai
Related