I first became motivated to get on the Appalachian Trail last year by a hike I did in Peru to Machu Picchu. Growing up on the Virginia coast, my interests have mostly centered on our waters. Sailing, swimming, fishing, crabbing and surfing the summers away, I was always trying to find more ways to spend time on the water. It took a hike in South America to help me realize that right in my backyard is the beauty of the Appalachia.
This year, my friend Andy Harris and I decided to start near Linden, Va., and head north to Bears Den Hostel. We arrived at 11 p.m. at the Trillium trailhead parking lot and hiked into Dicks Dome Shelter under a full moon. It was an awesome start to the weekend. When we arrived at the shelter, it was approaching 1 a.m. We set up camp next to a running stream; the air was clear and cool and the stage was set for another great weekend in the woods. We woke up late to a cool, clear morning ready to take on the rolling hills ahead. Our goal for Saturday was to make it from Dicks Dome Shelter, 17 miles to Sam Moore Shelter. The day was perfect -- 60-70 degree weather and full sun. The dogwoods were in bloom, and the flora was just starting to wake up. We made nine miles by lunch and took a break at Rod's Hollow Shelter. Our legs, not seasoned for carrying 45 pounds up and down hills, needed a nice break. We ate, we hydrated and got a quick nap. Being up here creates an almost indescribable feeling. It is hard work, sometimes monotonous, but at the same time extremely gratifying to carry your necessities on your back and stay out, fully exposed, in nature.
We had another seven to nine miles to cover and the most strenuous part of our hike was just beginning. This was reiterated by a rare sign on the trail that said:
YOU ARE ABOUT TO ENTER THE ROLLER COASTER!!...HAVE A GREAT RIDE AND WE WILL SEE YOU AT THE BLACKBURN TRAIL CENTER (IF YOU SURVIVE).
We were excited for the challenge and forged ahead with bravado. Up 500 feet, down 500 feet, up 500 feet down 500 feet, this was our mantra for the rest of the afternoon. The conversation dwindled as the focus on the task at hand took over. Our paces differed, and we had time to be fully alone in the woods. While taxing, these are the moments I relish. I like seeing what I'm made of, and I like the quiet of the trail.
The Appalachian Trail is very well marked. However, one lapse in concentration, or too much time with your head down can get you lost. There are two things I always look for on the trail: white blazes (paint marks on trees) that mark the trail and fallen tree trunks that have been cut through to keep the trail clear. Both were my guides as I walked this winding trail. I do get proud when I see the cut trunks of trees that had fallen across the trail and know that a chain saw was used to clear them. Knowing the effort it takes to get in and out of these areas, I hope my work with STIHL makes someone else's work easier and more efficient.
Speaking of effort, the "Roller Coaster" was just that. We raised the white flag at Mill Creek, three miles short of our goal for Saturday, but it was 5 o'clock, we were strained and this spot had water, semi-flat land and seemed like a good place to post up for the night. We set up camp, took naps then started a fire. We then proceeded to devour thousands of calories like a pack of starved wolves. If you've ever hiked, I don't need to expound on the obsession with food that occurs from the moment you take the first step to the moment you take your pack off for the last time. It is a consuming thought throughout any hike: burritos, donuts, pizza, hamburgers! The brain is reduced to primitive thinking about the next meal, the next stop, when to sip water. I think this is a big benefit of hiking. The frenetic world that we came from does not exist here. Only the next step, the next meal, the next sleep are important.
We woke up early, packed, ate and got under way the next day. We felt stronger Sunday and while the hike was a challenge it proved the most beautiful. It was a much colder day but still perfect for hiking. Almost fall-like: grey and windy. The trees rustled and creaked with every breeze. Again we split as our paces differed. We hiked with speed and purpose; BURRITOS! I was hungry but I also felt what I can only imagine John Muir felt when he would disappear into the mountains of the Sierra-connected. I felt good. I'm not sure I could ever fully describe what takes place when I take time to immerse myself in nature, but something does. Something primal, something eternal and I am very grateful that we maintain these places and all places like it. I can't wait to hit the trail again!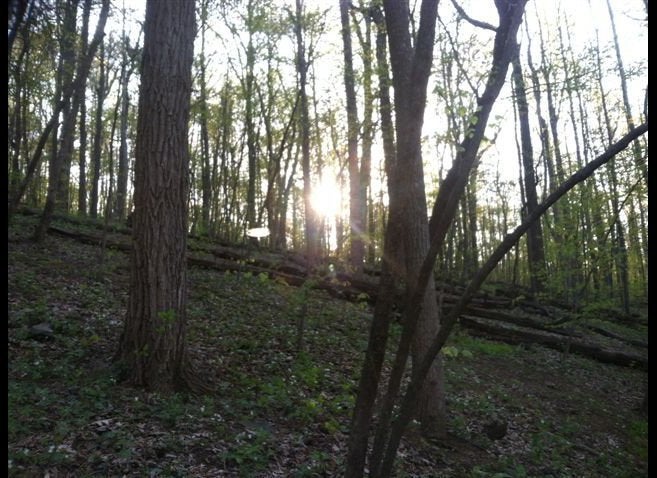 Hiking the Appalachian Trail