The first thing I notice is the sky, so foreign to my experience in China. For what must be miles, I see clear blue sky and light clouds. Mountains rise up on either side of me, and a river, gleaming almost white in the sunshine, curves gently through the valley. I find it difficult to believe this is the same China where I first learned to wear a kouzhao (口罩: face mask) to block out the smog.
I'm hiking with the Beijing Hikers, a local organization that, true to its name, leads trips into the surrounds of China's Northern Capital. It began in 2001 as a hobby: founders Gary and Huilin Pinnegar would go hiking for fun in the mountains around the city, and they noticed that their friends enjoyed taking trips with them as well.
"It turns out it was really popular," explained Hayden Opie, a friendly New Zealander who leads excursions and manages their web site.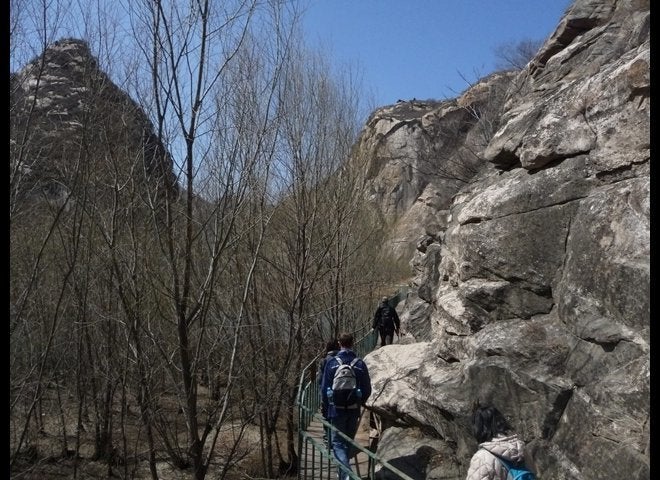 A Trip with the Beijing Hikers: Dragon Cloud Mountain and the White River
Hayden, along with Chicago native Millicent Malcolm, led me and about two dozen others on a trip up Dragon Cloud Mountain (云龙山) and along the White River (白河). Starting on a bus at at the Lido Place Holiday Inn, I met hikers from many different backgrounds. Most were expats, from places like Germany, Malaysia, the United Kingdom and Korea, as well as a couple Chinese locals.
The hike was rated a relaxed 2, and it began easily enough along the river. After a short break, we climbed up to a lower peak, over rocky steps and a steep slope, to get a view from above. The arid landscape and hilly terrain reminded me so much of the mountains around Southern California, where I grew up and first began hiking.
"Geologically speaking, China is quite varied," explained Zachary Chen, one of the guides and another Chicago native. "Around Beijing itself, we focus on the Yan Mountain Range. We normally go north to Huairou District, Miyun County and Changping District. The mountains we usually hike reach elevations between 500 and 1000 feet, and they're very very dry."
The Hikers host popular day hikes on Wednesdays, Saturdays and Sundays, including regular trips to the less-frequented sections of the Great Wall (a hike on the latter beautifully described by Peter Shadbolt in the Financial Times). Each hike has a rating system, with clear details about what you should expect to see and the distances and difficulties involved. They also lead long distance, overnight trips to farther locales like Xinjiang and Inner Mongolia.
"Our goal is helping people get to places that they would have a difficult time getting to on their own," Hayden told me. In addition to booking the bus and determining the trail, the Beijing Hikers provide snacks, plenty of water, and a map, and many trips include a local country-style lunch, all for as little as 250 RMB (roughly USD 35). All guides receive first aid certification, and they can assist hikers in getting insurance before a hike.
But importantly, the hikes give Beijingers and tourists alike a different view, literally, of the city and its surrounds. Journeys along the Great Wall offer an opportunity to explore the snaking, wild sections of the wall, its length and complexity a fitting analogue for China's history. Amidst so much nature, I felt refreshed. It was as if I'd purchased a chongzhi ka (充值卡: recharge card) for my body... and for the inevitable return to the smoggy, crowded streets of Beijing.
"I don't have tolerance for staying in a city without getting out," Millicent told me. She referenced their popular Seasons Series, which takes hikers out on the same trail four times a year. "There are more distinct seasons here. Even on the very same hike, there are four different views. I appreciate that."
Looking out over the White River, breathing in the fresh air, I started to appreciate the Middle Kingdom's precious natural environment. For millennia the beloved subject of poetry, paintings and songs, it's often forgotten amidst talk of the country's rapid modernization and urban development. I hope to take many more hikes with the group in the near future.
To sign up for a hike with the Beijing Hikers, hikers should visit their web site. Pay close attention to the hiking details, especially the difficulty scale, and be sure to sign up early, as many hikes fill up quickly.
"Footwear is important," Zach told me. "I can't emphasize that enough." After a few miles in Converse, I couldn't help but agree.
Originally from Los Angeles and Manila, artist and designer An Xiao Mina is currently based in Asia. She blogs regularly on art, design, technology and culture at http://www.anxiaostudio.com.
Related