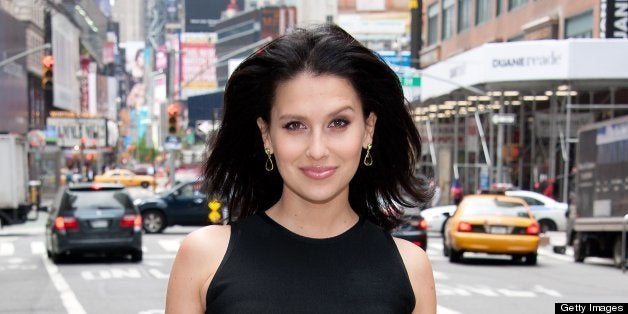 "Hollywood Unplugged," a new series on HuffPost Entertainment, shows our culture's most influential figures in a new light. Instead of focusing on their accomplishments, it examines how they continue to thrive despite the inevitable stress.
Hilaria Baldwin may spend a lot of time in the yoga studio, but that doesn't mean she's a stranger to stress. The yoga instructor, "Extra" lifestyle correspondent, and wife of actor Alec Baldwin is getting ready for her biggest job yet: parenthood. The couple is expecting a baby girl later this year so when it comes to unwinding these day, Baldwin knows it's more important than ever.
The Huffington Post: How do you know when it's time to unplug and recharge?
Hilaria Baldwin: I love to work, and I work a lot, but this means I get overtired. I can always tell that I am stressed out and overwhelmed when I start making silly mistakes that I wouldn't normally make. Now that I am pregnant, I am pretty good at nipping this behavior in the bud, forcing myself to slow down and recharge.

What's the first thing you reach for when you need to decompress?
A close three-way tie between my yoga mat, my puppies, and my husband!

If you had to pin an inspirational saying to the wall, what would it say?
"I have come to the frightening conclusion that I am the decisive element. It is my personal approach that creates the climate. It is my daily mood that makes the weather. I possess tremendous power to make life miserable or joyous. I can be a tool of torture or an instrument of inspiration; I can humiliate or humor, hurt or heal. In all situations, it is my response that decides whether a crisis is escalated or de-escalated, and a person humanized or de-humanized. If we treat people as they are, we make them worse. If we treat people as they ought to be, we help them become what they are capable of becoming." -- Johann Wolfgang von Goethe

Whose ability to balance work and life do you envy?
Mariska Hargitay is a both a wonderful mother and a brilliant, bighearted, hard-working woman. I love how she balances having a serious career, generous charity work, and her dedicated family life.
Where do you go when you need a change of scenery?
If I am in the city, I go to the Christopher St. Pier on the WSH. If I can get out of town, we drive to our home in Amagansett.

What do you do when anxiety is keeping you up at night?
This may sound strange, but I get out of bed and do a few yoga postures on the floor. My husband thinks I'm strange but it works! After, I lie back down and breathe deeply and sleep like a baby.

What's your secret to staying serene on the road?
I make sure I work out everyday. This ensures that I give myself "me time."
What advice would you give your stressed-out self?
I remind myself that stressed-out feelings pass and soon, I will look back and think how silly it all was. I always try to give myself perspective when life seems overwhelming.
PHOTO GALLERY
Celebrity Babies On The Way
REAL LIFE. REAL NEWS. REAL VOICES.
Help us tell more of the stories that matter from voices that too often remain unheard.
BEFORE YOU GO