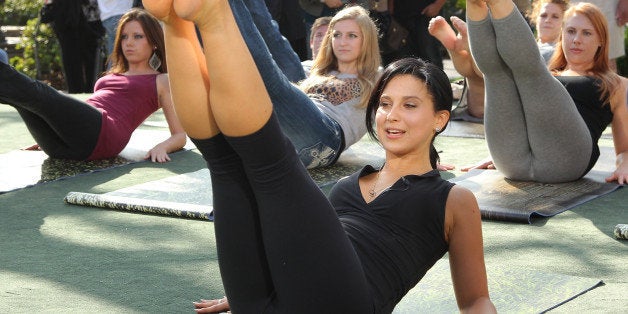 Hilaria Baldwin has been getting a lot of attention recently, not for her hot–tempered husband, Alec Baldwin, but for her tendency to assume yoga poses in odd settings.
The yoga instructor has made it her New Year's resolution to post a photo of a yoga posture daily. "One of my goals for the New Year is to post a yoga posture every day -- regardless of where I am or what I'm wearing," she wrote on her Instagram account, at the beginning of this year. Apparently, she has taken this resolution very seriously.
Baldwin regularly posts photos with the hashtag "#yogapostureoftheday" and makes a concerted effort to diversify her postures. Unfortunately, that doesn't always mean taking to her mat to model a particularly difficult pose. Sometimes, it just means taking her practice to some pretty bizarre locations.
Full disclosure? We're probably just jealous of Baldwin's incredibly toned bod. Regardless, here are the oddest places she has demonstrated her yoga talent, from least to most socially–acceptable:
1. First class on a flight
"I'm sorry. You've never seen airplane pose at 35,000 feet? #yogapostureoftheday #hilariaypd thank you to all my fellow passenger yoga buddies!"
"Thanks @themarkmullett & #WME for a great meeting #yogapostureoftheday"
3. The middle of the street
"Let's play "where's the warrior?" Hint: midtown #postureoftheday ps. We just created a major scene"
"Fish pose with the fish! #yogapostureoftheday #hilariaypd"
"Multitasking mama #yogapostureoftheday warrior 3"
"#yogapostureoftheday : blizzard arda chandrasana (half-moon). You are probably wondering where my mat went"
7. On top of her husband, Alec Baldwin
"Underneath every great woman is a great man #yogapostureoftheday #hilariaypd"
"Surprised? Obviously my doormen do yoga. Utkatasana (chair pose) #yogapostureoftheday #lovetheseguys"
"Yoga-ing in the rain! Vriksasana (tree pose) modified for wet boots! #yogapostureoftheday"
"Just a little dusting in utthita hasta padangusthasana (extended hand-to-big-toe pose) #yogapostureoftheday"
"Playing around in happy baby with my happy baby #yogapostureoftheday"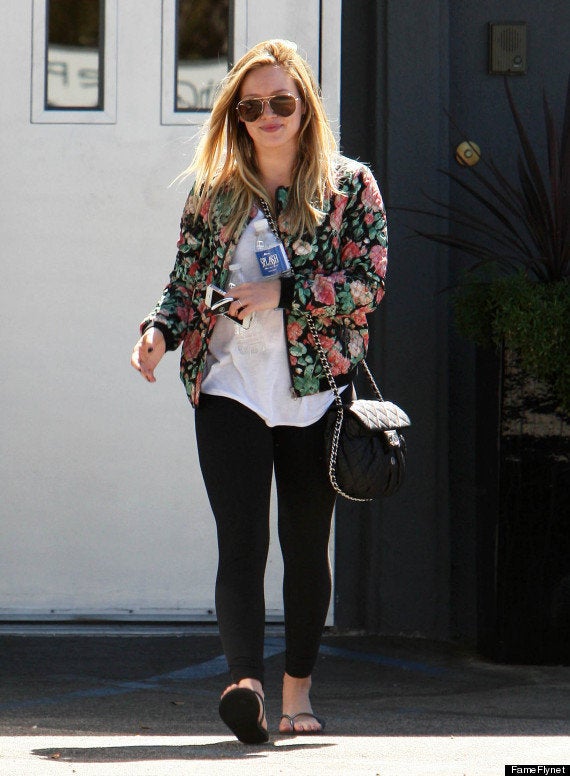 Celebrities Wearing Spandex
Popular in the Community