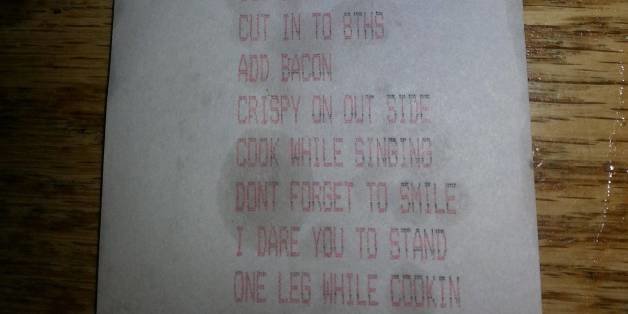 We at The Huffington Post have seen our fair share of receipts highlighting racist cashiers, rude barristas and bad tippers. This latest receipt is a little bit different, however, as it showcases the shenanigans of one hilarious waitress.
The receipt shows an itemized list for what at first glance appears to be the order of a very picky customer. The waitress requests that cooks add black beans, blue cheese crumbles and a different type of chicken to the quesadilla, while holding the salsa, adding pico de gallo, cutting the cheesy tortilla into eighths and then frying it.
What comes next, however, is the best part, as the waitress gives the kitchen some very specific instructions: "cook while singing," "dont forget to smile," and "stand [on] one leg while cookin [sic]." "Don't f*ck this up," it concludes.
While some people on Reddit criticized baconwaffle for an impossibly detailed order, the user assured commenters it was all just a prank:
I ordered the quesadilla as is, this was my waitress having fun with the cook.

This place has been my regular Thursday night happy hour spot for years with some buddies, so we know the entire staff pretty well. Tonight our favorite waitress was on staff (favorite because of her sense of humor). She thought it'd be hilarious to see what the cooks did with this. I ended up with the regular quesadilla as ordered, but after a few "what the fucks" from the cook.