What can possibly go wrong when a spiritual junkie gets a "sign" to work with an atheist? That has been a question I asked myself for years, but suddenly it has morphed into the premise of a new LGBTQ web series comedy I co-created and recently debuted with a filmmaker/friend of mine whom I've known for more than a decade.
The show is called "The You & The Me." It's fun. It's fresh. It's "The Gilmore Boys." (So, yeah ... that last sentence? It sounded so good I decided to just let reside there.)
In truth, the show takes the art of conversation between two extremely different gay men to new heights. But the backstory is interesting because there were lessons in there for me about collaboration, the creative process, and joining forces with somebody who holds a vastly different view of life, existence, and the world than I do.
I spent the majority of last 20 years living in Northern California. I ran an award-winning weekly magazine. I meditated, sought out the healing practices of shamans and regularly practiced Bikram yoga. I interviewed celebrities like Chelsea Handler, Cyndi Lauper, David Sedaris and James Franco -- fine, mostly I fawned over him and imagined sharing, oh, I don't know ... a chocolate malt on a Sunday afternoon somewhere in Palo Alto, California, while "Lost in Love" by Air Supply played on a retro radio station and ...)
Wait. Where was I? Right -- I lived in Northern California. I interviewed people. My friend is an atheist.
I collaborated with friend-actor-filmmaker, Jeff Dinnell, on some of those red carpet and Hollywood-event interviews I did. Inevitably, either prior to these events, or afterward, we would find ourselves grabbing a coffee or a cocktail and engaging in spirited conversations about life, the LGBTQ community, dating, manscaping, God, atheists, social relevance, what makes a "bear" a bear, a "cub" a cub and an "otter" and otter in a gay man's universe.
Well, all that, and so much more. And then ... I felt led to press "record" on my iPhone's Voice Memo app. The result of my conversations with Mr. Dinnell made their way into the series we now see. True, these conversations have been somewhat enhanced for the creative process, however I find the end result, while thoroughly comedic, interesting because it reminds me that while people may have differing views of life, and the world in which they live, there's a rich place in the middle where we all can co-exist, agree to disagree, and perhaps even laugh at the complexities of life as we swing from one spiritual vine to another.
For those who prefer a more grounded analogy: "... perhaps even laugh at the complexities of life as we walk along the Earth together."
And in an era where we are reminded daily of how polarized the country can become, I doubt that humor can hurt -- at all.
There's a "you." There's a "me." There's a way.
(Damn ... I liked the sound of that.)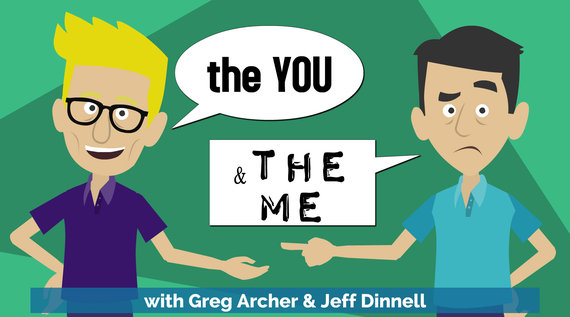 "The You & The Me" is created and produced by Jeff Dinnell and Greg Archer. Learn more about the show here and watch it on Logo (kidding!) or Comedy Central (still kidding) or Bravo (uh ...?) Shooting for Season Two, featuring a gaggle of well-known LGBTQ celebrity guest stars, begins in late-summer. Cheers!
REAL LIFE. REAL NEWS. REAL VOICES.
Help us tell more of the stories that matter from voices that too often remain unheard.