Bollywood star Kangana Ranaut is fed up with what she sees as sexism in India's booming film industry. And she's certainly not one to keep quiet about it. 
The best part? The whole thing is set up like an epic dance number.
"I'm tired of kissing their asses, baboons have broader minds than them," Ranaut's character sings in Hindi about her critics, while dancing prettily in a heavy red lengha. "Listen to me, increase my role. Listen to me, break the glass ceiling."
Ranaut is an established figure in Bollywood, starring in hits like the highly acclaimed "Queen," and "Tanu Weds Manu Returns." But she's also been accused of being a difficult and demanding actress to work with.
It's clear from AIB's video that Ranuat doesn't think so. 
Her character in the parody video is (barely) recognized by the director only as the male lead's "love interest" ― and not as an actress in her own right. On the other hand, the male actor receives a grand welcome worthy of a prodigal son, mimicking the welcome actor Shah Rukh Khan's character receives in the classic film "Kabhi Khushi Kabhie Gham."
"Don't say anything. Just smile and dance," another female actor in AIB's video advises. 
"I have self respect. I cannot do this," Ranaut's character responds before breaking out in song and dance.
Within seven minutes, the video hits on multiple issues ― like nepotism in Bollywood, the lack of meaty and meaningful movie roles for women, the gender wage gap, actresses being patronized by directors and called divas for having strong opinions. The scathing quips are seemingly endless.
"They don't listen to me, cuz I have a vagina," she sings. "Haven't eaten carbs in months ... My cleavage is printed in the front pages ... [They] objectify even my wrists."
She's declared that in the future, she's going to direct or co-direct all her films.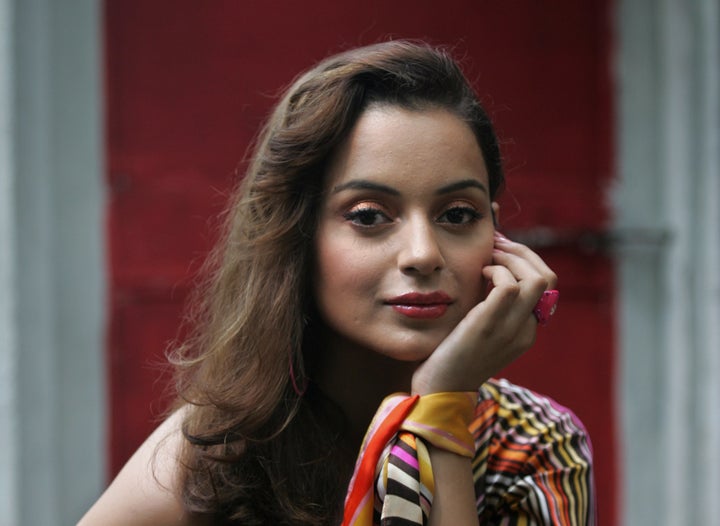 In the interview, Ranaut spoke about how Bollywood expects women in the industry to toe the line and simply do what they're told. 
Our actresses are conditioned and trained to be a certain way. I am often told I am unlike any other actress? What's being like an actress? One who laughs on your sexist jokes, pouts for selfies, plays with her hair and flutter her eyelashes and dances to your tunes like a brainless clown? Sorry, I refuse to be that. Literally, every actress we have are smart, independent women but they're playing roles that is expected of them by a deeply patriarchal society. I'm just tired with this industry and how it expects people to massage their egos. I am done. I'm directing my own film now and hopefully that'll be much easier.
We hear you, Kangana! Don't ever stop telling it like it is.
Watch AIB's video collaboration with Kangana Ranaut below and read a translation of the song, with links to cultural references. 
I've made many dance moves here
Now hear what I have to say (2)
I'm tired of kissing their asses
Baboons have broader minds than them
Listen to me, increase my role
Listen to me, break the glass ceiling
But they'll only let me dance in my undies

Cuz I have a vagina, they don't listen to me, cuz I have a vagina
Cuz I have a vagina, haven't eaten carbs in months
Cuz I have a vagina, objectify even my wrists. 
Why are you flaring up like a feminazi
We've made you a modern girl
She's a scientist in Poland who just talks about her boyfriend
Gave you cigarettes, gave you cusses
But you also gave me item songs for the applause
We put your name before the hero's
But your paycheck still has more zeroes
It's almost pedophilia
If I ever get married,
My career is done
He'll still be number one
Romancing my daughter
While I sell soap bars
Your dad launched your career
If I bring that up, you taunt me and
Say that I'm playing the victim card
Cuz I have a vagina, hip shot
Cuz I have a vagina, if I say anything I'm a diva
Cuz I have a vagina, hide your opinion in your sari
Cuz I have a vagina, say that my no is a yes.
(Ma'am your statements were so ballsy. How did you get so macho?)
When did it become macho to be brave?
I'm a woman, where are my balls?
How many more times do I have to repeat?
I said so in every chorus.
Yes, I have a vagina ... 
REAL LIFE. REAL NEWS. REAL VOICES.
Help us tell more of the stories that matter from voices that too often remain unheard.
BEFORE YOU GO
PHOTO GALLERY
Badass Indian Pinups