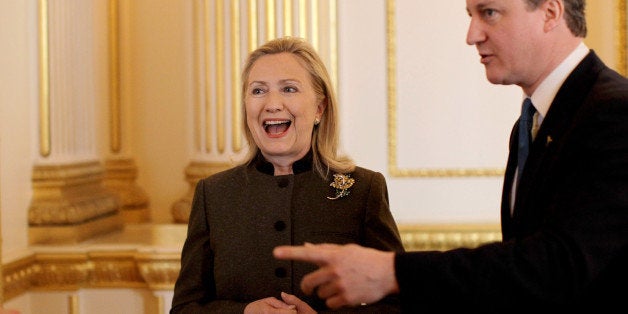 By "one," we mean a musical adaption of her life story; a theatrical retelling of the biography of American's favorite former Secretary of State, senator, and First Lady. Hil Dawg has more than a few books under her belt, nearly prompted a miniseries, might spark a movie, and, hell, she's inspired one of the internet's best memes. A thespian outpouring of Hilary love just seems like the natural next step.
That love is coming in the form of "A Woman on Top," a musical by Rhonda Kess and Dale Kiken that is, yep, loosely inspired by HRC's career. Dubbed a musical "for both sides of the aisle," the show centers on fictional Senator Virginia Stanton, a woman who "has had it all: career, marriage, family, success and divorce." Hillary Rodham Clinton and her husband US President Bill Clinton arrive at Littleton, Colorado, United States on May 20, 1999. (AP Photo)
A summary of the production via a carefully packaged press release:
"Reaching toward her ultimate goal, Virginia seeks the Presidential nomination of her party while her ex-husband, Governor George Reitman, seeks the same for the opposition leaving them locked in a series of political arm wrestling matches that tests them both.

The Ghost of English Suffragette Minnie Lansbury makes a surprise visit to the 'green room,' leading Virginia through a series of dreams of her life's journey. Minnie reminds Virginia of the great support and solace she received from her immigrant Grandfather Max who, as it turns out, shared some history with Minnie back in England. The Ghosts of some famous American Suffragettes also appear to bolster Minnie's tale.

Having raised her daughter Lindsey as a single mother, Virginia confronts the difficulties of a teenager from a split family who yearns for a mother and not a politician. Who will win this tugging match between Virginia and George? And will there be a clear winner?"
There are a few obvious discrepancies between Stanton and Clinton's trajectories. Hil is obviously not divorced, she's -- to the best of our knowledge -- never been impacted by the wisdom of a deceased political activist, and her significant other has never run for office in an opposing party. There's a bit of fluff here, for sure, and the phrase "had it all" leaves a bit of a sour taste in our mouths.
Yet we're still intrigued by this Broadway-ambitious musical, directed by Dan Knechtges (who was nominated for a Tony Award for his "Xanadu" choreography) and starring industry veterans Reathel Bean, Karen Mason, Frank Vlastnik and Sarah Cetrulo. The team is holding a table reading next week, so only time will tell if this strange homage will take shape as an actual production.
While we all wait for the opportunity to zealously canvas for the 2016 Hilary Clinton presidential campaign, we can bide our time fantasizing about whether Senator Virginia Stanton is a bizarro-world version of Clinton, the woman Hilary might have been had she parted ways with Bill. Go ahead and speculate in the comments.
Before You Go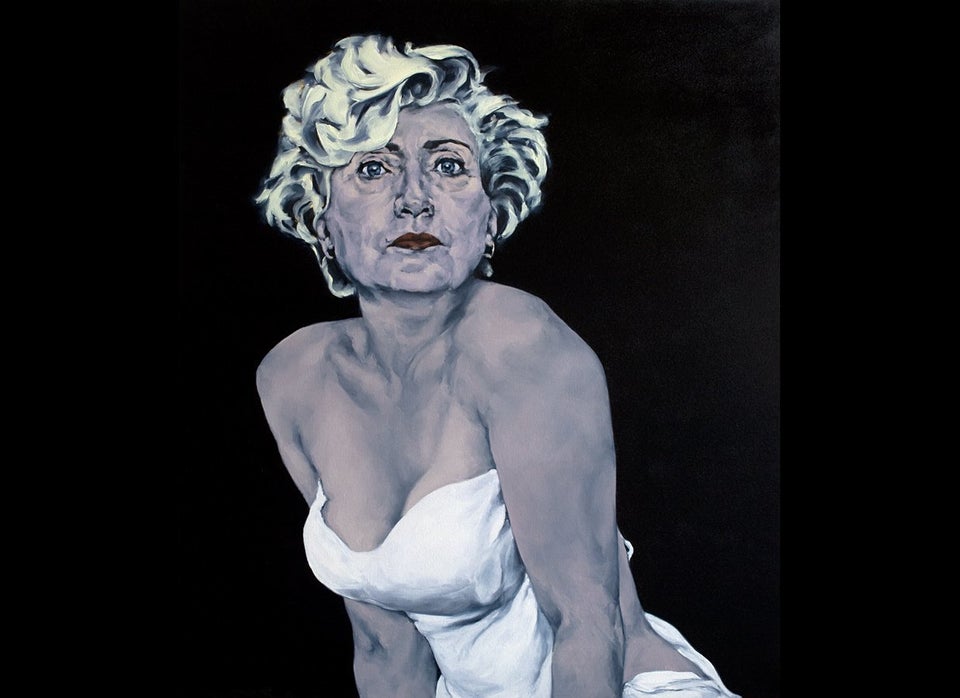 Sarah Ferguson's Hillary Clinton Art
Popular in the Community