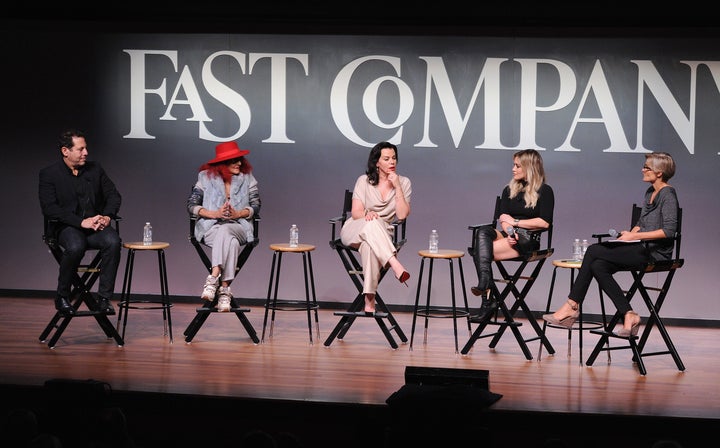 Hilary Duff is already facing burnout.
Speaking at the Fast Company Innovation Festival on Tuesday, the former Disney star talked about the struggle of being a "slashie" -- a person with careers in more than one field. In her case, an actress-slash-musician. On the topic of social media, Duff explained why the idea of maintaining an online presence in addition to acting, recording, and raising a 3-year-old son is so tiresome to her. One day, she said, she'll "have to choose" between Hilary Duff, actress, and Hilary Duff, singer.
"It's a different game now, music. You have to give it all of your time, or none of it," she said. "There's a very small group that gets played on the radio, and it's hard to break through that."
The 28-year-old Duff has been doing the "slashie" thing for a while. She's worked as an actress from childhood -- landing her first movie credit at age 11 in 1998 -- and released her first album at age 15 in 2002. While she got her start in the precious few years before social media allowed entertainers a simple way to connect with fans, Duff said she understands why it plays a big part in her industry (or industries). She's just not that into it.
"You have to ask yourself, How much do you want to share? How much time do you devote to it? How many selfies can you post? It's exhausting."
She added, "You can have a lot, but you can't have it all." 
"Slashie" careers in something-slash-something-else have existed for a while (in Hollywood, since its inception), finally fulfilling their destiny as a New York Times trend piece last year. The quick punctuation allows creatives a way to explain how they make a living while expressing their other passion(s) in one breath. On one hand, wearing multiple hats lets us find fulfillment by exploring our varied talents. On the other, the sheer volume of to-dos can become overwhelming.
Duff appeared onstage at the Fast Company festival alongside her "Younger" co-star Debi Mazar, who plays leading lady Sutton Foster's best friend in the TV Land dramedy about a 40-something woman (Foster) trying to reinvent her life as a 20-something. The show's costume designer, Patricia Field, and its creator, Darren Star, also joined.
After hearing her youngest companion complain about being tired out, 74-year-old Field offered a few words of comfort: "At least you're not bored!"
PHOTO GALLERY
Celebrity Homes
Calling all HuffPost superfans!
Sign up for membership to become a founding member and help shape HuffPost's next chapter