Actress Hilary Duff's French Bulldog "Frenchie Beau" died Tuesday afternoon, sending Duff to Instagram to share how difficult it was to say a final goodbye.
"I can't fathom never holding his heavy little head in my hands with his two big eyes looking at me again," she wrote. "Remember every day to be grateful for what we have that makes our hearts happy and full."
Heartbreak over a pet is a rough. Losing a pet can be particularly hard because pet owners often feel like they have to go through the grieving process alone, Michele Pich, an animal grief counselor at the University of Pennsylvania told The Huffington Post.
While there are a lot of similarities in losing an animal loved one and a human loved one, "pet owners are really up against people not understanding how tough that loss can be, and how all of your emotions are affected," Pich said.
The majority of people will go through the trauma of losing and grieving over a friend or family, but not everyone experiences the love and loss of an animal. "There's a sense of being disenfranchised," Pich said. Some grievers may want to take time off from work, for example, but may struggle to receive understanding from their colleagues.
It can be confusing and painful for those grieving a pet to know who to trust. Pich said these people will often mourn in secret: "They feel like they need to hide, and they have to weed out who they can be honest about their feelings with."
What's more, the loss of a pet often represents the loss of a daily routine. A person may be used to waking up at a certain time to walk their dog, or might look forward to coming home each night to greet their cat. The change in this routine can be startling.
The whole process can be an exhausting addition to the regular stages of grief.
How to comfort someone who is grieving a pet
One of the best ways to comfort someone mourning an animal is simply to acknowledge their loss.
"People are sometimes afraid to say anything if they don't know what to say," Pich said. "That can be more hurtful sometimes."
Even if you've never owned a dog, it can be meaningful to talk about the pet of a friend who has. "The important thing is not to minimize it," he added.
Duff may find some sympathy in Hollywood. Sarah Silverman penned a painfully sweet obituary for her dog, Duck, back in 2013.
"I held him and kissed him and whispered to him well passed his passing," she wrote. "I picked him up and his body was limp -- you don't think about the head -- it just falls. I held him so tight. And then finally, when his body lost its heat, and I could sense the doctor thinking about the imminent rush hour traffic, I handed him over."
Miley Cyrus, too, has been outspoken about her love for her many animals -- and how hard it is to lose them. In 2015 she sang about losing her pet fish, Pablo, and wept during the performance.
Publicly grieving, as these celebrities have done, can help to normalize the pain so many of us feel when a pet dies. The more we talk about it, Pich said, the less often we'll feel the need to justify our heartache.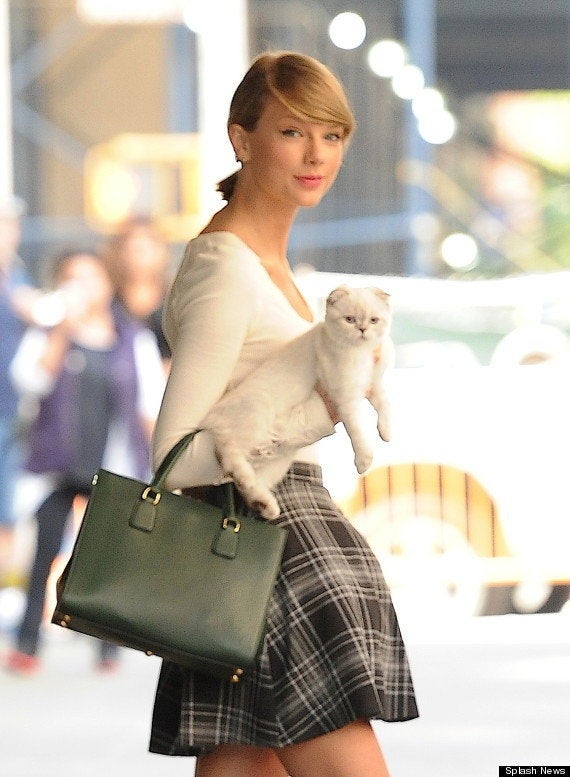 Celebrity Pets Who Are Celebrities Themselves