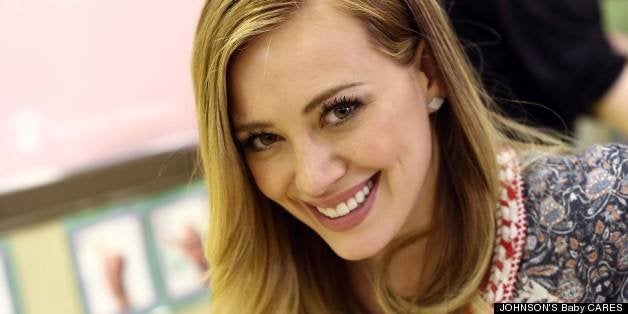 Hilary Duff was just 13 years old when she became a Disney superstar with the hit sitcom "Lizzie McGuire." Ten years later, she is still in the spotlight, but now it is her role as mom that is making headlines.
This Mother's Day, Duff will celebrate her first year of motherhood. She and husband Mike Comrie welcomed baby Luca Cruz last March. Shortly after giving birth, Duff reached out to other mothers. She teamed up with Johnson & Johnson and Save the Children that April to launch Johnson's Baby Cares, a charitable initiative that provides support for less fortunate moms. The campaign's message resonated with her.
"It just kind of hit close to home because we were working on filling care kits with essentials for parents to take care of their babies in times of crisis," she told The Huffington Post during a phone conversation earlier this week. "And I just kept remembering how hard it was to take care of a baby not in a time of crisis. So it was really important to me and a great project to work on."
Johnson's Baby Cares offers support through initiatives like Care Cards. For every card sent, shared or liked on Facebook, Johnson's Baby will donate $1 to Save the Children for educational programs for mothers focused on how to raise children from birth to school-age.
Duff has felt a kinship with those she has met through Johnson's. Now, she more keenly understands how vital it is for new moms to have steady support systems. "Being around new moms on this project, I've relived a lot of it and connected with women in the same spot. We've talked a lot and you learn from each one."
"It's such a wonderful experience and obviously life-changing and altering," she said of having a child. "You just don't even know until you have a child what that bond does, and how it changes you, and what you learn. But it is also a big struggle. It's the hardest thing as well. You're exhausted. You don't have all the answers, no matter how many books you've read. You're dealing with a hormonal roller-coaster. It's a lot of different things that you don't always understand. So having a support system around me was key in the first year."
The 25-year-old has shared many snapshots of moments from this first year with her 2.9 million Twitter followers. Moments like a delicious dinner or her son playing in the yard patch together to form an image of her daily life for those looking in from the outside. Still, she wants to protect her family from certain prying eyes and isn't entirely sure how she will raise Luca in the limelight.
"It's tough because people take our picture everyday; there's paparazzi outside our house every day," she said. "And he's too young to know what's going on but when he is old enough it's going to be unfair for him to feel he's being treated than all the other kids and taking his picture ... That's going to be really hard for [me and my husband]. Other people have figured it out and handled it gracefully. We'll see when we get there."
Back in 2007, Duff appeared in the MTV reality special "This Is Now," about touring for her album "Dignity." At the time, she was 19 years old and single. She has no plans to appear in a reality series again, at least not one that focuses on her home life.
Fans, however, want more from Duff, but she isn't eager to dive right into her career just yet -- a career that took off in 2001 and sustained with films like "Cheaper by the Dozen" and "A Cinderella Story" and four studio albums. These days, she isn't inspired to get back in the studio for 13 hour recording sessions or back on set for months of filming. Cameos in "Raising Hope" and "Two and a Half Men" have allowed her to slowly dip back in.
"I've been so picky about what I leave the house for, honestly, beside selfish things and meeting up with a girlfriend here or there," she says. "I really like being home and I've enjoyed this year with him so much. It was great to get back to work and know I only have to do it for a week. It was good for me. I started to get the itch again."
Duff's swift and smooth transition from a popular starlet to a grounded mother and wife is not only striking, but also commendable. Instead of drifting through the Hollywood club scene like so many child stars, she instead chose to settle down and start a family.
"It definitely molded me," she said about achieving success at a young age. "I think I grew up a little quicker. I was maybe ready for certain things sooner because of my place in the world ... Sometimes I feel envious and then sometimes I look at my life and I have so much to be thankful for and so many great experience and done so much. It has definitely led me to where I am and [to] get into things sooner."
She adds, "Then again, I'm also from Texas, so who knows?"
These days you can find Duff leading a simpler life, hanging out with Luca or hitting a Pilates class. This Sunday, she will be relaxing on a beach somewhere with her family celebrating her second Mother's Day with the ones she loves. One year after giving birth to her first child, Duff might not yet have the perfect formula for motherhood, but there are two things she has learned: Cherish every moment and don't be too hard on yourself.
"You think because you carried a baby inside you and you're so close to them, you think you should know all the answers," she said. "You put a lot of pressure on yourself. So be proud of yourself and take time for yourself, [which] is not always easy to do when you're in the thick of it."
Calling all HuffPost superfans!
Sign up for membership to become a founding member and help shape HuffPost's next chapter
BEFORE YOU GO
PHOTO GALLERY
Hilary Duff & Johnson's Baby Cares