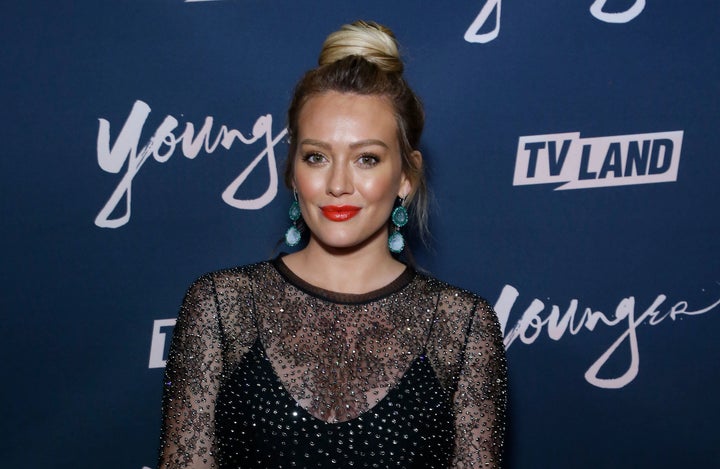 Like many moms, Hilary Duff is no stranger to feeling a bit of parenting guilt, especially when it comes to working and being away from her son.
In an interview with HuffPost, the "Younger" star, who often films on the opposite coast from her family, said she's faced some tough questions from her 6-year-old son, Luca, whom she shares with former husband Mike Comrie.
"[He's asked,] 'Why do you have to work so far away? Why do you have a job? Why does my other friend's mom not have a job?'" she said. "It's tough. One, I want to be like 'Hey, you know all that stuff you have? This house that we get to live in? This is why I have a job.' But that doesn't mean anything to them."
She also got real about needing time for herself and explained how she broke that idea down for her son.
"Also, I want to feel human and I don't want to mom all day every day," she said. "And I think it's OK to explain that to them. I learned that with Luca. [I've explained that] Mom has had a job since I was a teenager and that's a really big part of my life. I try to be there for you as much as you need, but working is part of being an adult. And when you go to school, you're going to figure out what your passion is and you're going to have a job too and you're going to have a family. I try to make the story as simple but as big as it really is."

Currently, Luca's job aspirations including making flying cars and being an activist for elephants.
"He's got a lot of work to do in two very different areas," Duff joked.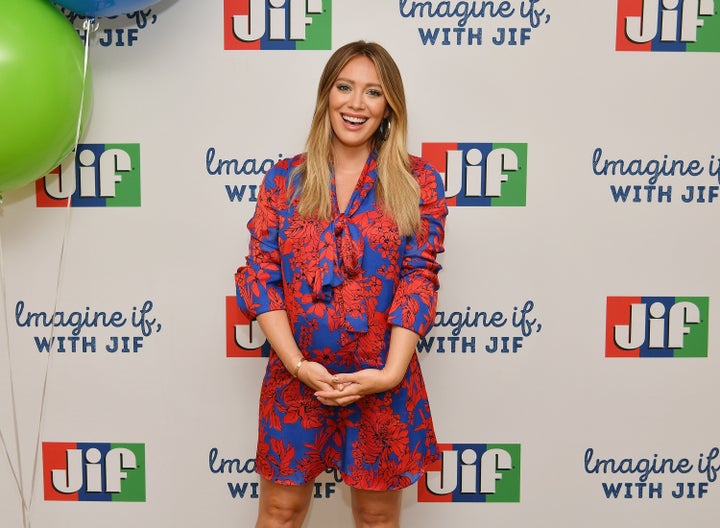 Luca's big dreams go hand-in-hand with Duff's latest partnership with Jif and the Boys & Girls Clubs of America. The actress just announced the "Imagine If, With Jif" contest, in which kids can submit their entrepreneurial and innovative ideas for the chance to win $15,000 in funding. Last year's winner created Stitches by Charlotte, a company that makes personalized dolls for kids undergoing medical procedures.
In the meantime, Duff is expecting her second child, a baby girl with boyfriend Matthew Koma. She has long shared intimate moments from her life in Instagram posts that don't gloss over the more difficult parts of pregnancy and parenting.
"Sick of getting up 9 times a night to pee and looking at this weird body in the mirror that is not my own," she wrote in July about her pregnancy.
Although Duff has received positive feedback, especially from other moms thanking her for the relatable posts, the actress admits she still has "such a love-hate relationship" with Instagram.
"Everything is so filtered and everyone's portraying their best life always," she said. "And you're like, 'Why do they have it so much better than I do? Why does that look so much brighter than mine?'"
That's why Duff makes sure to "mix in the struggles" while sharing "the best and the most fun" moments of her life.
"It's what I look for when I'm following someone," she said. "I'm looking for some reality peppered in."
With her current pregnancy, Duff said she's learned to take things as they come and not get caught up with the many expectations and the guilt she felt as a first-time parent.
"[After Luca was born,] I felt that I had to do everything. If I wasn't the one doing everything, then I was not being the best mom I could be," she said. "I think throughout the journey of being his mom, I've learned how to prioritize a little bit better and not spread myself so thin, so I'm excited to do it again actually. Round two is a lot more casual."
Support HuffPost
A No-B.S. Guide To Life
Popular in the Community