Hilary Swank made her film debut in 1992 with "Buffy The Vampire Slayer" and followed two years later with "The Next Karate Kid." She has made a career out of playing badass women in unconventional roles. She has also won two Oscars -- for playing a paralyzed boxer in "Million Dollar Baby" and a transgender man in "Boys Don't Cry" -- and started her own production company. And yet, Swank, now age 40, is not the first to speak out about inequality in Hollywood.
"It's not like I'm angry. I'm just flabbergasted," she told HuffPost Entertainment at a press junket in Los Angeles for her upcoming film "The Homesman."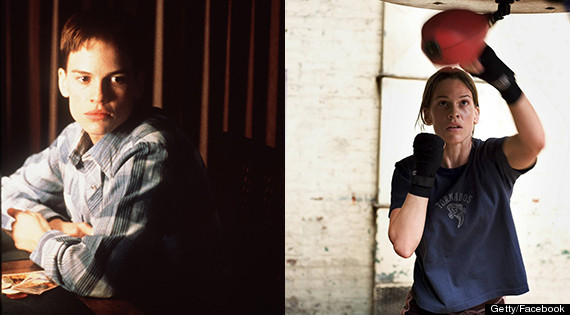 Swank was referring to the fact that men in Hollywood can sometimes make up to 10 times more money than a female costar. "It's the world I've been living in for so long, there's no anger about it anymore. But I can't really be angry when I feel like I've had the opportunity to play some of the strongest female roles in the last 15 years," she said.
And "The Homesman" is no deviation from that pattern. Swank hasn't been in a film in more than three years but returns to the screen in the Tommy Lee Jones film about a strong woman who transports three other women across the frontier to safety.
"There's no Western with a woman like this," Swank said, sitting on a couch in an empty hotel room at the Beverly Wilshire Hotel. Her voice was hoarse from countless interviews and she drank a green juice, apologizing for being sick. Her rescue dog sat patiently near her lap as she spoke about the Western genre. "It's all men who have a vengeance, something to finish. And the women are either prostitutes on the side or keeping house."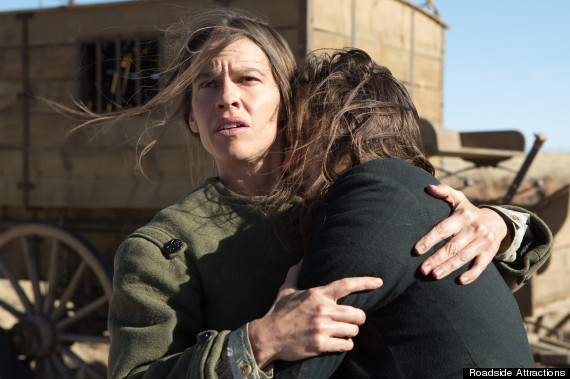 Swank's character in the film, Mary Bee Cuddy, is described as "too bossy and too plain." She wears no makeup. She is unmarried. But she has her own homestead and is a rare independent woman on the frontier. Too independent. She asks two different men to marry her in the film, and both say no.
Swank describes "The Homesman" most simply as a feminist movie. It's why she wanted to make it. In fact, the muted (and beautifully shot) frontier setting disguises issues that we still face today in 2014 -- things like the objectification and trivialization of women, Swank said.
"Wanting to be independent. Wanting to have a life we see fit for ourselves while also walking shoulder-to-shoulder with a man who sees us and respects us. A man who doesn't put titles on us like 'bossy.'"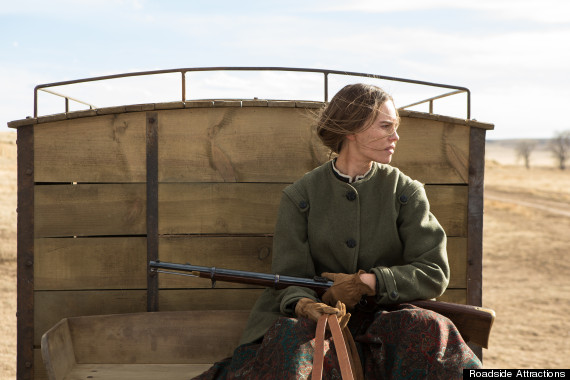 Swank loves that Jones, who co-wrote and co-stars in the film, was the one to tell this story -- citing him as somewhat unexpected. "People try and stereotype him all the time. And it just goes to show, we are so much more than people see," she said, smiling.
"We can never know all the facets someone has inside them. Because we are, ourselves, still trying to figure all of them out," she said -- perhaps reflecting on herself as much as she was on Jones.
"We should never pigeonhole someone. I think we actually start to believe what we hear. And we are all so much more than any of that, you know?"
"The Homesman" opens in limited cities on Nov. 14, 2014.
REAL LIFE. REAL NEWS. REAL VOICES.
Help us tell more of the stories that matter from voices that too often remain unheard.
BEFORE YOU GO
PHOTO GALLERY
Hilary Swank