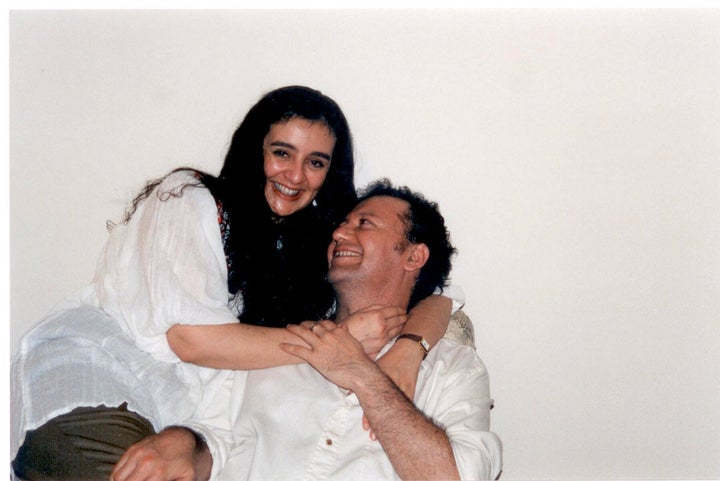 Hilda Chacón sat down at StoryCorps in New York City with her husband Pedro Morán-Palma to tell the story of how they met. Twenty years ago, Hilda was visiting the U.S. from her native Costa Rica... And Pedro spotted her at a party.
Hilda Chacón: So tell me, Calvito, what did you think when you first met me almost 20 years ago?
Pedro Morán-Palma: I saw there was a beautiful lady sitting in this party. At first I thought that you were with somebody. Then I saw that it was my roommate who was bothering you, and I tried to rescue you.
Hilda: I was wearing a short skirt, and he insisted that I go up the stairs so he would see me from behind, and I got so mad that I was ready to beat him up. But you came to my rescue and pulled him away. I remember you apologized for him being so rude and drunk, and I just started saying, Ugh! Men! And you said, "Not all men are like that." "Yes, they are!"
We sat there at the top of the stairs, and we started talking like no one else was there. I told you I was visiting from Costa Rica, that I was divorced, that I had a kid that I really loved. And then I started talking about men, saying, "I don't know why people get married, you know? You marry a guy and you have to put up with so much crap!" How come I didn't scare you?
Pedro: You were fascinating. I was mesmerized, I think is the right word. You were the most intelligent, creative woman I'd ever seen in my life.
Hilda: It's funny, because when I met you I was totally sure that love did not exist. But there you were, with this exquisite sensibility and sensitivity. You came over with this calm attitude, very gentle, very sweet, and I felt like you could sense what I had gone through. Still, I thought to myself, this man is bald! I had always said I could never, never be with a bald guy. And there you were, becoming the most handsome man on earth. You have a little less hair than then, but I still think you're the most handsome man alive.
Pedro: It's hard for people to believe that we only dated for 10 days.
Hilda: We cried profusely at the Phoenix airport when we said good-bye. I just thought, This man is great, but he's here. My life is in Costa Rica: My baby [Nadia] is there, my friends are there, my family is there, my life is there. So it's too bad.
A week later you called, and you said that you had gotten a ticket to Costa Rica, and that you were coming.
Pedro: My friends were saying that I was crazy. At some point I thought, Maybe this is too much. But suddenly I said to myself, This is my opportunity. Because it's something that my whole body was telling me: You've got to do this! This is the most wonderful thing that's going to happen in your life -- you cannot let this go! So that's when I decided to visit you in Costa Rica.
I always remember your eyes when you were waiting for me in the airport. The sun was shining in your eyes, and Nadia was hiding behind you. She was trying to see who the guy was.
Hilda: We went to Bahia Gigante, and the three of us sat there looking at the sea and the sunshine. You started telling me these weird things, like how grad students didn't earn much in the U.S., but they could live well. And you told me about the school system. "Hmm, that's good." I didn't know where this conversation was heading.
All of a sudden you said, "Well, I don't make much money, but if you want, we could get married, and I think the three of us could live with some dignity until I finish school." And I just thought to myself, This man is either totally crazy or has the biggest cojones on earth, because after all that I said about marriage, here he is asking me to marry him? I was shocked, and honestly, I had never thought about marrying again. But I just thought, If I let him go I will never forgive myself, because I've never felt this connection with anyone before in my life. And I said, "Yes."
I remember everybody being terrified, because I was marrying a guy that I had met 10 days before and taking my daughter out of the country. I pretty much left everything behind to follow you.
I remember that the second day in Costa Rica, you and Nadia sat to watch a TV show. She started asking you all these questions, and little by little she started leaning on you. Then, I remember, she sat on your lap, and she put her hand over your shoulder. And I thought to myself, This is one of the nicest images I'll ever save in my mind. The two of you were laughing about that TV show, so happy. And that's how I picture the two of you today. You have this laughing relationship, so close and funny. Even if you stop loving me tomorrow, I could never pay you back for all the love and affection you have given my baby.
Pedro: When I met Nadia, I said, I'm going to present myself as I am and see if she likes me. And fortunately, things turned out well. I'm a really proud stepfather.
Hilda: People say, Everyday things kill love. I probably used to say that 25 years ago, before I met you. But the things that we do on a daily basis, simple things like going to get the fruit at the market or paying the bills, or just cleaning the house, they aren't chores or responsibilities but fun things when we do them together.
I told you when I met you that I don't like husbands. Boyfriends invite you to the movies or to dance and bring you flowers, but husbands just take you for granted, right?
Pedro: So says tradition.
Hilda: But you're not a traditional husband. I have this strange sensation with you -- part of me feels like we met yesterday, but there's another part of me that feels like I've been with you forever.
Pedro: And it feels good to feel young with you, and at the same time to grow old with you. And it's all those things together at the same moment.
Below, photos of the couple over the years.