 WASHINGTON -- Four years ago, when she was considering becoming President Barack Obama's secretary of labor, Hilda Solis said many friends asked why she would possibly want the job. After all, the secretary's most visible responsibility is delivering the monthly jobs report, and the nation was then shedding more than 700,000 jobs per month.
"My reaction was, I'm here to solve problems, and that's why the president has asked me to do this," Solis told HuffPost.
Solis announced last week that she would be stepping down from her post and returning home to Los Angeles, where many political observers said they expect she'll run for public office again. In an interview at the Labor Department, Solis, the first Latina to head a federal agency, said she was proud of what her agency did during Obama's first term, particularly enforcing wage and hour laws and administering job training programs. She said she's happy to be walking out when the U.S. economy is adding jobs, rather than watching them vanish.
"We've put back 5.8 million private sector jobs," said Solis, 55. "I feel very good about what I've seen."
As it turned out, being the bearer of bad news on the first Friday of the month wasn't the most challenging part of the job. The Labor Department issues and enforces rules and regulations on employers. This process may escape the notice of most Americans, but business groups and lawmakers on Capitol Hill pay close attention. As with outgoing Environmental Protection Agency chief Lisa Jackson, some of the rules that Solis' department championed -- commonsense requirements to protect workers, her backers say -- were assailed by Republicans as job-killing red tape that would hurt businesses in a down economy.
Solis said she was surprised at the level of GOP attacks on regulations after Democrats lost the House in 2010, even though she had been a congresswoman from California before.
"Many of these regulations and enforcement procedures are common sense," Solis said. "They save lives, they save money. It's not like we came in and used a hammer on [employers]. What we did was enforce our laws."
Solis said she was particularly proud of the department's recovery of back wages for workers who'd been shorted by their employers. Under Solis, the agency hired 300 new inspectors. Last year, the wage and hour division managed to return $280 million in owed wages to 300,000 workers, the most in a single year. Given such improvements, Solis has earned high marks from advocates for low-wage workers as well as from labor unions. (Solis, the daugher of union members, has been praised by unions and criticized by conservatives as a friend of labor.)
Enacting workplace reforms was much thornier. Several House hearings delved into the alleged costs of the department's proposals to tighten protections for vulnerable workers. One such measure would have further restricted the job duties children could perform on farms. Agricultural worker advocates called the reforms overdue and much-needed. Opponents, including Republicans running for office, blasted them as a Washington intrusion onto the rural way of life, and the ag lobby vehemently opposed them.
With the White House under fire during a campaign year, the department announced the withdrawal of proposals that Solis had previously championed. She said she still believes the shelved rules are important.
"I wish that we would have been more successful," she conceded. "But I'll tell you, every effort was made by our opponents to put out outlandish exaggerations of what [the rules] would do. And clearly they were way off. ... I think it's unfortunate. There are still going to be deaths and injuries."
Asked if she felt she'd had the full support of the White House on the issue, Solis said, "We did to begin with."
It wasn't just new regulations that drew fire from the right. One of the more bizarre turns of the 2012 presidential campaign came in early October, when the Labor Department announced that the unemployment rate had dropped from 8.1 to 7.8 percent. Some backers of GOP presidential hopeful Mitt Romney, including former General Electric CEO Jack Welch, insinuated that the Labor Department had cooked the jobs numbers to spin them favorably for Obama. (The jobs report is produced by career analysts in the agency's Bureau of Labor Statistics.)
Solis said she found the so-called BLS trutherism deeply annoying.
"It was obnoxious," she said. "The information given to us by [BLS] has been given to labor secretaries for decades. We didn't just come up with a new formula just because Hilda Solis or Barack Obama came in. We did nothing to in any way compromise the data, the methodology. ... I think it was very ludicrous for those folks on the outside to say that."
As secretary, Solis heard the jobs numbers only shortly before the rest of the nation did. On those days, she often spent up to 12 hours doing media interviews in both English and Spanish, trying to make the numbers accessible to lay people.
Much of a labor secretary's job is being an ambassador. Although she wasn't as visible as, say, a Frances Perkins, the labor secretary under President Franklin D. Roosevelt and the first woman cabinet member, Solis spent a good deal of her tenure on the road discussing the challenges facing workers on the lower rungs of the economy. She made a series of emotional trips to West Virginia to meet with families of the victims of Upper Big Branch mine, where 29 miners were killed in an explosion in 2010. A series of investigations have placed blame for the tragedy -- the worst of its kind in a quarter century -- on former coal giant Massey Energy.
"We went the day after," Solis said. "We didn't know how many were killed yet. They were still trying to communicate. I went down because I wanted to see for myself. I wanted to also provide whatever comfort I could. It doesn't matter if you're from a coal mining family or a Latina who's coming from LA who's never been in a coal mine."
Shortly after the tragedy, Solis said she met with coal operators in a closed-door industry conference, which the Labor Department did not previously publicize. She said her message was that "we weren't going to tolerate the fatalities that we'd seen occur, and that we were going to do everything in our toolbox to change this."
The Labor Department oversees the agency responsible for protecting miners, the Mine Safety and Health Administration. The agency has long been criticized, including under Solis' tenure, for oversight problems and inadequate inspections. Although mine safety reform has stalled in Congress, Solis said the department has worked to make improvements, including a new rule issued this week that would make it easier for the government to shut down mines with a history of safety violations. The coal lobby strongly opposed the new rule.
"I'm not leaving because I felt I couldn't do anything," Solis said. "I know I did everything I could. I'm walking out proud of the things that I accomplished. And we talked about all workers -- not just white-collar or folks at the top end who can afford lawyers. I'm talking about people without a voice."
Solis wouldn't confirm rumors that she'll be seeking a seat on the Los Angeles County Board of Supervisors. But she did point out, rather suggestively, that if she did run, her electorate would overlap with her previous stints as both a congresswoman and a state senator.
"It's there," she said of the option to run. "I'm here for now, but I'm going home."
Before You Go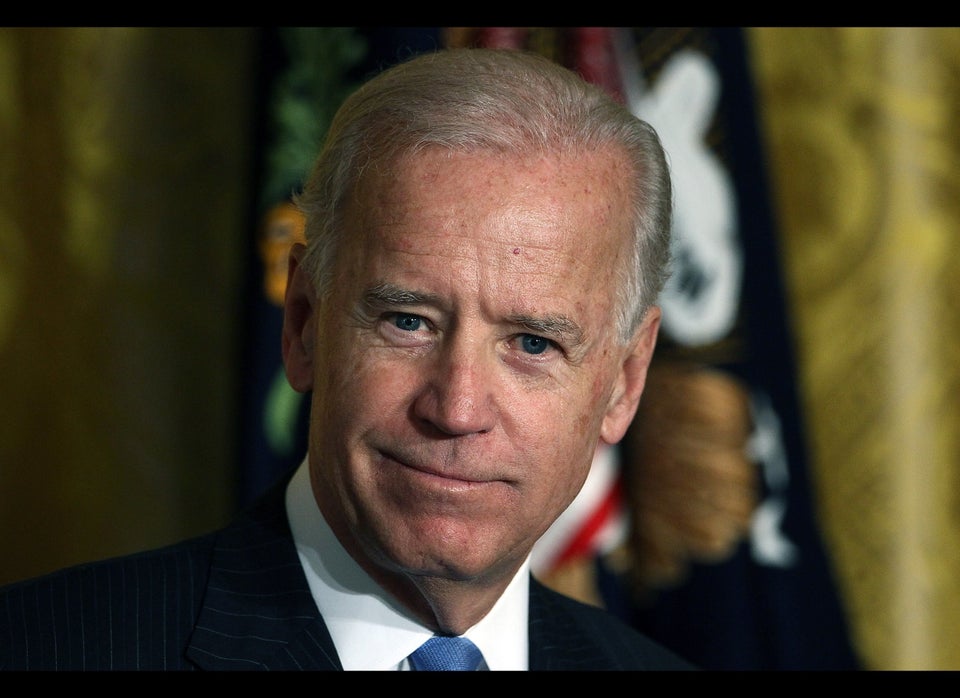 The Obama Cabinet
Popular in the Community