People say journalism has no future, but Hilde Kate Lysiak is proving them wrong.
"This is the first time she broke a story of this magnitude," her father, former New York Daily News reporter Matthew Lysiak, told The Huffington Post, though he said she's "broken quite a few local stories." (Hilde's not named after the character in the classic movie "His Girl Friday," he noted, though she does have a poster from the movie in her bedroom.)
Hilde herself was not immediately available for comment, but her father explained that a source she'd talked to before tipped her off about the murder, and Hilde immediately headed to the scene to start knocking on doors and talking to neighbors.
Though Hilde may have gotten the reporting bug from watching her father in action, he said that he and his wife, Bridget Reddan Lysiak, do very little to interfere with Hilde's reporting.
"She tells me that once she gets past the initial shock that there's a 9-year-old asking questions, people treat her well," he said. "They treat her like an adult reporter."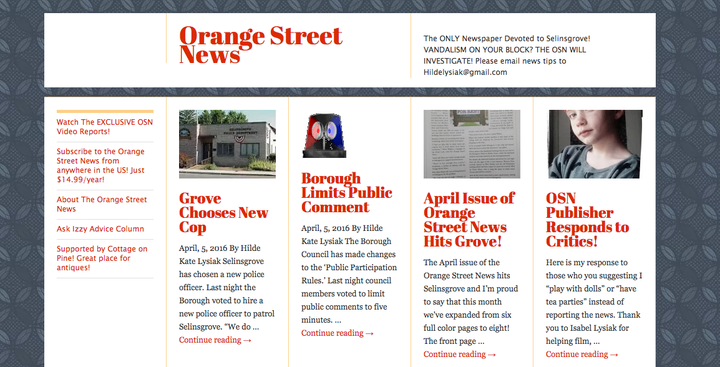 Her parents format her stories and post them on the OSN website, though they do very little editing. And they also filter the email that Hilde gets to ensure nothing wildly inappropriate comes through. But that's pretty much it, Lysiak says.
Hilde's undeniably badass, but recently some adults have taken some issue with her intrepid reporting.
"Everybody loved Hilde universally when she began her paper in November 2014," he said, when she focused on "cute" stories. But as she's started to report on more serious happenings, people have started criticizing her based on her being young and being a girl.
"When people say I can't because I'm a girl, it makes me angry," Hilde told Yahoo. "It makes me angry to think that people think just because I am 9, I can't do good work."
On the OSN Facebook page, her story on the murder garnered plenty of praise, but also comments like "Perhaps you are too young to understand the difference between decency/respect and sensationalism" and "9-year-old girls should be playing with dolls, not trying to be reporters."
"Because of my work, I was able to inform the people that there's a terrible murder hours before my competition even got to the scene," Hilde says in the video (above), which Izzy shot and edited. "In fact, some of these adult-run newspapers were reporting the wrong news. Or no news at all."
She also had some specific instructions for anyone who has a problem with her. "I know some of you just want me to sit down and be quiet because I'm 9," she said. "But if you want me to stop covering news, then you get off your computer and do something about the news."
Calling all HuffPost superfans!
Sign up for membership to become a founding member and help shape HuffPost's next chapter
BEFORE YOU GO
PHOTO GALLERY
Photos Of Girls Going To School Around The World