WASHINGTON -- Hillary Clinton's brand new campaign signaled Monday that it really, really doesn't want to blow its chances in the finicky first-in-the-nation Iowa presidential caucuses, insisting to reporters that they expect a tough battle from challengers.
"These caucuses have always been competitive, and we're expecting the same thing here," said a senior Clinton aide in a background briefing for reporters.
So far, there are not actually any other contenders to give Clinton any competition. Only former Democratic Rhode Island Gov. Lincoln Chafee -- who was before that a Republican senator from the state -- has taken formal steps towards running.
Other potential Democratic contenders such as former Maryland Gov. Martin O'Malley, independent Vermont Sen. Bernie Sanders and former Virginia Sen. Jim Webb have yet to declare their intentions -- although they've already been visiting the state and meeting potential caucus-goers.
Very few Iowans, however, have any idea who those people are, let alone any current intentions of voting for them. It will take a concerted effort by any of them to make up ground -- with the possible exception of Sen. Elizabeth Warren (D-Mass.), who has repeatedly said she is not running.
Still, Team Clinton doesn't want to take a chance on repeating the mistakes of eight years ago, when many Iowans got the impression that she didn't especially enjoy the caucuses. Clinton lost the state to then-frontrunner John Edwards and newcomer Barack Obama.
Leading her Iowa operation is Matt Paul, who has strong ties with the state's Democratic operation. He served as campaign manager for former Sen. Tom Harkin's (D-Iowa) 2008 reelection and helped run Howard Dean's 2004 operation in the state. Most recently, he was a top adviser to Agriculture Secretary Tom Vilsack, who was also the state's governor.
Clinton will be in Iowa Tuesday and Wednesday, meeting with students at Kirkwood Community College in Monticello and attending a small business roundtable in Norwalk. Advisers stressed that she will be focusing her time on this trip on events outside of the big cities in the state. There will also be smaller meetings -- closed to the press -- with elected officials, Democratic activists and community leaders.
"You're going to see Hillary interact in much smaller settings than people might expect. She's going to be in coffeeshops," said another senior aide.
Although the campaign aides insisted the small-bore focus was intended to show that Clinton is really concerned about everyday voters -- and that the campaign this time around is really about them, not Clinton -- she did many of the same things in 2007 and 2008: attending house parties, meeting behind closed doors with local officials all over the state and holding numerous roundtables.
And while there may not be any strong challengers at the moment, local activists likely remember the moments from last campaign when Clinton expressed disdain for caucuses. Her aides insisted Monday that this time, they understand they need to a better job wooing Iowa's Democrats.
"We understand one thing. And we understand that we have to earn this," a senior aide said. "We understand that this is a long process that we're going to take very seriously, with a great deal of humility and talk to folks and attract, recruit and earn the support of precinct captains across the state, and caucus-attendees across the state."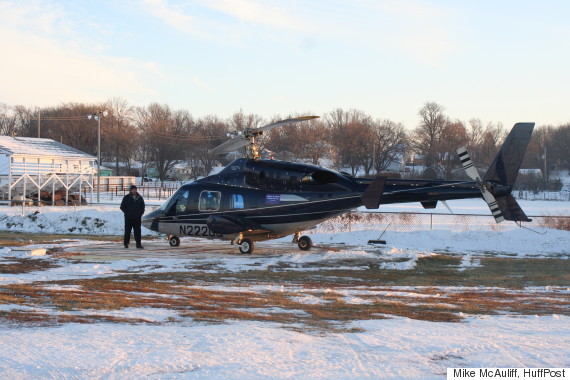 One way Hillary Clinton tried to catch up to her rivals last time was flying around the state in what was known as the "Hill-A-Copter."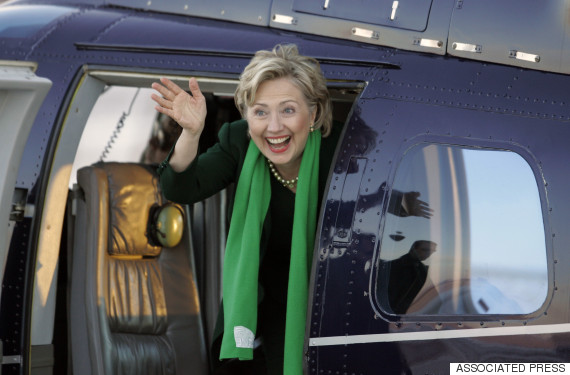 Campaign officials have said they want to avoid flashy, presumptive statements this time around.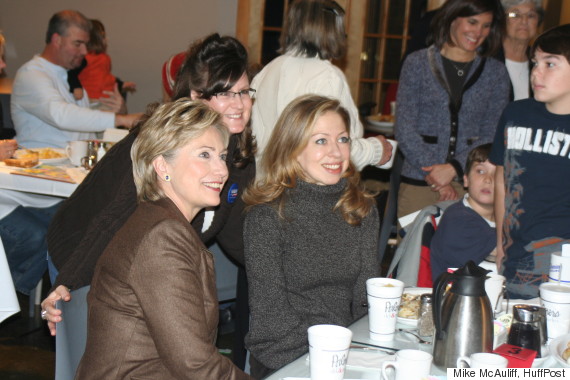 Hillary Clinton and her daughter, Chelsea, meeting with Iowans in 2007.
REAL LIFE. REAL NEWS. REAL VOICES.
Help us tell more of the stories that matter from voices that too often remain unheard.
BEFORE YOU GO
PHOTO GALLERY
Hillary Clinton