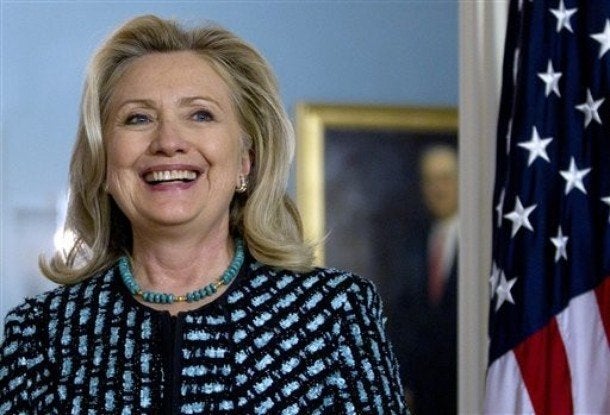 As we savor Barack Obama's victory, which is a win for the nation, the news media will surely begin to focus on the 2016 election. I am thankful that it will be President Obama who will lead the country through then next four years and am confident he will set us on the road to a more progressive 21st century. In 2016 we will be able to say with confidence 'we are better off today than we were in 2012.'

Many of us have committed to working with the President to achieve the vision he set forth in his campaign. But doing that in no way prevents us from also envisioning a future that includes fully breaking that final glass ceiling and electing Hillary Rodham Clinton as President in 2016.
Hillary is a strong woman and leader who has made a real difference in people's lives around the world. She is an icon to many. Over the years she has also stood beside and supported men in power. I think the United States and the world need the opportunity to have her as the leader of the free world in her own right. She is a mom; a wife; an attorney; was a great first lady; a great senator; and is an outstanding Secretary of State. There is no role that Hillary has undertaken at which she hasn't excelled. Not everyone agrees with everything she has done or every position she has taken. But even those who don't always agree with all she says or does don't dispute her intelligence, her abilities and her passion.
It would surprise me if today there are many left who look at Hillary Clinton and don't see a greatness and steadfastness in her ability to do positive things for our nation. She has fought for the rights of women and children all her life. She has spoken out for freedom and civil and human rights around the world representing both herself and our nation in a way that is beyond reproach.
Many believe it is past time to see what Hillary Rodham Clinton can do when she is the leader of the most powerful nation on earth. To see who she chooses as our ambassadors and who she nominates to the Supreme Court; how she works with Congress and how she uses the bully pulpit. It is time that the United States had a woman as President; time for woman who doesn't stand behind or next to the man leading our nation but who is the leader in her own right and can say, 'the buck stops here.'
Yes Hillary deserves a chance to rest. But those who know her understand rest for her may be writing a book and joining Bill in the Clinton Global Initiative. It isn't difficult to imagine her continuing to speak out around the world on the rights of women and children and giving a voice to those who can't always speak for themselves.

It is also easy to imagine Hillary traveling the country campaigning to ensure that in the 2014 mid-term elections Democrats not only hold the Senate but potentially take back the House of Representatives. It is easy to imagine her promoting policies that will build a stable and growing economy for the rest of the 21st century; speaking out for working men and women and standing up to hypocrisy wherever she finds it.
It is also not that difficult to imagine a day in early 2015 when Hillary stands before the American people and declares, "I am a candidate for President of the United States of America". Her candidacy will rest on her experience, knowledge and intellect; her compassion for and understanding of people; and her passion and ability to serve.

If she does announce it will be because she has come to the conclusion that there is one more thing she needs to do for the nation before she retires and will commit all her energy to leading this nation in a way that it has never been led before. In a way that many believe only a woman can lead. In a way that will communicate to the world that the United States is finally ready to fulfill its destiny as the greatest nation on earth.

The dust is settling on the last campaign; and people are taking a deep breath. But it isn't too soon for those who want to see a Hillary Rodham Clinton administration inaugurated on January 20, 2017 to say so and say to Hillary, "We will stand with you if you decide to run because we believe in your ability to make a positive difference both for the people of the United States and the world."
Popular in the Community