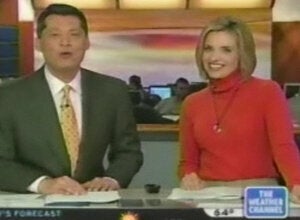 According to The Smoking Gun, Andrews has alleged that Stokes was "'romantically obsessed' with her and frequently made crude remarks like, 'Will you lick my swizzle stick?'" — and she won an arbitration case three weeks ago, but The Weather Channel brass is trying to keep the details secret so it doesn't jeopardize the sale. What might they be wishing to hide? According to The Smoking Gun, an intense sexual harassment case, in which Andrews was forced to hide in the studio to avoid contact with Stokes and in which The Weather Channel shuffled her to the overnight shift when she complained:
According to Andrews's lawsuit against Stokes, the prior anchor was abused daily by him and "routinely hid in the women's dressing room in between shifts to avoid contact with him." The woman, Andrews alleged, was forced out of TWC after repeatedly complaining to management about Stokes's harassment. Andrews claims that "history quickly repeated itself" when Stokes began harassing her, though his behavior was "worse for [her] than for her predecessors because Stokes was sexually attracted to her and romantically obsessed with her." Stokes, she claimed, made crude sexual remarks to her, leered at her chest, and followed her into the women's dressing room. He also allegedly questioned her "over and over again, non-stop" about her sex life, and once noted, "It tortures me when you wear those heels and skirt." When she rebuffed his advances, Andrews charged, Stokes's "hostility and volatility became a constant" and he sought to "sabotage" her on-air performance and even resorted to insulting her during live shows. Though initially "loath to complain" about Stokes for fear of "career suicide," Andrews eventually reported his behavior to TWC officials and sought a reassignment with a new co-anchor. Instead, Andrews alleged, she was relegated to a series of undesirable assignments, including "the overnight shift--the same assignment [TWC] had given Ms. Andrews's predecessor after she complained about Stokes."
Calling all HuffPost superfans!
Sign up for membership to become a founding member and help shape HuffPost's next chapter