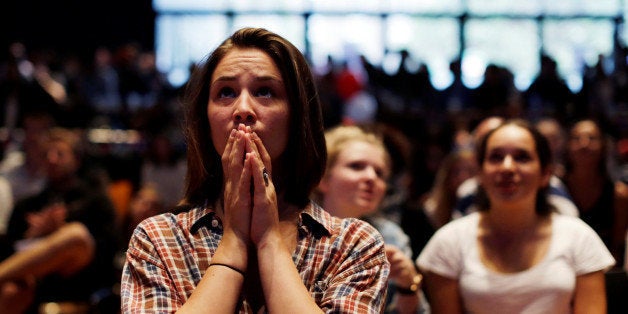 If you watched election results roll in Tuesday evening, a sea of red swept across the United States. The so called upper Midwest "blue wall" pitifully crumbled and the rust belt bled red. Mr. Trump's stunning success offers fundamentally important lessons for Americans and insights about their fears regarding immigration, unemployment, race, and terrorism. Trump achieved the unexpected and in the wake of it, demonstrated that even allegations of rape, sexual harassment, and avoiding paying (and disclosing) taxes are not enough to defeat his brand. The 2016 Presidential election also exposes how deeply and painfully America is divided not just by race and class, but also by sex.
Postmortems will continue to play out over the weeks and months to come. For now, let's think about what the 2016 election signifies for women, girls, double standards, and the political process. For example, despite the fact that 64 percent of voters don't believe Mr. Trump has the temperament to serve as president, his victory was nonetheless decisive, defeating Secretary Hillary Clinton, whose impressive record of service was unmatched. Moreover, Mr. Trump clinched his victory with the votes of White Women; 53 percent voted for him according to CNN exit poll data.
How will girls in the U.S. reflect on this election given the widespread support for Mr. Trump, a man they've heard glorify sexual assault, joke about dating his daughter and agree with Howard Stern when he called Ivanka Trump "a piece of ass," and threaten to prosecute and "lock up" Secretary Clinton if elected president? Some commentators already ponder whether Trump's victory will further silence victims of rape, domestic violence, and sexual assault. Others wonder whether the anger cultivated and captured in this election will dissipate or reshape American politics for the near future.
Women should be concerned for themselves, their daughters, and the U.S., because Supreme Court vacancies -- possibly as many as three or four -- will be filled in the coming four years by Mr. Trump. These vacancies, including the seat left empty by Justice Scalia's recent death, will not only determine the balance of the Court, but shape jurisprudence on reproductive rights, gun control, education policy, the environment, voting rights and much more. And despite women's reproductive health care seeming secure, just two years ago a divided court ruled that for-profit corporations could deny certain contraceptive coverage to their female employees based on religious objections. At various times, Mr. Trump has promised to appoint anti-choice justices and even to punish women who seek abortions. Will he keep to that position? With an aging Court, more vacancies are very likely in the coming years.
Yet, it's not just the Supreme Court that is at stake. Mr. Trump will appoint senior leaders to his cabinet and dozens if not hundreds of individuals could fill agency positions that actually have direct and profound impacts on women's lives, including at the Food and Drug Administration (FDA), Equal Employment Opportunity Commission (EEOC), the Department of Health and Human Services (HHS), and the Environmental Protection Agency (EPA) to name but a few.
Disappointed Clinton voters believe that with the presence of women in high offices, equality advances on all fronts, including for girls and women. However, even with the election of a woman as president, that does not always translate into achieving sex equality and reducing discrimination, precisely because sexism is so deeply entrenched, but weakly addressed (if at all) in our society. As I pondered a Clinton victory, I couldn't help but wonder whether a woman president in the U.S. would be accorded the respect and dignity granted her male predecessors and now Mr. Trump? These questions are important in the aftermath of the 2016 election--and reflect not only our citizenry, but our Congress.
According to the Pew Research Center, "Women now make up 20% of both the House and Senate -- a record high for the U.S. Congress." Nevertheless, "that figure pales in comparison with most of its high-income peer nations -- and lags even farther behind most lower-income nations around the world." In over two hundred years, only 46 women have ever served the U.S. Senate, including the twenty now occupying that role.
To place women's political representation in context, the U.S. ranks "an unimpressive 33rd" among 49 "high income" nations. When compared more broadly, the U.S. ranks 83rd among 137 nations according to the World Economic Forum's "Global Gender Gap 2014 Report." Indeed, the U.S. lags behind its northern neighbor, Canada, as well as France, Italy, Germany, the Netherlands, Switzerland, and Spain, but also Rwanda, Bolivia, Ecuador, South Africa, and Cuba in the political representation of women. The Inter-Parliamentary Union's "World Classification of Women in National Parliaments" as recently as September 2016 listed the United States at 97 among 187 nations. By any grading matrix--that is a failing grade.
These rankings--across various indices and surveys--add context and weight to what women's rights advocates have long exposed as a shameful reality in U.S. politics and should be cause for deeper concern, no matter the victor in the presidential race. That is, the 2016 election could be read as a mandate against "establishment" candidates. However, it could also be read as part of a longer history of impeding women in politics in the U.S.
This all matters, because Americans should want a vibrant and robust democracy that flourishes under the umbrella of equality. Research suggests that to get there, it will require more than simply electing a woman as president, although that is a big step. In our article, published last year in the Fordham Law Review, my co-author and I wrote "nations that elect women presidents (in Chile's case, twice in ten years) may not successfully advance women's rights without their broader representation in legislative bodies and the political will and support of male colleagues."
While scholars and commentators might presume that female representation alone achieves gender equality or liberalizes women's rights, such conclusions are misleading and inaccurate. Women's political representation without a critical mass offers only scant access to power and minimal influence. This is not to say women shouldn't be in high offices -- they should and the time is overdue. To achieve a norm-shifting culture as well the enactment of regulations and legislation that promote women's equality, requires more women on deck and the collaboration of men who can see beyond their colleagues' skirts and pantsuits. It also will require Americans to shed implicit and explicit biases against women in leadership.
For women, this election should be seen as a springboard rather than defeat. If that is to happen, women must be in the pipeline--not simply for federal offices and the presidency---and certainly that time has come, but also at local levels. As women ponder America's political future and their roles in it, filling seats as members of city councils, state legislatures, and as mayors and governors will matter in the long run as much as the presidency. That work should begin now. Most of all, expanding women's representation in political office will require courage, something that Hillary Clinton demonstrated in spades.
Popular in the Community