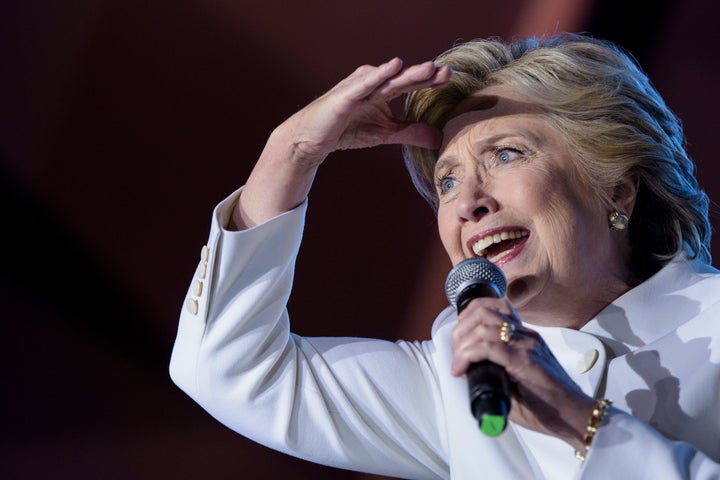 WASHINGTON ― Democratic nominee Hillary Clinton has built a well-funded campaign organization to help her win the presidency. Her entire campaign, including committees closely tied to her, is poised to top $1 billion in fundraising.
GOP nominee Donald Trump's campaign trails by every measure, and will fall well short of the funding, staffing and organizational marks set by 2012 Republican candidate Mitt Romney.
In total, Clinton and her allies had raised a total of $869 million entering October. This includes her official campaign committee, Hillary for America, the Democratic National Committee, and two joint fundraising committees, Hillary Victory Fund and Hillary Action Fund. Trump, meanwhile, has amassed $599 million through his campaign committee, the Republican National Committee, and his own two joint fundraising committees, Trump Victory and Trump Make America Great Again.
It has been clear throughout the campaign that the Clinton operation is far more sophisticated and streamlined than Trump's. This owes to the fact that Clinton and the Democratic Party have continued to build the campaign organization President Barack Obama used for his two election victories.
Trump, on the other hand, did not begin to raise money for his campaign until the last week of May. He has been in constant tension with his own party, often insulting party leaders, including House Speaker Paul Ryan, past presidential nominees Romney and Sen. John McCain (R-Ariz.), and former presidents George H.W. Bush and George W. Bush.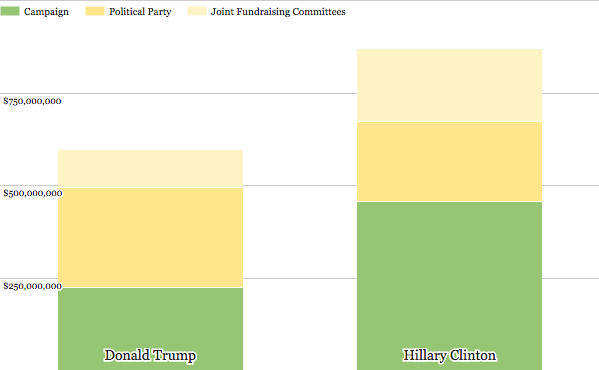 Trump's inability to match Clinton's fundraising, his failure to build a ground-game staff, and his near estrangement from his own political party put him in an almost unprecedented position.
No candidate has faced such a large disparity and won in the modern political era. Other outmatched candidates ― some with disparities smaller than Trump's ― include big-time losers George McGovern in 1972, Bob Dole in 1996, and McCain in 2008.
In September, Clinton raised $73.8 million for her official campaign committee, and the DNC raised $36.6 million. Trump raised $54.7 million for his campaign, while the RNC raised $39.4 million.
Each candidate's joint fundraising committee provides funds to state parties. These state parties provide staffing to get out the vote.
Democrats overwhelmingly dominated both state party funding and paid staff in the 11 most crucial states at the beginning of October. These states include Arizona, Colorado, Florida, Iowa, Nevada, New Hampshire, North Carolina, Ohio, Pennsylvania, Virginia and Wisconsin.
In total, Democratic state parties in these 11 states raised $40.2 million, and employed 3,536 staffers to work on federal election activity in September. Republican state parties raised just $15.7 million, and employed 1,028 federally active staffers. The disparity is even greater than the one held in 2012 by Obama's Democratic swing state parties over Romney.
The biggest 2016 disparities are in the most important states. The Democratic Party in Florida has 838 paid staff working on federal elections, compared with just 151 for the Republican state party. In Pennsylvania, Democrats have 525 paid staff members for federal election work, while Republicans have only hired 78. In Ohio, Democratic staff outnumber Republicans 500 to 109.
The only important state where Republicans have a paid staff advantage is New Hampshire, where they have 285 people for federal election work and Democrats have 102. The only difference is many of the New Hampshire Republican paid staff are low-paid canvassers and not full-time organizers.
Romney held at least one advantage back in 2012: unlimited super PAC money. His Restore Our Future super PAC raised $153 million to help Romney's unsuccessful presidential bid. The pro-Obama super PAC Priorities USA Action raised $79 million. That Republican advantage is reversed in 2016.
Priorities USA Action, now supporting Clinton, has raised $158 million. In September, the group collected $24 million, its best month. S. Donald Sussman, a Virgin Islands-based hedge fund billionaire, gave $6 million. Facebook billionaire Dustin Moskovitz gave $2.5 million. Steve Mandel, head of the hedge fund Lone Pine Capital, gave $2.5 million. Real estate billionaires Jay and M.K. Pritzker combined to give $2.5 million.
The super PAC also received $1 million checks from hedge fund billionaire David Shaw, savings and loan billionaire Herb Sandler, philanthropist Marsha Laufer, and Allied Wallet founder Ahamd Khawaja.
There are four pro-Trump super PACs: Future45, Rebuilding America Now, Great America PAC and Make America Number 1. These groups raised $50 million combined through September, only one-third as much as the main pro-Clinton super PAC. Casino billionaire Sheldon Adelson and his wife Miriam were the biggest donors, with a combined $10 million to support Trump.
Clinton's dominance in fundraising and ground game staff is allowing Priorities USA Action to divert some of its money into Senate races. On Thursday, it launched approximately $200,000 worth of attack ads hitting Pennsylvania Sen. Pat Toomey (R) and New Hampshire Sen. Kelly Ayotte (R) for waffling on supporting Trump. Both senators are conveniently running in states targeted by Clinton.
HUFFPOST READERS: What's happening in your state or district? The Huffington Post wants to know about all the campaign ads, mailers, robocalls, candidate appearances and other interesting campaign news happening by you. Email any tips, videos, audio files or photos to scoops@huffingtonpost.com.
Popular in the Community