Hillary Clinton may or may not run for President of the United States in 2016. There are many signs that she might run: her reluctance to definitively say she isn't running, the endorsements of major Democrats like Nancy Pelosi, the Super PAC that has already formed to support her hypothetical campaign. But -- newsflash! -- her "dieting" habits aren't one of them.
You wouldn't know that from two news outlets' recent stories on how Hillary is allegedly preparing for a 2016 run by watching her weight. "Hillary Clinton is meeting with diet guru Dr. Mark Hyman -- who's credited with turning around Bill Clinton's health -- as she prepares for a 2016 presidential run," declared the New York Post, making sure to note that she "ate a healthy meal of grilled salmon and seasonal fruits." And CBS News asked: "Is Hillary Clinton trying to get in shape for a possible 2016 presidential run?," extrapolating that message from the same luncheon.
These pieces are upsetting for several (painfully obvious) reasons:
1. How can one possibly draw the conclusion that Hillary's dinner with Dr. Hyman, who she has known for years, is proof that she's running for President? Besides being illogical, it's lazy journalism.
2. I'm going to go out on a limb and assume that the same piece wouldn't get written about a man. How insane would it have been to suggest that President Obama was getting in the way of his presumed 2012 campaign by having lunch at Ben's Chili Bowl -- a restaurant certainly not known for its low-calorie options? We are already subjected to relentless coverage of famous women's fluctuating weights, slim-down "tricks" and "bikini bodies." Please leave Hillary Clinton's political campaign out of it.
3. Getting skinny is NOT a prerequisite for running for office. If Hillary is planning to run, I'm going to assume that her weight is not at the top of her pre-Presidential campaign checklist. After all, this is the woman who laughed off comments about her lack of makeup. And as Erin Ryan over at Jezebel sarcastically quipped: "she really hopes to rock the American flag bikini portion of the election -- after all, the Oval Office has a strict 'No Fat Chicks' policy."
I'm pretty sure Hillary would have the perfect response to those people who would insist on focusing on her looks, weight and presumed "dieting" rather than her policies and thoughts. As she said when people freaked out about her public appearance sans makeup: "You know at some point it's just not something that deserves a lot of time and attention. And if others want to worry about it, I let them do the worrying for a change."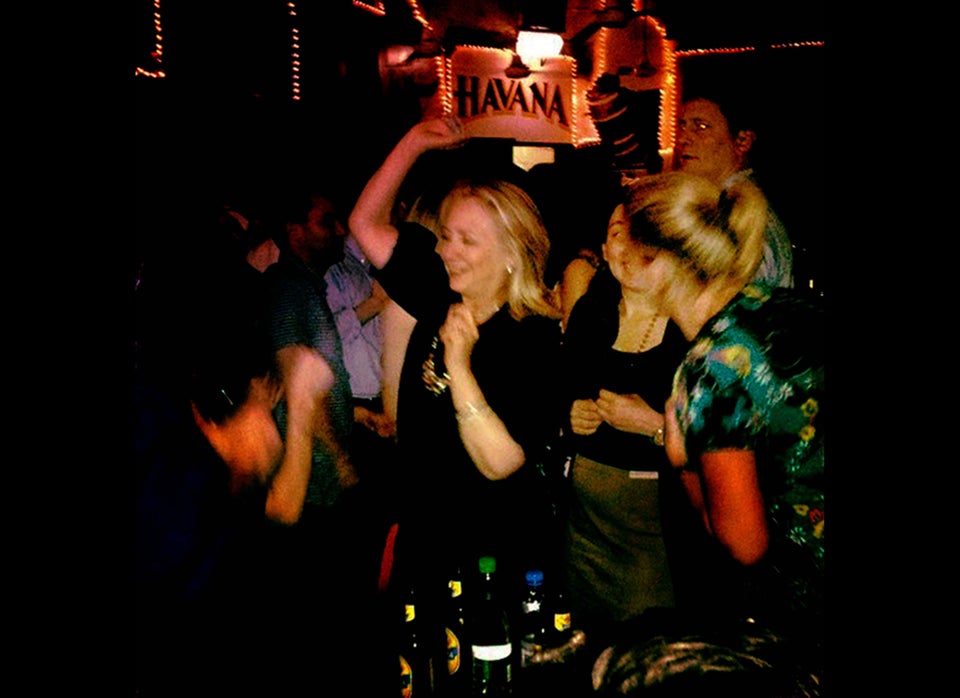 Awesome Photos Of Hillary Clinton
Related
Popular in the Community