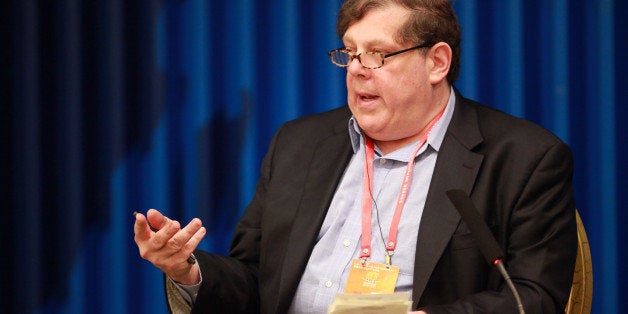 Back in April of 2013, Salon's Alex Pareene offered up a simple gauge by which you could determine whether or not a 2016 campaign for president by Hillary Clinton would outpace Clinton's 2008 campaign for president. "The Mark Penn Test," wrote Pareene, "determines whether or not a person should be trusted with the presidency, based solely on one criterion: Whether or not they pay Mark Penn to do anything for their campaign. Paying Mark Penn means you've failed the Mark Penn Test."
Now, according to Mother Jones' David Corn, there are a lot of people -- "Hillary insiders," even -- who are prepared to decline to work on a future Clinton campaign if she doesn't pass the Mark Penn Test. These are some smart people. Per Corn:
In recent weeks, I've talked to several Washington politicos close to Bill and Hillary Clinton, and when I've asked if they will be joining Hillary's presidential machine, should she run, I've received a variant of this (understandably) not-for-citation reply: If Mark Penn is involved, no f-ing way.
Frankly, "Hillary insiders" should know -- along with just about anyone else who was paying attention to the 2008 Democratic primary -- that a failure of any among this cohort to similarly pass the Mark Penn Test would be nigh upon inexplicable. Back in 2008, he was perhaps best known for completely failing to understand how the Democratic primary process worked -- and I mean basic things, like which primaries were winner-take-all and which divided up their delegates proportionally to the winners. Long before the notions of Barack Obama's "otherness" took firm root in the swamps of the conservative fringe, Penn was advocating a strategy centered on stoking paranoia over what Penn termed Obama's "lack of American roots." A great deal of his strategic advice seemed more geared toward proving the thesis of his book, Microtrends, than it did about getting Clinton elected. (The 2010 elections in the United Kingdom gave Penn a second opportunity to misapply Microtrends to electoral outcomes on two continents.)
"There are a ton of people who say they won't get involved if Mark is around," another Democratic operative says. "And there are other people who don't want to get involved anyway because the 2008 campaign was so unpleasant. There were so many centers of gravity. People were constantly playing inside politics to have influence." Hillary Clinton's Penn problem extends beyond Penn. The campaign that Penn came to symbolize was, as this strategist recalls, "full of people from the first Clinton administration who were watching out for their own interests. This led to a leakier environment and a more difficult workplace. It was a pretty miserable place."
I mean, it maybe wouldn't have been as miserable a place if Clinton had won the primary, but Penn bundled apparent "venal office politics" with "not realizing until it was too late how the California primary worked," so, really, the shoe fits either foot.
The good news, for those who would avoid a Clinton campaign like a tire fire if it included Mark Penn, is that it's looking very likely that Hillary Clinton will, indeed, pass the Mark Penn Test. A May 2013 Washington Post article from Jason Horowitz finds Penn, now working on building ad campaigns for Microsoft, not contemplating a return to politics. As Penn told Horowitz, "I'm doing something completely different ... My passion for technology actually predates my passion for politics." (Penn did play a role in crafting Bill Clinton's speech at the 2012 Democratic National Convention, however.)
That Horowitz article includes some bonus good news for former "Hillary insiders": "Howard Wolfson, the 2008 communications director for Hillary Rodham Clinton, has said he will not return for a 2016 presidential campaign." So a future Clinton campaign will pass the Howard Wolfson test as well.
REAL LIFE. REAL NEWS. REAL VOICES.
Help us tell more of the stories that matter from voices that too often remain unheard.
BEFORE YOU GO
PHOTO GALLERY
Hillary And Bill Through The Years