WASHINGTON -- Hillary Clinton focused on the problem of stagnant middle-class wages on Monday in the first major economic policy speech of her presidential campaign.
In sweeping remarks at the progressive New School in New York City, the Democratic candidate said that higher wages are driven by strong, fair and long-term growth, offering policy proposals that fit into each of those three categories. Clinton praised the policies pursued by President Barack Obama, but suggested that more needs to be done to help middle-class families. Her message echoed themes espoused by Sen. Elizabeth Warren (D-Mass.), who has made her mark on the Democratic Party by arguing that the economy is rigged against the middle class.
Clinton's speech also name-checked three of the leading Republican presidential hopefuls -- former Florida Gov. Jeb Bush, Wisconsin Gov. Scott Walker and Florida Sen. Marco Rubio -- and criticized their economic philosophies.
At the beginning of her address, Clinton suggested that the economy is "not delivering the way that it should" for the middle class.
"It still seems to most Americans that I have spoken with that it is stacked for those at the top," Clinton said, criticizing the concept of trickle-down economics for concentrating wealth at the top while leaving middle- and lower-income Americans with less.
"Twice now a Democratic president has had to come in and clean up the mess left behind," she said, praising the economic records of her husband, former President Bill Clinton, and Obama. "We have to build a growth and fairness economy -- you can't have one without the other."
Though Clinton lauded Obama for saving the automobile industry, proposing new rules for overtime pay and passing the Dodd-Frank and Affordable Care Acts, the crux of the speech was that other policies that could further boost paychecks have yet to be enacted.
"The defining economic challenge of our time is clear: We must raise incomes for hardworking Americans so they can afford a middle-class life," Clinton said. "We must drive strong and steady income growth that lifts up families and lifts up our country."
Progressives have criticized the former secretary of state for not coming out against the Trans-Pacific Partnership being pushed by the Obama administration. While Monday's speech did not add to the remarks Clinton has already made on the subject, she did say that the expansion in global trade has hollowed out America's manufacturing industry. She added that the United States needs to "set a high bar for trade agreements" but also "be prepared to walk away" if the agreements don't meet the administration's standards.
The speech also called out large corporations for focusing on "short-termism" rather than long-term investments. While Clinton talked about the public investments she'd make -- in infrastructure, faster broadband networks, renewable energy, and scientific and medical research -- she also said corporations could do more on their end.
"Many business leaders see this. They've talked to me about. One has called it the problem of 'quarterly capitalism,'" she said. "They say everything's focused on the next earnings report or the short-term share price. The result is too little attention on the sources of long-term growth: research and development, physical capital, and talent."
Clinton said she'd support an apprenticeship tax credit as an incentive for companies to hire and train new workers.

"I'm not talking about charity – I'm talking about clear-eyed capitalism," she explained. "Many companies have prospered by improving wages and training their workers that then yield higher productivity, better service, and larger profits ... Workers are assets. Investing in them pays off. Higher wages pay off. And training pays off."
Clinton decried the decline in women's labor force participation compared to other developed nations, and said she'd work to reduce barriers to women entering the workforce by fighting for affordable childcare, equal pay for equal work and paid leave.
"These challenges have been dismissed as 'women's issues' -- that day is over," Clinton said.
In the section dedicated to "fair growth," Clinton pledged to defend "and enhance" Social Security and to protect Obama's health care law while working to reduce out-of-pocket costs. She also alluded to companies like Uber, saying she'd crack down on businesses that classify their workers as independent contractors in order to avoid providing benefits.
"This 'on demand' or so-called 'gig economy' is creating exciting opportunities and unleashing innovation but it's also raising hard questions about workplace protections and what a good job will look like in the future," she said.
Clinton took the opportunity to criticize Bush, who said last week that Americans need to work longer hours, by saying that Americans need a raise rather than a lecture. (Bush later said that he had really been talking about involuntary part-time workers.) She also called Rubio's economic proposals a "budget-busting giveaway to the super-wealthy."
But she reserved even more condemnation for Walker's fights against unions in Wisconsin, suggesting that Republican governors like him had made their name "stomping on workers' rights."
"It's time to stand up to efforts across our country to undermine worker bargaining power, which has been proven again and again to drive up wages," Clinton said. "I will fight back against these mean-spirited, misguided attacks."
Addressing the issue of financial regulation, Clinton said "we have to go beyond Dodd-Frank" to impose additional protections on high-risk trading and hedge funds, while getting more serious about accountability for those institutions on Wall Street that break the law.
Clinton's comments about financial institutions appeared to target progressive voters who may worry that her economic policies would resemble the deregulatory push undertaken by her husband in the 1990s. The proposals she outlined also aimed to defend her left flank against her two leading Democratic primary challengers, Sen. Bernie Sanders (I-Vt.) and former Maryland Gov. Martin O'Malley.
But the O'Malley campaign insists that its proposals are more developed than Clinton's.

"Rebuilding the American Dream will take more than vague promises," said Lis Smith, O'Malley's deputy campaign manager, in a statement following Clinton's speech. "That's why Governor O'Malley has set bold, progressive, and specific goals to make our economy work for more Americans."
In a lighter moment on Monday, Clinton said she's guessed that her granddaughter Charlotte's first word will be "enough" because she's been read to incessantly. The quip came while Clinton was emphasizing that she'd press for universal pre-school and support other early childhood education efforts.
And in a tease of a proposal she said she'd develop more in a New Hampshire campaign stop Thursday, Clinton said that she'd back company profit-sharing, calling the proposal a "win-win" for employers and employees.
"Hardworking Americans deserve to benefit from the record corporate earnings they helped produce," she explained. "So I will propose ways to encourage companies to share profits with their employees. That will be good for workers and good for business. Studies show profit-sharing that gives everyone a stake in a company's success can boost productivity and put money directly into employees' pockets."
Before You Go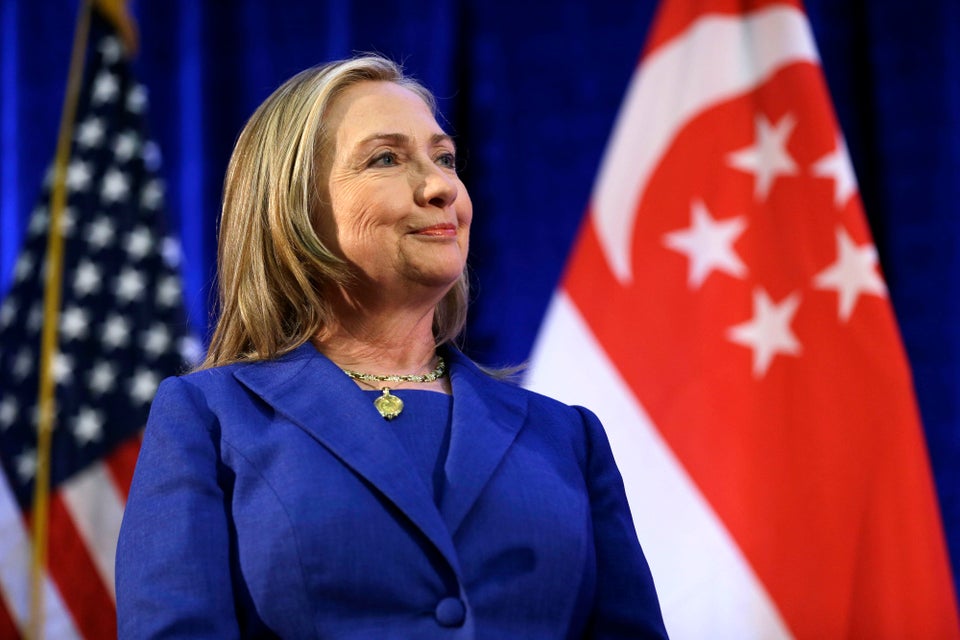 Hillary Clinton
Popular in the Community