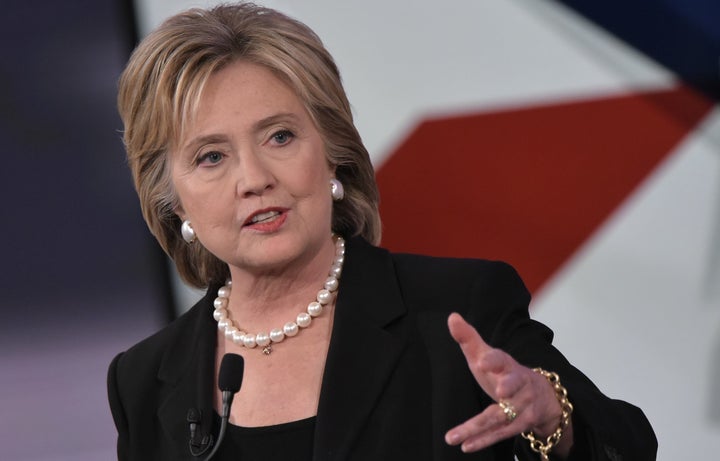 Hillary Clinton incited a broad backlash during the most recent Democratic presidential debate by suggesting that her popularity among Wall Street donors was due to her work in the aftermath of the Sept. 11 terrorist attacks. On Monday, her campaign doubled down, pointing to the same attacks as proof she is incapable of exploiting the tragedy for political gain.
"It's outrageous to suggest that Senator Clinton of all people, who went to Ground Zero … that she of all people would politicize 9/11 is an outrageous notion," Clinton campaign spokesman Brian Fallon said on a conference call with reporters.
Fallon said Clinton had been instrumental in securing aid funding for the region impacted by the attacks, which included much of New York City's banking district.
Clinton took heat for the debate remark from many different quarters, including the New York Times editorial board, which said the city's recovery from Sept. 11 had "little to nothing" to do with Clinton's fundraising base on Wall Street.
"Her effort to tug on Americans' heartstrings instead of explaining her Wall Street ties — on a day that the scars of 9/11 were exposed anew — was at best botched rhetoric," the editorial board wrote. "At worst it was the type of cynical move that Mrs. Clinton would have condemned in Republicans."
Clinton has received hundreds of thousands of dollars in personal speaking fees from Goldman Sachs and private equity firms since leaving the State Department. Her formal campaign has received more money from big banks than any other candidate -- Republican or Democrat -- in the 2016 race. Those figures do not include contributions to super PACs, and do not include donations from hedge fund managers or private equity magnates, many of whom favor Republican candidates. Clinton's wide lead over a relatively small Democratic field also consolidates her contributions from Wall Streeters who want to support a Democrat. Financial elite contributions to Republicans are spread among a many more candidates.
Former House Financial Services Committee Chairman Barney Frank (D-Mass.) also defended Clinton's donations from Wall Street. Suggestions that Clinton is beholden to her Wall Street campaign contributors is "not just morally offensive, it's truly stupid," Frank said.
Sen. Bernie Sanders (I-Vt.), Clinton's chief rival for the 2016 Democratic presidential nomination, criticized her Wall Street support during Saturday's debate.
"Let's not be naive about it," Sanders said. "Why over her political career has Wall Street been the major political contributor to Hillary Clinton? Now maybe they're dumb, but I don't think so."
Zach Carter is The Huffington Post's senior political economy reporter and a co-host of the HuffPost Politics podcast "So That Happened." Listen to the latest episode here:
Calling all HuffPost superfans!
Sign up for membership to become a founding member and help shape HuffPost's next chapter