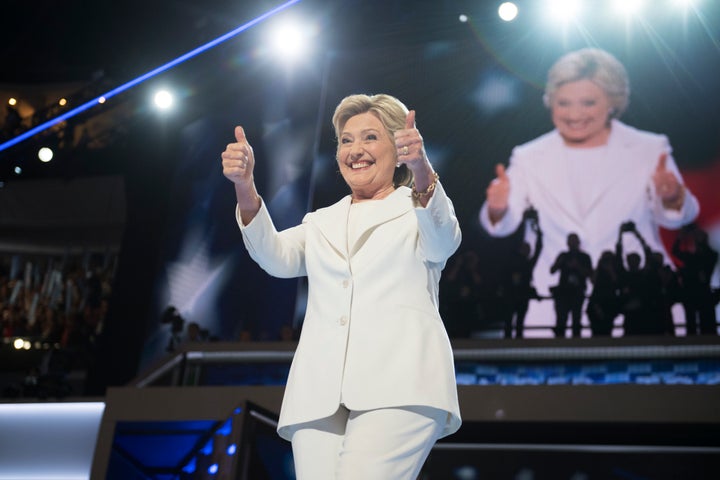 Most people who watched Clinton's and Trump's acceptance speeches viewed them positively, but the poll samples are naturally skewed in the nominees' favor. Using the pronoun "we" instead of "I" in convention speeches correlates with winning the election. And Americans' sense of alienation remains high. This is HuffPollster for Friday, July 29, 2016.
CLINTON'S SPEECH WAS WELL-RECEIVED AMONG THOSE WHO WATCHED - A CNN/ORC poll conducted right after Clinton's Democratic nomination acceptance speech showed that 86 percent of the sample had positive impressions of the speech, including 71 percent who viewed it very positively. A similar poll showed that reactions to Donald Trump's acceptance speech at the Republican convention last week were also favorable: 75 percent said their impression of the speech was positive, including 57 percent who had very positive impressions. How could both be seen so positively? The samples in these CNN polls are people who responded to a poll earlier in the week who said they were planning to watch the speech and agreed to be called back after. Since partisans are more likely to watch their own nominee's speech, these samples skew heavily Democratic for Clinton's speech (among 455 voters, 56 percent identified as Democrats, 30 percent as independents and 14 percent as Republicans) and heavily Republican for Trump's speech (among 460 voters, 41 percent Republican, 36 percent independent and 23 percent Democrat). While these polls are interesting, it's important to include the sampling frame in reporting on them ― they are not representative of all voters. [CNN on Clinton, CNN on Trump]
'WE' WORKS BETTER THAN 'I' IN CONVENTION SPEECHES - Adam Tiouririne and Andre Tartar: "A Bloomberg Politics study of convention speeches dating back to 1976, the first time both parties held nationwide primaries and caucuses, shows that the electorate ultimately favors those candidates who use more 'we' words—we, us, our, ours,ourselves, and let's—relative to 'me' words—I, me, my, mine, and myself. In nine of 10 elections since 1976, the nominee who notched a higher 'we'-per-'me'-word score in his convention speech went on to win the White House. The sole exception was 1988, when George H. W. Bush won the presidency despite delivering a more self-focused convention speech than his Democratic rival, Michael Dukakis." [Bloomberg]
THE GENDER GAP AMONG VOTERS COULD GET WORSE THIS YEAR - Richa Chaturvedi: "In the 1972 and 1976 elections, there was no difference in candidate support between men and women. Over the last nine presidential elections, however, women have consistently voted for Democratic presidential candidates at higher rates than men. Most recently, in 2012, there was a 10-percentage-point gender gap: 55% of women voted for Democrat Barack Obama over Republican Mitt Romney, compared with 45% of men. The gap in 2012 was little different than it had been in Ronald Reagan's victory over Jimmy Carter in 1980, when 45% of women and just 36% of men voted for Carter. The size of the gender gap has fluctuated within a relatively narrow range over the past 36 years; on average, women have been 8 percentage points more likely than men to back the Democratic candidate in elections since 1980." [Pew]
CLINTON IS STRUGGLING WITH YOUNG VOTERS - Frank Newport and Andrew Dugan: "Gallup tracking over the past month (July 1-27) shows that 31% of 18- to 29-year-old Americans have a favorable view of Clinton, compared with 40% of 30- to 49-year-olds, 41% of 50- to 64-year-olds and 39% of those 65 and older. In other words, Clinton has the least favorable image among young Americans ― a flip from where it was one year ago when 47% of 18- to 29-year-olds said they had a favorable image of her, at the time higher than all of the older age cohorts. The big shift in views of Clinton among this age group occurred in February and March of this year when young Americans' positive impression of Clinton fell below that of the other age groups, where they have stayed ever since. Clinton's image has dropped among all age groups but has fallen the most with young Americans." [Gallup]
AMERICANS THINK LEADERS DON'T CARE ABOUT THEM - Allyssa Birth and Elise Simon: "Almost every year since 1966, The Harris Poll has measured how alienated Americans feel and then calculated an Alienation Index based on the results. The questions measure how much, or how little, people feel their interests are heard and addressed by those with power and influence…. 82% believe that the people running the country don't really care what happens to you, down from 85% in 2014 but still higher than 73% in 2011 and 50% in 2010… As Obama comes to the end of his time in office, there is a shift in the feeling of alienation by political party affiliation. Adults who identify as Republican feel the most alienated, followed by Independents and then Democrats. In 2014, however, Democrats felt more isolated than Republicans, while Independents felt the most isolated of the three. Those with a college degree feel less isolated than those with some college or a high school education or less, a trend we have seen since at least 2013." [Harris]
HUFFPOLLSTER VIA EMAIL! - You can receive this daily update every weekday morning via email! Just click here, enter your email address, and click "sign up." That's all there is to it (and you can unsubscribe anytime).
FRIDAY'S 'OUTLIERS' - Links to the best of news at the intersection of polling, politics and political data:
-Nate Silver explains why his forecast model gives Donald Trump more of a chance than other models. [538]
- Americans can't agree on any one solution to deadly shootings. [Gallup]
-Fewer Americans think women have equal job opportunities today than did 8 years ago. [Gallup]
-David Flaherty states that automated polls still work for Republican primaries but not for a general election. [Magellan]
-Ipsos/Reuters is taking the "neither" response option out of their general election polls. [Ipsos]
-An unscientific survey of journalists reveals why they think Americans hate the media. [NYMag]
Popular in the Community