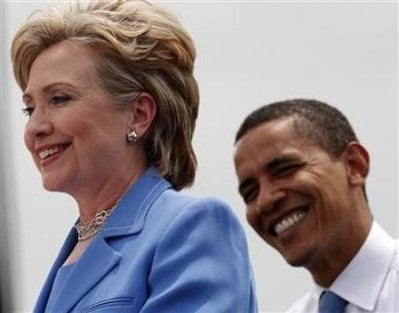 The Guardian is now reporting that Hillary Clinton will accept President-elect Barack Obama's offer to become Secretary of State. My immediate question was, what would the loons at Hillaryis44.org have to say? And they don't disappoint!
Obama however needs a lifeline. Obama knows he is not experienced enough nor qualified to be president -so very much like an earlier Saturday Night Live skit - Obama is placing a 3:00 a.m. call to Hillary Clinton. When we wrote The Obama/Biden Game Show we did not realize it would be a remake of Who Wants To Be A Millionaire? featuring a hapless Obama desperately asking Hillary Clinton for assistance. That Obama and his campaign bizarrely derided Hillary as "inexperienced" in foreign affairs (not to mention racist) during the primaries makes the calls of "Hillary HELP" that much more humorous.
Awwwww! It's good to know some things never change. Thanks for keeping it real, Hillaryis44!
Calling all HuffPost superfans!
Sign up for membership to become a founding member and help shape HuffPost's next chapter