Democratic presidential candidate Hillary Clinton made the issue of immigration personal in a new ad in which she comforts a 10-year-old girl whose parents are at risk of deportation.
The television and online ad features footage from a recent meeting Clinton held in Nevada, a state that will hold Democratic caucuses on Saturday. In the clip, a child attending the event tells the former secretary of state that her parents have a letter of deportation. "I'm scared that they're going to be deported," she says, fighting back tears.
Clinton seems emotional, too. She asks the girl, whose name is not provided, to come over and puts her arm around her.
"I'm going to do everything I can so you don't have to be scared, and you don't have to worry about what happens to your mom or your dad or somebody else in your family," the Democratic hopeful says.
She goes on to tell the 10-year-old that she's "being very brave. And you have to be brave for them too, because they want you to be happy, they want you to be successful, they don't want you to worry too much."
"Let me do the worrying. I'll do all the worrying, is that a deal?" she says. "I'll do the worrying; I'll do everything I can to help, OK?"
Clinton has made immigration a special focus of her pitch in Nevada, where Latinos make up nearly 30 percent of the population. Whether she's able to defeat opponent Sen. Bernie Sanders (I-Vt.) there will be a test of her ability to maintain support among minority voters -- although the Clinton campaign has tried to lower expectations by saying the state is 80 percent white. (According to the most recent Census data, Nevada is about 76 percent white, but that includes some Latinos. Non-Latino whites make up closer to half the population.)
She unveiled her broad immigration plan in Nevada last May, promising to push for a path to citizenship for undocumented immigrants and to go further than President Barack Obama on deportation relief.
Sanders has made similar promises, but his campaign has attacked Clinton for providing too little detail in her immigration plan.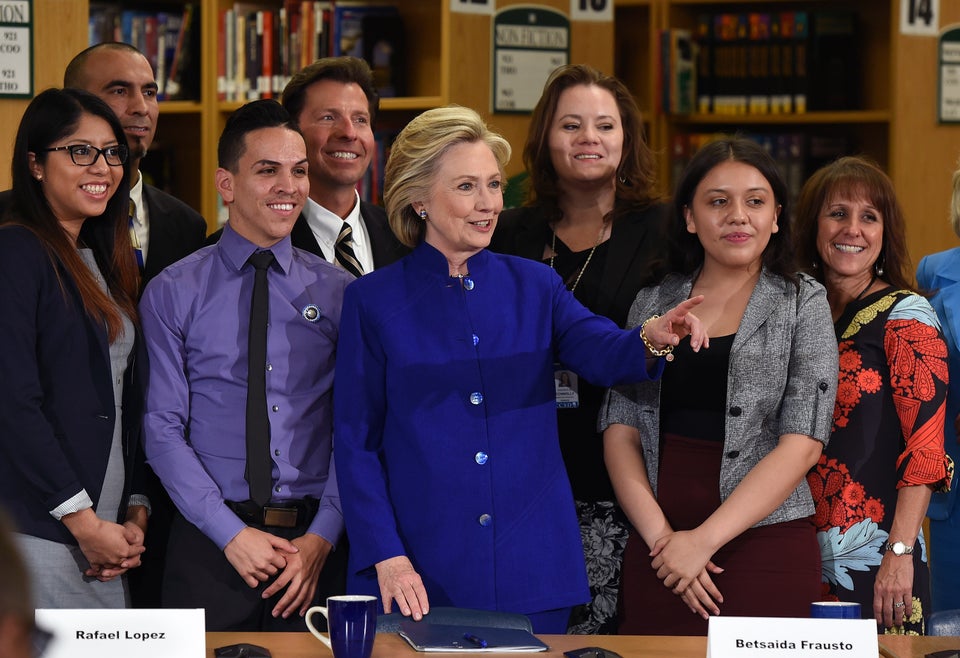 Where Democratic Candidates Stand On Immigration