WASHINGTON -- Presidential candidate Hillary Clinton will unveil an ambitious $10 billion plan on Wednesday that seeks to modernize the nation's approach to combating the opioid epidemic. Among her myriad policy proposals addressing prevention and treatment, the 2016 Democratic front-runner is, notably, throwing her weight behind the scientific establishment in a simmering debate about the role of medicine in treating people addicted to opiates like OxyContin or heroin.
Clinton's plan proposes to eliminate federal regulations that bar nurse practitioners and physician assistants from prescribing medications that can treat opioid addicts -- a practice known as medication-assisted treatment. She is also calling to alter the regulations that limit the number of patients doctors can treat with these medications.
The consensus among the medical establishment -- which includes the World Health Organization and the U.S. federal agencies that oversee and fund drug treatment -- is that medication-assisted treatments such as buprenorphine and methadone, along with counseling, have shown the best results in getting addicts sober and keeping them that way. These medications can ease withdrawal symptoms and block cravings, thus lowering the risks of a relapse. The Huffington Post pointed out in its January investigation that a lack of access to these potentially life-saving medications has made the treatment system largely ineffective.
Clinton's push to expand medication-assisted treatment mirrors legislation introduced by Sens. Edward Markey (D-Mass.) and Rand Paul (R-Ky.) known as the Recovery Enhancement for Addiction Act. The bill was announced in May. The American Medical Association and the American Society for Addiction Medicine have also endorsed lifting the cap on the number of patients to whom a doctor can prescribe medication-assisted treatment.
Clinton's proposal includes a $7.5 billion fund to support new federal-state partnerships over 10 years. If a state comes forward with a comprehensive plan to prevent and treat addiction, it will be eligible for the new grant funding.
The plan would also give the Substance Abuse Prevention and Treatment Block Grant program an additional $2.5 billion over 10 years -- a 15 percent increase in funding -- to expand options for in- and out-patient care.
Clinton says she didn't begin her presidential campaign intending to focus on substance abuse. But throughout her early visits to New Hampshire and Iowa, voters repeatedly brought up the issue as a pressing concern.
"When I started running, when I started thinking about this campaign, I did not believe I would be ... talking about the drug abuse problem, the mental health problem and the suicide problem," she said during a campaign stop in Iowa in May. "But I'm now convinced I have to talk about it. I have to do everything I can in this campaign to raise it, to end the stigma against talking about it."
In late May, top Clinton advisers hosted Google Hangouts with stakeholders in Iowa and New Hampshire in an effort to start coming up with solutions to the epidemic. Participants included treatment and recovery service providers, law enforcement, people in recovery, health care policy experts and people whose lives have been touched by overdoses in some way.
Tym Rourke, chair of the New Hampshire Governor's Commission on Alcohol and Drug Abuse Prevention, Treatment, and Recovery, told HuffPost that he was on at least three calls with the Clinton campaign to help develop the policy. Rourke said he was pleased with Clinton's proposal, and that he hopes other campaigns will also call him to talk about the issue. Clinton's plan, he said, represents a real understanding of addiction as a chronic disease that can't be cured without serious prevention efforts and evidence-based treatment.
"We don't get out of this heroin epidemic, this opioid epidemic, unless there's better access to medically assisted treatment," Rourke said.
He added that New Hampshire loses $1.8 billion a year in revenue, employee productivity, health care costs and law enforcement costs due to untreated addiction.
Dr. Yngvild Olsen, an addiction medicine physician based in Baltimore, also worked with the Clinton campaign on the proposal. "I think it really does go a long way toward building on efforts that are now under consideration in Congress, and efforts that states have made," she told HuffPost.
Olsen said she expects pushback from some in the treatment community. But, she said, the policies Clinton is proposing can be accomplished.
"I think it is actually very doable," she said. "It's ambitious, but it's very doable."
Dr. Molly Rutherford, an addiction specialist and president of the Kentucky chapter of the American Society of Addiction Medicine, praised Clinton's idea of expanding access to medication-assisted treatment.
"We have an access problem in Kentucky and all over the country," Rutherford said. "Lifting the cap would address that. The cap is not based on any type of evidence. We don't have a cap for people who want to treat pain or diabetes. If there's some evidence to support a cap I'd like to see it. I haven't seen it."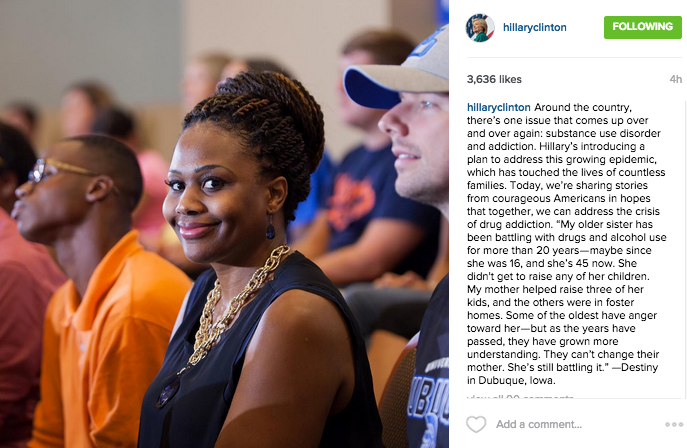 Popular in the Community