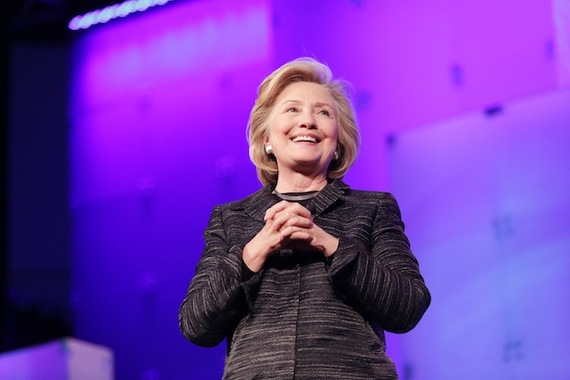 Former United States Secretary of State Hillary Clinton gives the keynote speech during Lead On: Watermark's Silicon Valley Conference For Women on February 24, 2015 in Santa Clara, California. Photo by Marla Aufmuth/Getty Images.
Yesterday in Silicon Valley, former Secretary of State Hillary Clinton stood before an audience of 5000 women in the tech industry, eager to hear her perspective on advancing women's leadership, advocating for themselves and other women in the workplace. The event, Lead On Conference for Women, was hosted by Watermark Institute, a community of executive women in the San Francisco Bay Area developing women leaders and advocating for the advancement of women in the workforce.
The tech industry, a notoriously male-dominated profession, is making some strides in advancing women's leadership. Last month, Intel, the lead sponsor of the event, made a commitment to significantly increase hiring, retention and progression of women and underrepresented minorities in their workforce over the next five years, while measuring and reporting their progress annually. "We believe increasing diversity is a highly relevant issue for our industry and that it is time to do far more," said Renee James, President of Intel Corporation.
While there have been some strides, there is still a significant gender gap in Silicon's Valley's tech industry. Companies like Google, Facebook, Yahoo and LinkedIn lag tremendously when it comes to women's leadership. While Facebook boasts Sheryl Sandberg as their COO, men hold 77 percent of the top-level leadership positions, with women at just 23 percent. At Google, the top-level leadership is 79 percent male and just 21 percent female. Two percent of this leadership is Latina, and one percent is black. Yahoo and LinkedIn also have a long way to go for gender parity. So do Intel, Cisco, Twitter and Pinterest.
"Building a diverse talent pool can't just be a nice thing to do. It is a must do," said Secretary Clinton. "When women's participation is limited, our country's prosperity is limited."
Studies have shown that companies with women in leadership have better revenue, better profit and better growth. But the lack of workplace policies that honor the truth of women's lives, like paid family leave and flex time, make it difficult for women to progress to higher levels of leadership. While some tech companies offer paid family leave, the time is typically not enough, and many women end up leaving their job so that they physically recover, bond with their new baby and normalize family life. Those women who do take paid family leave and later return to their job are often marginalized, or even demoted.
The United States is one of nine countries in the entire world without national paid family leave, and the only advanced country without it.
"We are going backward in a field that is supposed to be all about moving forward," said Secretary Clinton, criticizing the gender gap in the tech industry.

Not only is there a leadership gender gap in the tech industry to stew about, the pay gap remains atrocious. One recent report on the gender pay gap in Silicon Valley found that a woman with a bachelor's degree tends to make 60 percent less than a man with the same degree.
"If there is an issue you have been stewing about, go out and find a group of people to lead on with," encouraged Secretary Clinton.
She advised women to stand up for other women and raise questions about how women are being treated. Quoting her friend Madeline Albright, Secretary Clinton said: "There is a special spot in hell for women who don't help other women."
"A helping hand or a kind word can make a big difference," she said.
Tabby Biddle, M.S. Ed., is a women's leadership mentor and coach, specializing in helping women find their voice. She is the author of the bestselling book, Find Your Voice: A Woman's Call to Action. Learn more at tabbybiddle.com.
Popular in the Community